We recently asked you about how social media is used in your contact centre.
The results show that Social Media is still very small and most people are not using much technology to support it.  It is also still in the hands of the marketing department.
Social media is still in the hands of the marketing department
Generally, many respondents seemed wary of social media, and this is reflected in their responses to the question 'Who is responsible for dealing with social media in your company?' Overwhelmingly, our respondents' call centres still place social media in the hands of marketing professionals, rather than customer service agents – 79% of those surveyed said marketing departments had responsibility for social media.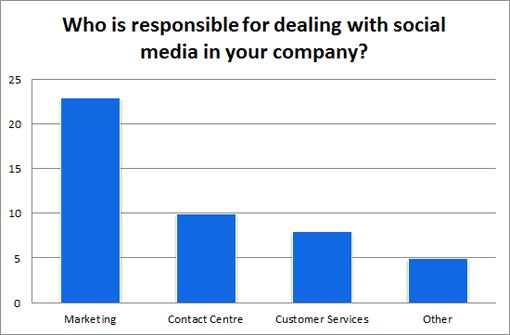 This suggests that in many businesses the promotional benefits of social media are well recognised and exploited, whilst customer relationship management usage lags behind.
The general consensus is that many companies are still wary of the potential for public relations disasters on social media.
"Certainly, many clients in both private and public sectors say they want to get into the social media communication arena, but there's almost a nervousness about dipping their toes into it, because of the uncertainty about how they are going to manage potential explosions of negativity on Twitter and Facebook," said one outsourcer.  "Clients are still on a learning curve, and we're finding that they're still very marketing-led, as opposed to operationally-led."
As with any innovation, it takes time for change to spread and confidence is a key part of that.
The 'big two' are the most monitored platforms
Unsurprisingly, Twitter and Facebook are by far the most monitored social media platforms. 76% of respondents said that their company monitored Twitter, beaten only by Facebook, which is monitored by 85% of our respondents. Of the other networks, LinkedIn is monitored by 39% of respondents, while less high profile networks like TripAdvisor and Amazon gathered only 9% and 12%, respectively.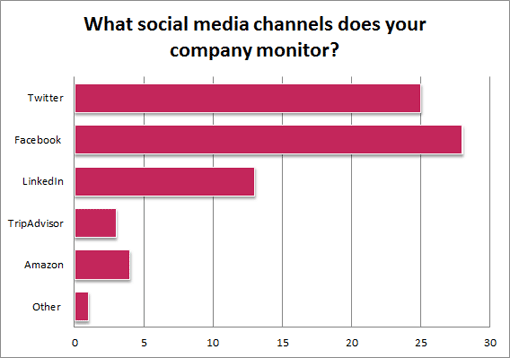 To some extent, this is due to the diverse nature of the industry – for example, presumably only call centres that sell consumer products bother to monitor Amazon for feedback. But Twitter and Facebook are the social networks in which customer complaints have the biggest potential reach, in terms of other potential customers seeing and sharing negative feedback about a brand.
Complaints grab attention
Despite the previous results suggesting that marketing staff rather than agents are largely in control of social media, only 19% of respondents said that their call centres didn't respond to complaints via social media. Almost half (43%) always respond to complaints, while the rest usually or sometimes respond.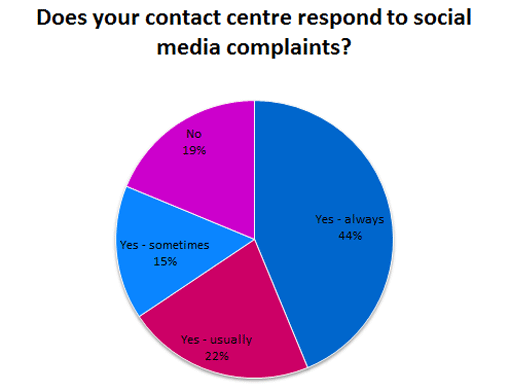 The logical conclusion is that marketing departments are handling complaints that would normally be dealt with by customer service agents. Much of the discussion around social media in the contact centre industry often focuses around empowering agents to take ownership of problems, but it is interesting to note that this doesn't appear to have happened yet.
Dealing with 140 characters
One customer service director said that Twitter, in particular, can be used to deal with complaints in a very public and positive manner.
"I love Twitter because it forces customers to get to the heart of the complaint in 140 characters, and it forces the business to reply similarly, so what you get is two posts that people take a question and answer from," she said.
"If it's a more detailed complaint, then it's really just about an agent understanding when to take someone offline, when it's the right time to do that without it looking like trying to hide something. I'm not sure if businesses map this, but I've attempted to map when you should intervene, when you should resolve an issue publicly, and when you need to take a person offline."
This highlights the need for businesses to devise a clear social media policy, and train agents in how to handle different levels of complaint.
Social media doesn't create many contacts
Given the numbers of people tweeting and posting on Facebook every day, you might expect almost overwhelming amounts of contact for many businesses on social media. Surprisingly, our survey found the opposite: 65% of those surveyed receive fewer than five contacts via social media per day. 17% received 6-25 contacts per day, followed by 26-100 contacts (9%) 101-500 (4%) and more than 500 (4%).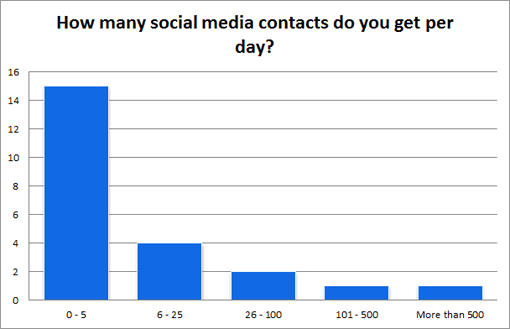 For most organisations, social media contacts will be received at such a low level that they should be easily dealt with without much disruption to the normal workload of staff.
Few agents deal with social media
In keeping with the previous point, the survey indicates that few agents are currently involved in dealing with social media. Almost half (48%) of those surveyed said that 2-5 agents dealt with social media in their contact centre. This is not surprising in light of the fact that most contact centres receive fewer than five contacts per day via social media.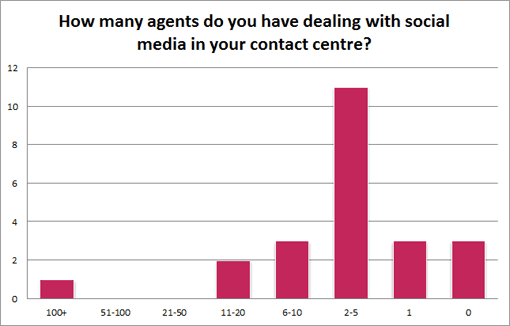 Our round-table discussion brought up other issues with agent involvement in social media.
"Obviously there's limited space for response on social media, but you still need to get quality across, so we do have to get a certain type of advisor profile to deal with that type of activity," said one contact centre manager.
"What we've found is that there's a lot of 'text speak' that goes across which may not necessarily resolve what the customer is asking for."
Social media places a new emphasis on agents' written communications ability. In some organisations, this may mean recruitment has to be adjusted to find agents able to meet the required standard.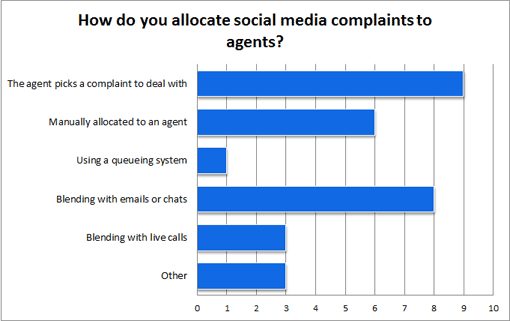 Social media monitoring is done using basic tools
Amazingly, for the entire buzz around social media and the tools used to monitor it, virtually none of those surveyed used anything other than basic platforms. Cisco Social Miner was the only monitoring solution mentioned, and the rest of the respondents used the social media platforms directly or free tools like Hootsuite and CoTweet.
Here are some of the responses to the question – What technology do you use for social media in the contact centre?
None at the moment
None at present but investigating Cisco
Customised package
CoTweet and SkyCommand
Hootsuite
TweetDeck
Social media internet sites
Cisco Social Miner
LiveChat, Twitter, LinkedIn
Buzz Metrics and a whole host of free tools, e.g. howsociable.com, insight analytics on various social platforms, Facebook/ Twitter
Once again, this could mainly be due to the small number of contacts social media generates for most of our respondents. Many of these organisations probably feel that social media isn't yet a big enough area for them to consider investing in advanced monitoring technology. Of course, many larger organisations have far more extensive social media requirements, and will therefore make more use of monitoring solutions.
Conclusion
The results of our survey seem to show that many companies are still somewhat hesitant or uncertain when it comes to social media. This may say something about our sample size, as small and medium-sized organisations were represented more than large companies.
It may also show that companies can't just dive in to social media in the same way individuals can.
While social media is forming part of the contact centre's daily workload, it is not yet as important as other channels. This may also account for the lack of technology being used to run social media in the call centres represented here, beyond the basic interfaces and a few free online tools.
How do our results tally with your experiences of social media?  Share your experience in a comment below.