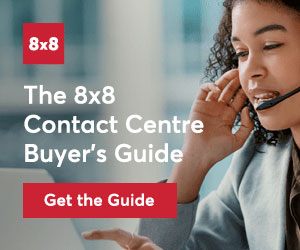 Erica Marois of 8×8 argues that it is time for the contact centre to take ownership of your organization's social media channels.
According to Sprout Social, 53% of customers say they're likely to buy from brands that are transparent on social media. And 86% of Americans say brand transparency is more important now than ever before.
What does this mean for the contact centre and the frontline employees serving customers day-to-day?
Though customers have used social media to communicate with brands, research products and make purchasing decisions for more than a decade now, in many organizations, marketing still owns social media.
The result?
Though contact centre agents have little or no control over their company's social media presence, they often bear the brunt of any frustrations related to a lack of engagement or transparency in the channels.
Is it time for this to change?
Every brand is different, but for most industries, bringing social media into the contact centre makes a lot of sense.
In this post, let's explore three reasons why it's time for the contact centre to take charge of social media and also share eight rules of engagement.
Reason #1: Better Customer Experience
As your team makes sense of who best to own social media, it may be tempting to view social as a channel solely for marketing and to leave it there on the org chart.
Not so fast! Plenty of research suggests that when the contact centre at least has a stake in social media management, the customer experience improves.
The number of customers reaching out to your brand for answers on social media is only on the rise.
According to Hanover research commissioned by 8×8 in 2019, 85% of companies surveyed said they had seen an increase in social media outreach over the last year.
Whether social media falls under your contact centre's ownership, is outsourced, managed by the marketing team, or some combination of all of the above, it's essential to make sure that anyone servicing your customers via social media uses a consistent brand voice.
Also, it's critical to ensure the platform your agents use to serve customers via social media integrates with your CRM, giving all areas of the business a complete view of the customer and giving your agents more context.
In many ways, the contact centre is better equipped than any other area of the business to provide the level of support that customers expect when they contact your brand on social media.
Here are three reasons why the contact centre is in the best position to deliver a standout customer experience on social media:
i. Customer Support Teams Are Staffed to Respond Promptly
In 2019, 8×8 commissioned research to better understand the factors that impact customers' ratings of service interactions. It came as no surprise that customers value prompt responses.
70% of US respondents have been frustrated by the time it has taken the company to solve their problems. And when they can't get the help they need quickly, they're not afraid to switch to a competitor or tell their friends about their annoying experience.
58% of US consumers stated they would stop shopping with a business due to slow customer service, and 42% would share negative experiences with their friends and family. Which is why it's all the riskier to place social media solely in the hands of marketing.
While marketing teams are best equipped to establish brand guidelines, develop creative campaigns, and foster community engagement, their teams usually aren't set up to provide around-the-clock service. Their KPIs aren't in alignment with clearing customer tickets or achieving First Contact Resolution (FCR).
On the other hand, contact centre agents and their teams are staffed to respond to customers as soon as their enquiries come in, meaning social media response times stand a better chance when left in their care.
ii. Customer Support Teams Can Easily Escalate to Other Channels or Departments if Needed
Not only are contact centres equipped to answer quickly, but they also have workflows in place to easily route requests to other internal resources if needed.
If they receive a request on Twitter that's too complex to resolve in the channel, they also can escalate the interaction to the phone, chat, or email, making the communication more seamless for customers.
While most customers aren't fans of channel-hopping, they're even less fans of repeating themselves.
By keeping support tickets within the same department, businesses can cut down on the number of times customers must repeat themselves on the journey to resolving their issues.
iii. Customer Support Is at the Heart of the Customer Experience
Most leaders would agree that customer support teams and the frontline agents who serve as the face of the operation are at the heart of the customer experience.
If this is true, then doesn't it make sense for those employees to serve customers via all the channels they want to use for support? While call centres were initially staffed primarily for handling calls, the reality has shifted.
Over the years, call centres have become contact centres, serving customers via email and live chat, too. You should treat social media in the same way.
Reason #2: Better Employee Experience
Customers don't want to deal with the runaround. They want quick, convenient service. That's a no-brainer. But what many leaders seem to forget is that employees want similar things from their work experience.
When it comes to frontline customer service, there are few things more frustrating or demoralizing than bearing the brunt of customer anger, particularly when the reason the customer is angry is beyond the employees' control.
Contact centre employees thrive and report higher levels of job satisfaction and engagement when their employer empowers them with the resources they need to serve customers best.
Often, that means trusting frontline service agents to respond to customers in all channels.
By giving the contact centre ownership of social media, you decrease the likelihood that an agent serving customers via phone or email will get an earful about how awful your social media presence is.
The fuller picture of customer interactions not only eliminates back and forth for customers, but it also reduces unnecessary back and forth or escalations for your employees, too.
The result? A more positive employee experience for both your marketing and customer service teams.
Bringing social media into the contact centre also means more possibilities for career growth for your support team.
For agents who start on the phones but have a creative knack or a passion for writing, having the opportunity to transfer their knowledge and join the social media support team can benefit your business, your customers, and your employees.
Better career paths often lead to higher employee engagement and retention. In a field with traditionally high levels of turnover, that can be a game-changing competitive differentiator.
Reason #3: It Can Save Your Company Money
Improving customer experience and employee experience are top priorities for most business leaders, but when it comes to changing the organizational chart, Finance and the C-Suite usually want to see one thing: ROI.
In this case, there's plenty of compelling evidence to make a case for the contact centre handling social media. As it turns out, it can save your business money.
In a recent interview with Jeff Toister, Brad Cleveland revealed that getting customers connected directly to an agent as quickly as possible can save companies money, thus generating revenue – even in service organizations that aren't revenue-generating.
Why? Because customers have learned to game the system.
Let's imagine a customer calls your customer service hotline and finds out there's a 20-minute wait. While they're on hold, they might head over to the website and jump in the live chat queue. They might also google your Twitter handle and submit an enquiry that way.
Essentially, they're pitting your channels against one another in a race to save time. And when you look beyond the surface level, this costs your business a lot of money.
Now, employees responsible for handling each of those channels will get pulled into that service ticket.
When social media lies outside the contact centre, this can quickly become a problem. Not only are efforts more likely to be duplicated, but customer frustration is likely to grow when there's inconsistency.
Here's an example of a practical way contact centres can use social media to deflect volume to other service channels, thus saving time and money:
Dorel Juvenile has won several industry awards for its outstanding social media customer service. One thing they do well is using their social media presence as a powerful tool for not only engaging with customers but educating them. Their company sells products for children, including car seats.
As you might imagine, many of their customer support enquiries come from new or expectant parents seeking reassurance as they install seats.
Since taking over the management of social media, the Dorel Juvenile customer service team has been able to use Facebook and other social channels to troubleshoot with customers in real time.
One way they do that is through video chats via private messenger to put minds at ease and go over the step-by-step instructions needed to install new car seats safely.
Beyond direct conversations, their team also regularly posts quick tips and video tutorials on their social media pages.
As a result, they've seen increased customer satisfaction, lower volume in other service channels, lower cost to serve per customers, and higher revenue.
8 Simple Rules for Serving Customers via Social Media
Is your team ready to take the reins on social media? We've compiled eight rules to consider. These will help you deliver more strategic and effective customer service.
1. Develop a Playbook
Essentially, the playbook will serve as a framework and guide for your team's philosophy and policies around social media support.
Things to include: standard response times, channels you'll formally support, hours you'll offer help in those channels, brand voice, critical stakeholders for escalations, contacts for crisis communications, and more.
The playbook need not be cumbersome, but it should be a concise, accurate, and helpful tool for anyone new to your team.
Having a playbook to guide social media interactions ensures that everyone is on the same page and that customers experience seamless, consistent service.
2. Listen Just as Much as You "Speak"
Social media was designed to foster conversations and build relationships.
As marketing took a more active role in the management of social channels, corporate social media pages became a dumping ground for press releases, marketing content, and the like.
As the contact centre takes a more active role in managing social media, these channels should be used more for listening than broadcasting.
Beyond staying attuned to (and responding to) customer requests, support teams can also:
Set up listening triggers and keywords to proactively manage customer complaints
Gather complaints about the competition
Get a clearer picture of the customers' wants, needs, and feelings
Think of social media as a customer group and mine the data appropriately to make informed business decisions.
3. Respond Quickly
Customers expect fast service in any channel, but the expectations are even higher when it comes to social media.
A good rule of thumb? Aim to reply to all social media enquiries within one hour during business hours.
Many teams staff their social media teams to cover more extended hours than a standard workday, but how you structure your team should depend on several factors, including customer demand, industry, and volume of support tickets.
The bottom line: don't make the mistake of letting time-sensitive tweets go unanswered for days, weeks, months, or even years.
4. Respond Publicly
While there's no need to respond to every single post that mentions your brand, it's essential to respond to customer complaints publicly.
Why? Because other customers and prospective customers are watching.
By addressing any issues out in the open, you can not only show that your company is committed to serving customers well, but you can also help to proactively serve other customers who may have had the same issue or questions. It's a win–win.
While it may be impossible to respond to every mention of your brand, consider prioritizing these types of messages:
Urgent requests
Gratitude
Negative sentiment
FAQ
Technical questions
5. Be Human
Remember, social media was designed to be social. Save the corporate-speak for your press releases and let social media be the space where you communicate openly and honestly with customers, have conversations, and show off your brand personality.
Social media can be a great place to help your customers learn more about the names and faces behind the Twitter handles.
Give your followers a glimpse of life in your office, share quick video tutorials, and be creative.
Perhaps more than any other service channel, social media offers the opportunity to establish genuine human connections.
6. Don't Try to Be Everywhere
TikTok, Snapchat, Facebook, Instagram, YouTube, Twitter, Reddit, LinkedIn. When it comes to social media networks, there's no shortage of options.
But how do you decide when and where to offer formal customer support? Do you need to be on all channels?
For most brands, the answer is "no." The simple answer: be where your customers are.
Consider the demographics that you serve. Ask your customers which channels they'd like to use to reach you, and then maximize your presence where it matters most to your customers.
It's much better to provide high-quality customer service on a few channels than poor service on many.
7. Measure What Matters
Most contact centres have KPIs in place to measure success in traditional contact channels, and social should not be the exception.
So how should you measure success with social media support?
A few KPIs to consider include:
Average Response Time
Average Handle Time
Percent Response
Customer Sentiment
8. Don't Forget Quality Assurance
Just as most contact centres have standard KPIs in place for phone and email, they also have an established quality assurance (QA) process.
While the form and coaching techniques will vary for social media, the fundamentals are still essential.
Setting up a QA program for the first time? Consider the behaviours you want to encourage and design your form in a way that fosters growth in crucial areas.