Should we use emojis in customer service? Many of us use them in our everyday life and so do our customers.
Here we look at the right and wrong ways to use emojis in the contact centre.
What Is an Emoji?
Emojis, also known as "emoticons", are visual tools that help to convey an emotion. They are often sent as small icons or digital images that assist the reader in better understanding the tone of an interaction.
Some examples of emojis that you may be familiar with are shown below.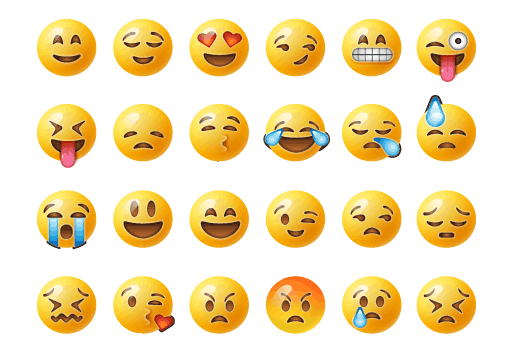 What You First Need to Consider
Before advising the team on when is best to use emojis in business emails, live chat and even letters, there are two points to consider, according to Neil Martin, Creative Director at The First Word.
Neil says: "You've got to think about your customers, what do they want? You've got to think about your brand, is it right for your brand?"
While some brands may have an identity that they would like to uphold or a customer base with a particular view on emojis, most organisations will have customers with opposing views on the topic. So, it's good to have a flexible approach.
Reflect How the Customer Uses Emojis
One flexible approach is to use emojis as the customer does, as in this case you are aware that the customer is comfortable in using them.
As Neil Martin says: "My view on it is that if your customers are using them, it's good to use them back, particularly in positive scenarios where something good has happened. This is because if you don't, you might end up seeming a little bit cold."
Using emojis in this way allows the advisor to demonstrate commonality with the customer, a key to building rapport in any kind of communication, as Christine Knott, the former Managing Director at Beyond the Box, tells us.
Christine says: "The definition of rapport is a feeling of commonality; people like people who are like themselves. So, the key to building rapport is in demonstrating commonality and mirroring certain customer behaviours."
With this in mind, mirroring the customer's use of emojis can be a good tool for demonstrating commonality, something that's harder to do on written channels than when using the phone. This is due to it being more difficult to match the customer's tone and because there may not be the immediate response that you would expect on the phone.
For more advice from Christine about building better customer conversations, read our article: Best Tips, Phrases and Words to Use for Building Rapport
But Avoid Too Many Emojis When Something Bad Has Happened
Although choosing to use emojis may seem like quite a simple decision, there are many things to consider. For example, will the customer understand which emotion your choice of emoji conveys? This can happen when you go beyond smiley and unsmiling emojis.
Neil Martin also points out: "If you are in a serious conversation or something bad has happened, I'd avoid emojis. While using one unhappy emoji can help to convey empathy, don't overuse them otherwise it's like over-apologising – eventually it loses all meaning and may even begin to frustrate the customer."
A single unhappy emoji can be useful to visually express your empathy. In written communication, it is much harder to communicate with an empathetic tone, so careful use of emojis can be a helpful tool.
Take the following interactions as an example and consider which example best conveys empathy:
Example 1
Customer – I preferred my old deal, I'm finding this so inconvenient.
Advisor – I'm sorry for the inconvenience we've caused you…
Example 2
Customer – I preferred my old deal, I'm finding this so inconvenient.
Advisor – I'm sorry for the inconvenience we've caused you ☹ …
The second example feels "softer" and more human. It is a good example of how emojis can visually communicate empathy, which is otherwise tricky to do in written communication.
However, remember – as Neil said – to avoid overusing them, otherwise you risk sounding inauthentic.
In negative circumstances, it's also important to only go as far as an empathetic unsmiley face as shown above. An eye roll emoji or a "sick face" emoji could be really inappropriate.
Even in positive circumstances, overusing emojis can be called into question. While it may feel natural to an advisor, as it's how they would communicate with a friend, some will consider it unprofessional.
Don't Open the Conversation With an Emoji
To avoid seeming unprofessional, let's go back to Neil's principle of reflecting back the customer's use of emojis; we want to use them how the customer sees best fit.
When we open the conversation, we likely do not know how the customer sees best fit, so it's best not to start with an emoji, unless it really goes against your brand image.
If they refer to themselves by their first name, use their first name. If the customer uses a smiley emoji, give them one  back.

Caroline Cooper
Remember that every customer is different, so start by being polite and friendly and go from there.
As Caroline Cooper, a Trainer and Consultant at Naturally Loyal, says: "Let the customer lead, just like you would when using their name. If they refer to themselves by their first name, use their first name. If the customer uses a smiley emoji, give them one back."
The Top Ten Emojis to Use in Customer Service
Some emojis are more appropriate to use than others when providing customer service. So, here's a set of ten emojis that can help to improve a customer interaction, if used wisely.
| | Emoji | Example of Use |
| --- | --- | --- |
| 1. | 😊 | "Hi, My name is Charlie. How can I help you today 😊" |
| 2. | ☹ | "I'm sorry it has been so difficult for you ☹…" |
| 3. | ❤️ | "You will love this deal ❤️" |
| 4. | 👏 | "Excellent choice 👏" |
| 5. | 💪 | "I'll check that for you right away 💪" |
| 6. | 😂 | "Exactly, I couldn't agree more 😂" |
| 7. | 😎 | "I agree, that's my favourite option too 😎" |
| 8. | 🙃 | "I'm glad we could turn that situation around 🙃" |
| 9. | 🤪 | "I'm really excited about this new deal 🤪" |
| 10. | 💃 | "It was great talking to you! Have a good weekend 💃" |
While these are all good examples of how to use emojis well, be careful when employing them, as they can give off a "sarcastic" tone, which can ruin the experience.
Another mistake brands often make with emojis is choosing those that are inappropriate for customer service altogether. Three examples of these emojis that are commonly used outside the contact centre, are:
😉 – It's best not to use this emoji as it implies that you are teasing the customer. While many customers wouldn't necessarily mind that, it's a risky game to play.
🙈 – This emoji could only logically be used if either you or the customer has made a mistake. So, avoid this one, as you want to focus on the solution not the error (after the apology, of course) and, if it was a customer mistake, you don't want it to seem as if you are mocking them.
💩 – A poop emoji in the business world? No. Just no.
Which Channels Are Best Suited For Using Emojis?
While we've discussed emojis very generally so far, there is also the question of which channels lend themselves best to them.
As less formal platforms than emails or letters – social media, live chat and messaging apps are well suited to emojis, as both are modern innovations and are void of any formal preconceptions.
With this in mind, customers may react more kindly to emojis on these channels – but as previously stressed, it seems best to let the customer lead.
Although, if a live chat, social media or messaging advisor is having a "fun" conversation with a customer who uses lots of emojis, they could even share a gif or a meme with them. This can bring more humour into the interaction and make the experience even more memorable.
Should "Emoji Use" Be Part of Your Quality Assessment?
While some may think of emojis as light-hearted fun with no real impact on the quality of an interaction, Neil Martin disagrees.
Neil says: "Some people love emojis and some people hate them, so they can have a significant impact on Customer Satisfaction (CSat). For this reason, I think it's important to include them in Quality Assessment (QA)." 
They can have a significant impact on Customer Satisfaction (CSat). For this reason, I think it's important to include them in Quality Assessment (QA).

Neil Martin
However, as our recent research suggests, many contact centre build their quality scorecards without consideration of CSat, with only 33% of contact centres reporting a good match between their quality and CSat scores.
Discussing the results, Neil says: "In theory, we should be getting a good match between quality scores and CSat, because your quality scores should be telling you exactly what your customers are saying."
"When you create your quality scorecard, it's important to weight the elements in respect to how much they mean to your customers."
So, with this in mind, go out there and talk to your customers and get your customers' opinions on how much emojis matter compared to other elements on your scorecard. While they may not mean as much as overall courtesy, advisor knowledge or even the contact outcome, the results may surprise you.
For more on using CSat to improve quality, read our article: How to Get More From Your Customer Satisfaction (CSat) Scores
In Summary
Emojis are a way of demonstrating emotion, which can otherwise be quite difficult to do on written channels in the contact centre.
However, customers will likely either love them or loathe them, so it is generally best to let the customer lead and for the advisor to mirror their usage of them.
Also, just remember to avoid overusing emojis and opening a conversation with one. After all, you are unlikely to have much information about the customer's preferences  about them.
But the most important thing to remember is to use emojis in a way that best suits your brand and your customer base. Good luck 😊
For more advice for providing great customer service on written channels, read our articles: