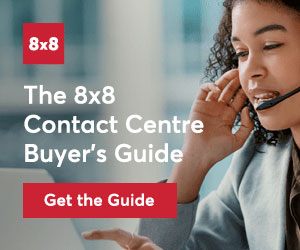 Despite all of the hype, not all businesses are ready for cloud-based solutions.
In this article, Steve Morrell highlights when you should use a cloud-based solution and when you should use on-premises equipment.
Using off-site solutions is not a new idea, with service bureaux and ASPs (application service providers) being around for many years.
The cloud is 'hot'
The fact that cloud-based contact centre solutions are now 'hot' is down to a mixture of factors, including the recession's negative effect on capital investment, the increasing functionality of hosted applications, and the proven success and general acceptance of cloud-based solutions, particularly those in the CRM sphere.
Additionally, the stranglehold that incumbent CPE (customer premise equipment) telephony providers had on the industry has been loosened by the advent of IP and more open systems, with the net result being a greater choice of solution providers.
Not all businesses are ready for cloud-based solutions
However, not all businesses are ready for cloud-based solutions. Perhaps culturally there are too many concerns about security within various areas of the business to carry the argument. It may be that there has just been a major capital investment in CPE which fulfils the contact centre's need. There may be a complex and highly bespoke technology infrastructure which business leaders are concerned about changing and integrating.
Moving to cloud is not a 'no-brainer'. Below are some of the characteristics that mean some businesses will choose CPE while others will migrate to cloud-based solutions.
| | |
| --- | --- |
| More suitable for Cloud | More suitable for CPE |
| Fluctuating call traffic (e.g. seasonality) that requires flexibility in adding & shedding agents | More predictable traffic that does not require changes in agent numbers |
| Planned addition of new sites and/or homeworkers | Stable contact centre environment in terms of headcount and location |
| Looking to add functionality and/or have technology at end of life | Have made substantial and recent investments in technology |
| Multi-site locations that could benefit from consistency of technology and management | Single-site location or no need to virtualise |
| Innovative and risk-taking culture aimed at gaining competitive edge | Conservative cultural approach to new technology and risk management |
| Simpler reporting & routing | Very complex routing & reporting requirements |
| More standardised back-office integration | Sophisticated and deep integration with back-office systems, developed over many years |
| Willing to look at Opex model of funding | More comfortable with Capex model |
| Do not have enough experienced IT staff to implement, support and maintain desired systems | Have a lot of experienced IT staff |
| Willing to cede some control over privacy and security to third parties | Culturally unwilling to relinquish control over privacy and security |
Figure 1: Characteristics of businesses choosing Cloud and CPE
Most of the momentum to move to cloud comes from senior people within contact centre operations (e.g. Contact Centre Director) who want specific functionality but don't care how they get it, or senior management such as those at CFO, CTO or CIO level.
Currently, around 38% of UK contact centres report that they use some cloud-based functionality. Respondents to The UK Contact Centre Decision-Makers' Guide 2012 were asked about whether they used specific functionality, and if so, how it was delivered (i.e. through CPE, or cloud/hosted deployments).
What applications are most used in the cloud?
IVR and call routing functionality were the most likely to be deployed through cloud-based solutions, with hosted CRM and automated dialler functionality also used in a significant minority of instances.
Many of the early examples of cloud-based solutions (including those that were called hosted or managed services) were aimed at the outbound market, providing dialler functionality. As times and customer requirements have changed, inbound and blended functionality has developed.
Only 5% of UK contact centres rely on cloud solutions solely, with 33% using hybrid cloud/CPE and 62% CPE only. Unsurprisingly, then, new business for solution providers tends to come not from replacing competitive incumbent cloud companies, but from replacing on-premise technology, and from entirely new start-ups.
Solution providers often comment that initially, those applications that don't require close monitoring or the highest levels of security can go into the cloud, to test how this deployment model works in a live environment before considering it for more ingrained and mission-critical functionality.
Large contact centres are three times as likely to be cloud based
In terms of usage by contact centre sizes, large operations (200+ seats) were more than three times as likely as small and medium contact centres (<50 seats & 51-200 seats) to have cloud-based IVR and automated dialler functionality, and twice as likely to have cloud-based routing capabilities, as we would expect. Small contact centres lead the way in the use of cloud-based CRM systems, with many cost-effective solutions available in this space.
Many cloud solution providers are focusing upon the 50-250 seat contact centre market – the mid-market – which has traditionally been less well served than the top end of the industry. However, some providers report agent numbers in the thousands.
Contact centres below 50 seats, while having the potential requirements for more sophisticated functionality without capital expenditure, are reported by some vendors as being the most difficult to dislodge from their incumbent technology. In such operations, especially stand-alone contact centres (i.e. not a departmental operation, or part of a larger overall contact centre), there can be significant inertia coming from the IT management (often under-resourced and fearful of their own future) and the contact centre management (focused entirely on day-to-day operations without the time or perhaps remit to look strategically at alternative options).
As time moves forward we look certain to see a big increase in the use and deployment of cloud-based solutions.
The research in this article is based on the ContactBabel report "The Inner Circle Guide to Cloud-based Contact Centre Solutions".
To download the full report, free of charge, please visit www.contactbabel.com/reports.cfm
Steve Morrell is Principal Analyst with ContactBabel www.contactbabel.com.