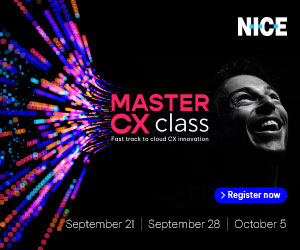 Peter Massey shows how a simple 2-by-2 grid can help you refine your strategy, operational tactics and get buy-in from the rest of the business.
Most companies code their calls. Many companies use that data to understand what type of calls they receive. Few companies categorise their contacts in such a way that they understand and act on what customers want. Knowing why customers contact you is the most basic diagnostic of your offer, your products and services.
A really quick way to make a difference
I want to show you a really quick way you can make a difference by engaging both inside and outside the contact centre with what your customers want – the "value/irritant grid".
I'll draw on 2 sources: years of experience of using the grid and the use of the grid as part of our overall approach to "The Best Service Is No Service" – the title of our best-selling book about reducing customer effort.
Value/irritant analysis
In simple terms, you plot what customers say they want when they contact you on a simple 2-by-2 grid with the customer on one axis, the company on the other.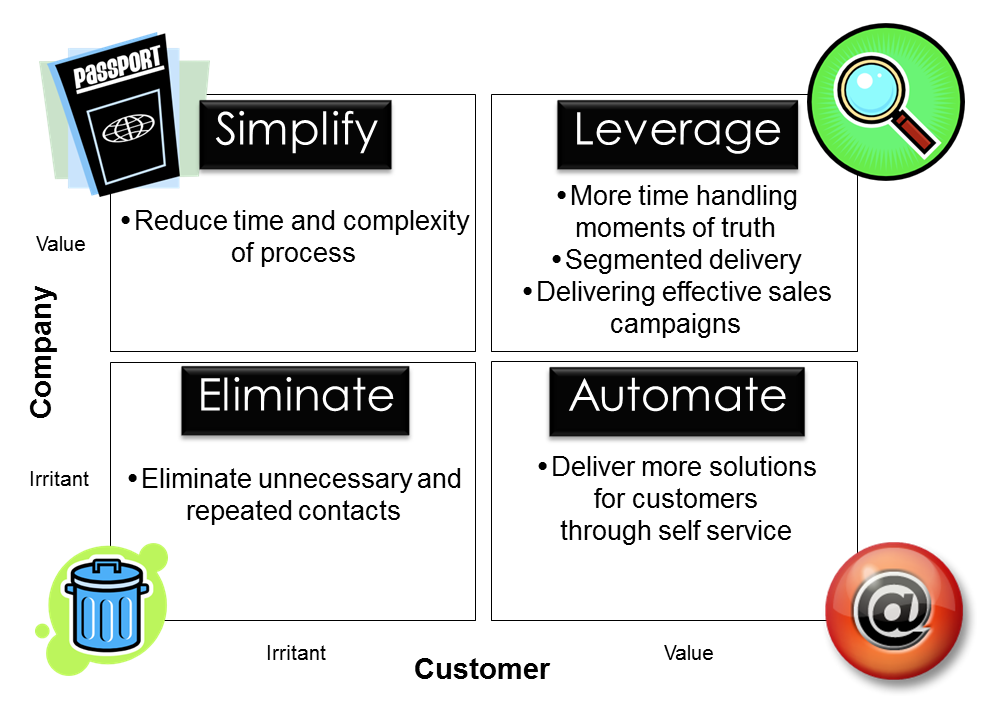 In the quadrant of irritant/irritant are the dumb things to stop. For example, "where's my stuff?".
In the value/value quadrant are things to resource fully with smart people who have more time now they have fewer dumb things to handle. For example "Can I have an overdraft?", an opportunity to offer loans, alternative accounts or rates.
Valued contacts
If the contact is valuable to the customer but not to the company, this is where the benefit means customers are most likely to work through your automation. For example "What's my balance?"
If the contact is valuable to you but not to the customer then it must be simplified as much as possible. For example "I don't understand my annual statement letter". You have a regulatory obligation to send it – but not to make it unintelligible.
This allows you to have a clear strategy for each contact reason.
Clear direction and ownership
By quantifying each contact reason, you give clear direction and targets to "reason code project managers" or "customer journey owners", who should be on top of why it happens and the root causes. And front-line staff know what happens and why it happens.
It also allows clear ownership in the management processes. The owner accountable is the person who creates the demand, not the one who handles the demand. For example, if my statement letter is not clear, it isn't the contact centre's fault. It's the department who wrote an unclear letter.
Categorising contact
Many companies collect data galore on what happens: what the customer called about, what the fix was, what we did, what they did. But few companies collect the data for why customers had to call.
Where's my stuff?" is the classic why code you see on Amazon's website. A telco might use "My handset doesn't work" as a why code. A utility might use "I don't understand my bill" or "My bill is wrong" or "My billing estimate is wrong". So much more insightful than classifying these as "billing" or "refunds".
It is important to identify why customers had to contact in the customers' words.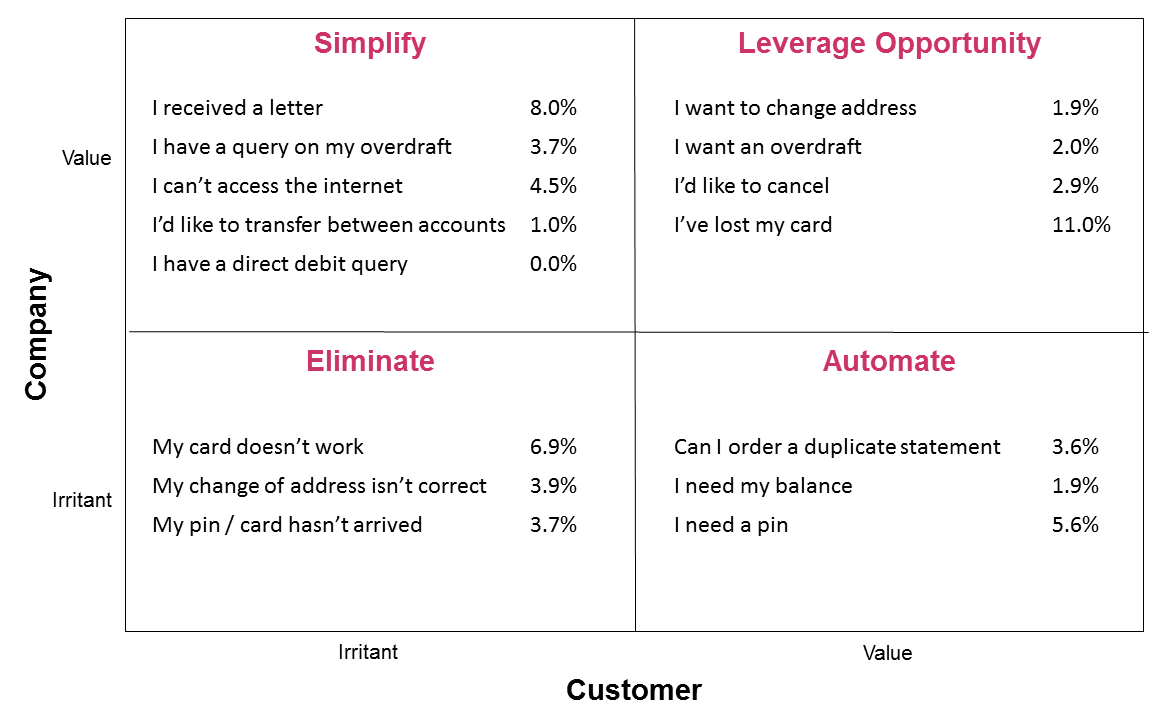 Getting buy-in
Doing it this way changes the whole mindset of fixing things, of analysing things. Indeed it causes and allows three things:
Senior, middle management talk the same language as the agent and the customer. It's harder to ignore the frustration of the customers' requests for help, and a cultural shift occurs.
Analysis follows the customer journey. It starts with the customer, goes to the contact point and then into the organisation. Journey maps are very different from process maps and allow for both physical and emotional mapping of why things happen and therefore how how it can be avoided.
Front-line staff can start asking questions. If they ask why something happened, then analysis projects become unnecessary. You have real-time root cause analysis, free feedback and engaged front-line staff. You can't analyse data that isn't there, so speech analytics will not tell you the answers unless the customer spoke them. To do that the agents have to ask the relevant questions.
Try this at home, without a safety net
The value/irritant grid is a very simple tool, very powerful when populated with the right categorisation of contact. It can create a great conversation with colleagues.
Used as a live, ongoing piece of the customer ecosystem we call The Best Service Is No Service, it can transform the purpose of the contact centre from problem child to intelligence source.
Peter Massey is Managing Director of Budd UK