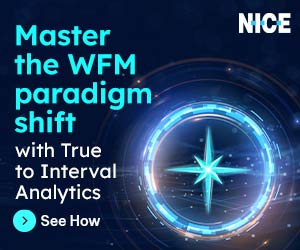 Brian Mistretta at NICE CXone explains why the 'agent' that is working for you 24-7 might need a tune-up.
Today's customers are extremely informed and savvy because they are constantly self-educating through online content.
They expect all necessary information to be readily accessible and easy to find. And before they connect with your contact centre through any channel, they will likely already have a discerning impression of your brand, products, and services—whether through materials on your website or elsewhere.
This is why your website and virtual customer service platform are so crucial for the success of your business and customer loyalty.
Digital solutions, such as knowledge management and self-service capabilities, are a necessary complement to human agents because they never sleep, take breaks, go on vacation, or get sick. That means they are always on, working for you 24-7.
But that's only true if you have the right tools in place. And many brands are disappointing their customers.
84% of consumers are more willing to do business with companies that offer self-service options. But only 61% of consumers say companies offer easy, convenient self-service.
You want to ensure your brand is one of the select few who are truly "always-on" for your customers. Just like with regular vehicle maintenance, digital maintenance is one of the best ways to protect your investment.
You have worked hard to build your brand and facilitate customer relationships. But CX is not a one-and-done enterprise.
Even if you have a solid customer experience in place, performing a tune-up will extend the life of your brand and customer loyalty.
Here are three tips to help fix your CX ride.
Pro Tip 1: Provide Easy-to-Find Answers to Common Questions
Just like your car needs the right fluids to run, your customers need to find correct answers to their questions to keep their journey going.
Today's savvy digital customers can find any answer they seek—but only if it's there for them to find. You need the data and tools to ensure answers to the most common questions are always easy to find—even if the answer is "it's complicated" (or "it depends").
Automated, AI-powered conversational intelligence tools are not just capable of always listening to your customers, they can understand the context of what customers really want. These digital channels provide actionable intelligence that will help you discover and prioritize automation opportunities.
96% of customers expect companies to make it easy without the need to repeat information.
With this insight, you will be able to focus on where and what to build so you can deliver the answers your customers are searching for.
Additionally, SEO-enhanced knowledge tools can help remove or limit access to agent-assisted-service channels in external searches and create a clear pathway to customer experience content.
You also want to make sure your customers can locate this information no matter where they start in the journey and what communication channels they are using.
Omnichannel interactions enable you to offer a consistent journey and message across all channels. This means Social Messaging, SMS/text, chat, and more.
Pro tip 2: Create a Digital Journey that Covers All Potential Touchpoints
If a vehicle is unable to get the driver and passengers smoothly from point A to point B without complications, it's not much use to the owner.
Similarly, being always on means having a customer journey that flows from beginning to end without breaking down.
53% of customers say most support interactions are fragmented
If customers get lost or run into pitfalls, that means they will have to wait until your contact center is open before they can resolve their issues. That flies in the face of customer expectations for access to 24-7 service.
Investing in the latest tech and data not only boosts your logistics and functions—it's what elevates your service capabilities from "basic" to "intelligent."
Technology is the driving factor behind the ability to remain "always on" and create interactions that flow seamlessly from beginning to end.
88% of customers say the experience a company provides is as important as its product or services—up from 80% in 2020.
Remove all friction from the customer journey with process automation. With this digital tool, a variety of tasks can be executed independently, without human intervention—around the clock without error.
Pro Tip 3: Develop All Smart Self-Service Channels
If a vehicle is easy to maintain and operate, the owner can use it anytime of day or night. A smart, always-on digital solution will make sure customers can access the information they seek whenever they need it.
Most customers prefer to use self-service channels. However, many brands are failing to deliver a journey that allows customers to find everything they are looking for on their channel of choice without having to eventually contact an agent.
65% of customers prefer self-service for simple matters.
Implementing a full offering of intelligent self-service options gives customers the freedom and information to chart their own course. Let customers choose their preferred channels and create exceptional experiences.
With omnichannel customer service, your customers can use any channel they like. It's important to have conversational AI-powered chatbots and Intelligent Voice Response (IVR) that deliver a seamless, personalized, and superior customer experience 24-7.
Gartner research finds that 59% of customers prefer to resolve their issues without contacting a customer service rep.
But only 13% of customers are successfully contained within self-service, because their problem/resolution journey breaks down.
There are many benefits that come with performing a tune-up on your vehicle. It's one of the best ways to maintain performance and longevity. The same is true of your digital customer journey. Having an experience that operates in top form prevents costly loss in revenue and loyalty.
This blog post has been re-published by kind permission of NICE CXone – View the
Original Article
For more information about NICE CXone - visit the
NICE CXone Website