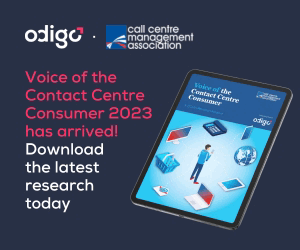 Elisabeth De Longeaux at Odigo explains that the evolution of consumer behaviour and growth of e-commerce is creating the conditions for innovative and adaptive customer engagement.
Discover the importance of integrating instant messaging (IM) into retail customer experience (CX) strategies.
Instant messaging is widely used socially by consumers. This popularity and familiarity lends itself well to customer service and offers several advantages over traditional touchpoints.
Easy to install and use, instant messaging creates opportunities for brands to build customer loyalty through rich personalised communications.
This means that, at a time when researching purchases, browsing and buying are all increasingly done online, incorporating instant messaging into a retail strategy can help capture customer attention.
How Does Instant Messaging Improve Engagement?
The name and popularity suggest a great deal, when customers want convenience and personalisation, instant messaging can provide just that.
The most commonly used applications in the UK are those of the Meta group: for regular users of instant messaging 80% use WhatsApp and 65% Facebook Messenger. Moreover these popular platforms have quickly demonstrated their brand potential by offering business options, such as WhatsApp business.
While instant messages retain many of the advantages of SMS, they also offer additional benefits. Both have higher open rates than for email, and, significantly for businesses, a higher click-through rate.
Instant messaging is, however, lower in cost than SMS, because it is internet based and this also enables rich content without the restrictions of a character limit.
In fact in their daily lives consumers are moving away from SMS and MMS in favour of instant messaging. The send rates in the UK have dropped from over 150 billion in 2012 to just over 40 billion in 2021.
Instant messaging is profile-based, not anonymous, enabling customer recognition and interaction recording. This means that whether it's an AI or agent-led interaction, personalisation and relevant advice or offers are possible thanks to access to customer history.
An instant messaging exchange can also be paused and resumed without losing progress. This allows customers to engage in a personalised conversation at their speed around their commitments while still making steady progress towards resolution.
A Forrester study on behalf of Meta reported that 90% of customers said CX improved with instant messaging. 74% and 67% were able to report improvements in Customer Effort Scores and Net Promoter Scores, respectively.
Responding to the Need for Modern Retail Strategies
Customers like to spend time researching their next purchase, and effective e-commerce retail strategies need to provide touchpoints for when they can't find the information they need. Instant messaging offers fluid spontaneous interactions.
What's more, the 2023 State of Customer Engagement Report by LivePerson showed that 75% of consumers are more likely to make a purchase if they can message rather than call.
This rises to 83% of 18-24-year-olds. 74% and 80%, respectively, also said they are also more likely to buy when they can browse and get answers over messaging.
Certainly, in many pre-purchase e-commerce situations, traditional voice interactions are the last thing on many people's minds. Millennials, also dubbed Generation Mute, actively avoid making phone calls. 81% feel they actually have to summon up the courage to do so.
Privacy and convenience also play a part in the move away from calls. Conversations can be overheard and require focused engagement for a longer period of time. As an asynchronous channel instant messaging can offer discreet rapid responses or read-later convenience.
Personalised Instant Messaging Experiences
To use instant messaging, customers either need to initiate the conversation or give their details and consent. This means in a pre-purchase setting customers are already interested enough to trust a brand with their details, creating an opportunity to nurture a closer relationship.
This could include anything from sharing links to testimonials for relevant products to pointing them towards social media communities.
Longer term, personalised seasonal or birthday wishes and vouchers are a great way to re-engage and start fresh conversations.
Brands can create visually engaging messages that can be easily tailored. For customers looking to treat themselves, these discount codes or special offers, based on their history or preferences, can be a deciding factor in where they will spend their money.
Personalisation also adds value to a customer's relationship with a brand through numerous cross-selling use cases. In fashion this could be accessories like handbags or shoes.
It could also be consumables or refills like capsules for ongoing use after a coffee maker purchase. In the cosmetics industry instant messaging can share rich content about new shades in a favourite product or new specialised products like sensitive or vegan.
This type of communication has a positive effect on the customer's loyalty to the brand and potentially a direct effect on sales.
The expectation isn't that customers will take up every offer, it's more that brands can remind them of the unique value of their products or services and demonstrate that they listen to and value each individual customer.
Post-Purchase Instant Messaging
Resolving queries and providing updates post purchase are also a clear use case for instant messaging. Links to a 3rd-party courier for example, can just as easily be provided by instant message without the risk of ending up on the wrong side of an email spam filter.
For high-complexity interactions, though, 15% of UK customers still turn to email. This more long-form text-based touchpoint works well for detailed descriptions, but if key facts or evidence are omitted complete resolution can be relatively slow and take multiple interactions.
Instant messaging is inherently less formal and its back-and-forth nature means customers can quickly and easily provide additional details.
As a highly accessible asynchronous touchpoint, rapid progress towards resolution can be made with short targeted messages, or steady progress can be made around customer commitments.
Further along a customer's post-purchase journey, retailers can also utilise instant messaging at key moments, perhaps based on previous communications or additional services.
Notification of the end of a warranty, for example, or repeat purchase and subscription reminders, like stocking up on coffee pods for a coffee machine.
This strengthens the bond with the customer and introduces opportunities for them to remain actively loyal to the brand.
The Operational Benefits of Instant Messaging
While instant messaging brings obvious benefits to customers, it can also make the work of contact centre staff much easier.
It's reported to require 35% less agent time on average compared to traditional touchpoints like phone and email, with up to 70% of inquiries on Meta Business messaging being answered by chatbots.
When agents are involved, as the customer's identity is known, they can retrieve any relevant history to make informed decisions, leading the interaction to resolution.
Omnichannel platforms mean that visibility on cross-channel journeys and complete histories not only optimise working process and agent time but ensure smooth communication for customers.
Multiple conversations can be managed simultaneously and real-time on-line status as well receipt and read confirmations put agents in control.
This makes instant messaging beneficial for managing traffic peaks, by offering a convenient way for customers to seek answers without making a call.
Employee experience is also important and contributes to managing agent turnover. The flexibility of instant messaging and the ability to deploy automation can therefore contribute to both agent and customer satisfaction.
Leverage Instant Messaging With a CCaaS Solution
A natively omnichannel platform enables brands to adapt their retail strategies to modern consumer needs and expectations.
Instant messaging not only offers convenient continuous conversations to customers, agents also benefit from the ability to effectively manage multiple interactions without the risk of losing progress. Pre-purchase, post-purchase or automated, instant messaging belongs in your CX retail strategy.
Loyal customers are valuable, and moments of truth can make or break these relationships. In the digital world of e-commerce it's worth considering Do Dazzling Moments of Truth Rely Solely on Agent Skills?
This blog post has been re-published by kind permission of Odigo – View the
Original Article
For more information about Odigo - visit the
Odigo Website