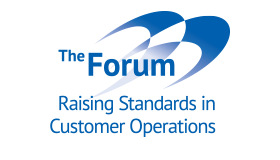 Raising Standards in Customer Operations.    
Tel No: 0333 123 5960
Contact Name: Dean Bjourson
Contact Email: info@theforum.social
Profile:
As champions of best practice and professional development in customer contact, we are widely recognised as an innovative, inclusive and independent community of professionals who stimulate collaboration, continual learning and customer focus. We invite you to join our communities of continuous improvement, sharing best practice and developing new approaches to help you make a difference.
Choose from:
Professional Planning Forum
Quality & Customer Experience Forum
Data, Analytics and Insight Forum
Customer Strategy & Leadership Forum
As a member, you are not on your own but part of a community with others facing many similar challenges. Widely recognised as the 'go-to place' for support teams and business leaders, our team of independent experts offers advice, support and training. We are here to help you to make a tangible impact in your organisation and show how developing the capability of each support function is fundamental to your business, through specialist accreditation, qualifications and standards benchmarking.

Benchmarking – The Forum's benchmarking programme will help you focus your resource and investment in the right places, identifying how you can move from good to great as a function. Benchmarking is the foundation for real confidence that you are addressing the right problems in the right way and applying the correct solutions.
Consultancy – Sometimes a more focussed period of external assistance is needed to jump-start changes and support the skills-transfer that builds up your capability in resource planning, analytics insight, quality and customer experience. Use our knowledge at The Forum and exposure to best practice across multiple centres to help you drive improvements.
Training – See how our flexible learning programmes for customer professionals have become a benchmark of excellence: developing talent, closing skills gaps and creating the capacity to deliver change. Meet your requirements with our suite of training modules, qualifications, specialist workshops, on-demand learning and on-site support. Find out more about our BSc in Customer Contact Planning & Management that we offer in conjunction with the Ulster University Business School.
Events and conferences – The Forum's flagship conference and award's programmes are Customer Strategy & Planning held at the end of April each year and our Customer Contact Innovation Awards. In addition we hold three National Awards programmes and conferences for professionals in Planning, Data, Insight & Analytics, and Quality & Customer Experience. Site visits with award finalists are facilitated in June and September and we also hold a number of Best Practice Weeks for our members.
Address: The Forum,  PO Box 784, Stockport, SK4 9DF
Weblink: theforum.social