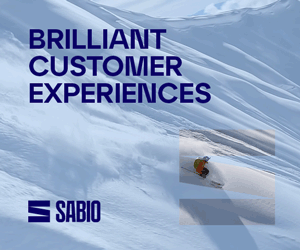 Here are 15 fresh ideas from the DAS contact centre in Caerphilly.
1. Ask the Team What They Would Like to Start, Stop and Continue
While DAS used to rely on surveys and suggestion boxes to harness advisor feedback, they have now introduced monthly Voice of the Contact Centre (VoCC) workshops. DAS believe that the insights they gather from the sessions have much more value.
These workshops last for up to an hour and begin with the contact centre manager asking advisors what they would like to start, stop and continue. This gives an understanding as to which processes need refreshing urgently and insight into what the contact centre is doing well, so they can look to replicate that elsewhere.
However, DAS stress that the manager and team leaders only take part to supply the questions and not the answers. After all, managers should never force their ideas onto an advisor focus group, otherwise they take away the satisfaction from the team when an idea comes to fruition.
While DAS still use advisor satisfaction surveys as well, the suggestion box has moved onto the company intranet. Suggestions are made anonymously, but advisors can "like" suggestions. This allows the contact centre to track which suggestions have the most value from the advisors' perspective.
2. Feedback Scorecards to Advisors with Comments and Recording
DAS Fact File
Contact volume – per year
Inbound contacts – 160,000

Outbound contacts – 90,000

Advisors
65 Seats

50 FTE

Technology
ACD
Avaya (via Sabio)
Headsets
Avaya (via Sabio)
Wallboards
Korbyt (via Sabio)
WFM
Verint (via Sabio)
Agent Desktop
GUI Software (via Sabio)
Call Recording 
Verint (via Sabio)
Call Scripting
Lotus Notes
Dialler 
Avaya (via Sabio)
Speech Analytics
Verint (via Sabio)
While it's common practice to feedback quality scores to advisors, DAS have developed a system where they can deliver entire scorecards to the relevant advisor's desktop. This allow advisors to see exactly where they did well and where they can improve, greater engaging them with the quality process.
The system that DAS have created also allows for the quality analysts to add comments to the scorecard. These comments can include constructive feedback as well as motivating remarks like "well done" or "you did this really well".
In addition, with each scorecard comes a recording of the call. This is so advisors can listen back to the call for themselves, so the analyst's comments have greater context.
3. Ensure Quality Scores Relate to Customer Satisfaction Scores
DAS measure Customer Satisfaction (CSat) during calls and record CSat scores, which are then reviewed by the quality team. The quality team can then measure the effectiveness of their quality scorecards.
To do this, the quality team check how closely the quality score of an interaction relates to the customer's CSat score for the same call. After doing this for a large number of calls, the contact centre looks for correlation between CSat and quality.
By doing so, DAS can check how successful they have been in weighting their scorecard and identify which items need to be given more or less significance. This technique is called regression analysis.
4. Establish a 100 Club
DAS have set up a "100 Club" for advisors who receive a perfect (100%) quality score, as a way of further engaging advisors with call quality.
Members of the "100 Club" are given a badge, certificate and are invited to choose a prize from the rewards cupboard.
By incentivising quality in this way, DAS have found that advisors are paying close attention to exactly what they need to do to reach the 100% target.
5. Develop Admin Skills Amongst the Night Team
The DAS contact centre is a 24-hour operation, but – as you would expect – the company receive fewer calls in the night time. With this lower traffic intensity comes a lower rate of occupancy.
With this low occupancy (which is ideally kept between 80 and 85%), advisors have been trained to do extra admin between calls. This extra admin includes reviewing data, ensuring compliance and file closures.
Part of the reasoning for doing this was to add to the skill set of those on the night shift, making them more desirable to other parts of the business if they wish to change shift patterns in the future. Providing a clear progression pathway is a key objective of the contact centre.
6. Ask an Advisor to Be the Voice of the IVR
In their VoCC workshops, certain advisors indicated that they would like there to be more creativity involved in their jobs. So DAS look to these advisors whenever they start a new project, like creating videos, contributing to their newsletter or designing incentives.
Recently, when redesigning their IVR, DAS even asked one of their advisors – who had a distinctive voice – to be the "voice of the IVR". Not only did the advisor enjoy the recording process, it lowered costs and DAS could choose the voice that they believed best fitted their profile.
7. Take Managers out of Their Comfort Zone
Each of the senior members of DAS's contact centre team were once advisors, which says great things about their culture, but DAS have realised that most fresh perspectives come from outside business and new employees.
Managers can get stuck in the same daily routine of looking after performance management, liaising with HR, IT, Sales and Marketing and so on. By being stuck in this routine, it can become difficult for managers create innovative performance improvement plans.
So, DAS paid for their contact centre manager to take part in a two-year Leadership & Team Management course at Cardiff Metropolitan University. Team leaders also get the chance to take part in leadership courses and go on site visits to bring fresh ideas to the contact centre.
8. Go on Site Visits With Advisors
Members of the team often visit DAS's other contact centre in Bristol. This includes the manager, team leader and advisors.
While the manager can help to calibrate business processes and learn of initiatives that have helped improve quality and productivity, team leaders and advisors can pick up things that may improve culture, morale and motivation.
In fact, DAS's two contact centres have become so close that when advisors want to swap shifts, they can arrange to do so with members from the other site.
9. Track Advisor Happiness and Emotion
Employee engagement is really important to DAS and they are constantly looking at ways of tracking and improving contact centre morale. This increased focus is one reason why DAS believe their attrition rate has fallen from one advisor leaving every month to just one in every six months.
One innovation that DAS are looking into to better track advisor happiness is to install a set of traffic light emoji buzzers – like you sometimes see at airports – by the contact centre's entrance. Advisors will then anonymously hit the buzzer that best sums up their mood as they enter and exit.
With all the recent research that indicates the great influence emotion has on customer loyalty, this idea suggests that DAS also see emotion as key to advisor loyalty.
10. Develop Individual Personal Development Plans
Just like other contact centres, most of the new recruits at DAS are relatively young, which is why the company see it as important that they provide advisors with a visible path of progression, which can become a motivational tool.
To provide this path, DAS's advisors have a monthly talk with the manager, where they discuss morale and future plans, creating a Personal Development Plan in the process.
In light of their future goals, the manager suggests areas in which the advisor can improve, recommending they retake modules on the contact centre's digital learning system and offering them time in other departments of the business. This gives the advisor an understanding of the variety of roles they can enter into, when the time is right for them to leave.
11. Create a Monthly Newsletter
DAS's contact centre run a monthly newsletter to help engage advisors of a more creative mindset.
Edited by a senior member of the team, any advisor has the chance to contribute with their own contact centre-based story. This has included everything from:
Interviews with senior members of the team – which has helped bridge the gap and ensure that advisors know who to approach for certain matters
Where are they now? – A section that covers what ex-members of the team are doing with themselves now, highlighting all the different career possibilities for an advisor
Call handling tips – to help spread best practices around the contact centre
Quarterly shout-outs – A section where the staff get to hear how a team member went the extra mile for the customer or for the good of the contact centre.
Other bits of fun – To help keep the newsletter fresh, it also includes birthday celebrations, recipes and special announcements
The lesson of this is to ensure that creative advisors are able to exercise their innovation. Don't give creative advisors technical tasks and technical advisors creative tasks. As DAS stress, get to know your team!
12. Spread Best Practice by Creating Acronyms
The DAS contact centre floor was decorated with posters that encourage best practice. Many of these showcase catchy acronyms like RESPECT.
R

egard

E

ncourage

S

how consideration

P

oliteness

E

steem

C

ollaboration

T

houghtfulness
In this way, the contact centre can remind advisors that good customer service is driven by positive conversations, while acronyms like RESPECT help to instil positive behaviours.
13. Add a Right Here, Right Now Section to the Intranet
We earlier highlighted that the DAS suggestion box had moved to the intranet, so that the contact centre could track each suggestion's popularity. But there is much more on the company intranet than that.
There is also a section where the team can nominate people for 'points'. These points can be built up and exchanged for gift. These gifts range from small prizes to a holiday for two in Paris.
These points can also be gained from other positive advisor achievements, such as receiving good feedback from the customer.
By gathering these points, advisors are constantly working towards an incentive that works best for them, providing them with a continuous source of motivation.
The platform is also used for shift swaps, so advisors can arrange them without taking up the time of the team leader, who otherwise may have to work as the 'middleman'.
14. Create a Competency Bingo Sheet
DAS have recently multiskilled advisors across all different call types, which is a difficult task in the legal help field, to increase the competencies of staff and add greater variety to the role.
To go alongside all of this new learning, one of DAS's team leaders created a bingo sheet that covers all the call types that advisors need to handle – to demonstrate their new competencies.
While this has only been trialled so far, the game will go live across all departments after great advisor feedback, with prizes for getting a line and a full house.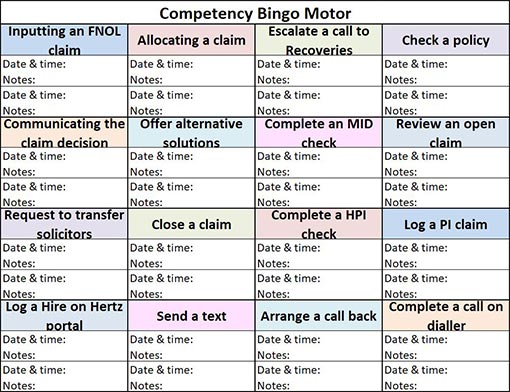 Ideas that are included in the sheet above, include:
Allocating a claim
Complete an MID check
Arrange a call-back
15. Play Contact Centre Battleships
Competency bingo isn't the only game that DAS play in their contact centre, with battleships being a particular favourite of the advisors.
This works by splitting the contact centre into teams, with one team playing another. When an advisor receives a high Customer Satisfaction (CSat) score from the customer in the post-call IVR survey, they get to "sink" an advisor on the opposing team.
By playing games like battleships, DAS say that they were able to spark healthy competition between advisors, with the winning team being awarded with a team prize – helping to build team spirit.
Thank you to DAS for facilitating our visit to their Caerphilly contact centre.
But what about you? Do you fancy showing off your contact centre?
If so, you can contact: newsdesk@callcentrehelper.com and maybe we will see you soon!