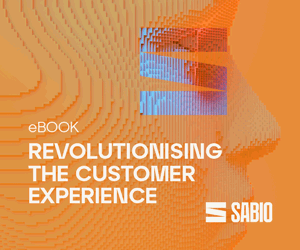 DAS, a specialist legal expenses insurer, has selected Sabio Group to provide a hosted customer experience cloud solution.
The solution will support an agent & employee experience culture that helps drive operational excellence and CX (Customer Experience) alignment.
The next generation Sabio Cloud CX Platform supports the introduction of the DAS UK customer digital and claims optimisation strategy, and aids the transition from legacy DAS UK telephony/workforce optimisation on premise systems to a scalable Sabio hosted infrastructure – set to help DAS unlock significant capex savings in its first year of operation.
The Sabio Cloud CX Platform for DAS UK features comprehensive contact centre and back-office user support, with advanced skills-based routing, reporting and voicemail.
The solution also supports advanced Workforce Optimisation, including call recording & quality monitoring, workforce management and speech analytics. Advanced contact centre wall boards also feature.
The next generation DAS UK CX solution will be hosted in Sabio's private secured data centres, with full resilience and back-up capabilities.
Sabio will also provide the WAN and SIP Trunking required to support the hosted service.
"Transitioning our CX infrastructure to the hosted Sabio Cloud CX platform is a smart move for us as it gives us access to the latest best of breed CX technology and tools while taking advantage of Sabio's secure, resilient and highly available cloud infrastructure services," commented Russell Levan, Group Head of Information Technology, DAS UK Group.
"Moving our core CX infrastructure to the Sabio Cloud not only enables DAS to move from a Capex to an Opex model, but also ensures we can support a best-in-class agent & employee experience culture that helps drive our operational excellence and CX alignment."
"A key factor behind choosing Sabio for this major five-year hosted project was the company's proven expertise in our core contact centre technologies, and their ability to provide us with a seamless transition to a new hosted model based on a per user per month basis," he continued.
"Adopting this approach means we get to work with a single responsible technology partner, while still unlocking ongoing savings and benefiting from even greater levels of service and operational efficiency."
"Brilliant CX hinges upon an organisation's ability to react to customer needs and, with the Sabio Cloud CX Platform in place, DAS UK will be able to respond to customer requirements and react to market changes by delivering smart, out-of-the-box CX solutions at speed," added James Hughes, Head of Solutions, Cloud and CCaaS at Sabio.
"It's great that DAS UK has chosen Sabio to help power its next generation CX strategy, and we're looking forward to supporting the transformation of their CX platform and the delivery of brilliant customer experiences each and every time."
Supporting over 285 DAS contact centre agents and 1,125 back-office users requires the highest levels of proactive services to drive IT service performance, testing and security.
Sabio will also be supporting the DAS cloud deployment with its own advanced solutions such as Recording Assurance as a Service (RaaaS) to meet compliance, Monitoring as a Service (MaaS) to improve up-time, Performance Testing and Voice Quality Management, as well as its advanced Rapport Customer Call Data Insight solution – all included as part of the Sabio Cloud CX Platform solution.
This news story has been re-published by kind permission of Sabio – View the original post