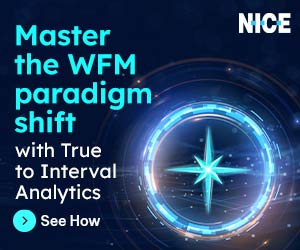 Abby Monaco at NICE explores Voice of the Employee and why it impacts your call centre turnover.
If you set out a suggestion box on the call centre floor, do employees look over their shoulders for a camera trained on the box to record their every move? Or if you ask for feedback in an emailed survey, do agents mutter to themselves in exasperation and move it to the trash unopened?
Contact centres struggle with higher-than-average turnover, and it is only made worse by The Great Resignation. Dissatisfied employees are quitting their jobs for higher wages, better work conditions, and more career advancement opportunities.
They seek better relationships with management, healthy corporate culture, flexibility to work from home, and recognition for their work.
Connection Between Agent Satisfaction and CX
Just like customers who want to do business with an organization that delivers ideal customer experiences (CX), agents want to work for a contact centre that delivers ideal employee experiences (EX).
Becoming an 'employer of choice' isn't a point of pride now, it's a competitive differentiator—because seasoned, happy employees deliver the superior experiences that customers expect.
Agent well-being directly affects your company's reputation and brand, too—over 70% of employees who strongly agree that their organization cares about their well-being strongly advocate for their organization as a place to work, compared with only 12% of employees who do not strongly agree.
There's also a connection between agent satisfaction and the quality of service that customers receive. How you treat your agents is how they treat your customers.
If you want service to be a competitive differentiator at your contact centre, then retaining the best agents who are skilled at resolving customer problems in any channel on first contact is one way to accomplish that—and it can have steep revenue impact.
Organizations that care about their employees' well-being are 25% more profitable than competitors.
With so much at stake, giving employees voice isn't just a way to engage agents to reduce turnover, it's how you retain your high performers, improve CX, and ultimately, increase revenue.
What's the best way to encourage employees to share their ideas and concerns? Any method that inspires participation at your contact centre. But the cornerstone of your agent engagement strategy should be increasing agent retention.
Reduce Turnover With Agent Engagement
Contact centres need to execute an agent engagement strategy that accomplishes three things:
Provides a structured channel that collects feedback for analysis, like surveys
Demonstrates there is a culture of acceptance, so agents feel comfortable sharing negative feedback
Acts on the feedback received so agents know they influence organizational changes and improvements
You know how invested your agents are by looking at schedule adherence and absenteeism data, but that doesn't shed light on how to raise engagement.
Foster their sense of purpose by giving them clear goals and showing them exactly how their performance impacts the customer and company in real-time.
Engage them by advancing their performance and careers with continuous skill-building and frequent, objective coaching—not micromanagement.
And further motivate them through friendly competition or by recognizing and rewarding positive performance. Start by giving them a voice.
You get firsthand feedback on what they think is undermining CX, like training they need to fill knowledge gaps, performance metrics they view as counterproductive, and how your business culture affects job satisfaction.
Here are some pros and cons of common tactics used to give employees a voice. Use them to empower agents—it helps you reduce turnover and keep high performers.
And yes, a suggestion box is on the list, but it won't be some locked box pushed into a dark corner in your lobby. This is not your parents' suggestion box.
Tips to Get Feedback and Improve Agent Experiences
Tip 1: Virtual Suggestion Box
Give all agents a voice, not just in-office ones. Provide surveys via emails or your intranet. Create an email hotline dedicated to collecting and responding to employees within an established time, so employees know their ideas and concerns aren't drawn into a black hole, never to be seen again.
Send a follow-up email addressing concerns brought up every month, closing that critical feedback loop and giving employees public credit for workable solutions they propose or new ideas.
Put an easy-to-use button on an internal-focused landing page, like the one with human resources information. Encourage participation by making names optional.
If agents submit feedback with their names, respond to them—even if the answer isn't what they hope to hear. Being heard and having concerns officially addressed is just as important as receiving a positive answer.
Pros:
Increase agent morale. When agents see suggestions applied or concerns addressed, they know their feedback was acknowledged.
Improve communication. Giving agents a concrete way to share ideas builds connections between them and managers.
Increase innovation and problem-solving. Agents on the frontline serving customers have insight on reducing friction in journeys.
Give shy or quiet employees a voice. Some agents are more comfortable sharing ideas this way—it's less intimidating.
Increase agent engagement. When agents see that management genuinely cares about the employee point of view, morale gets a boost.
Virtual suggestion boxes are a fast way to collect feedback in real time, and it's easy to set up. What's important: The box is monitored, and agents get responses to their comments and suggestions somehow, like through a company-wide email addressing all feedback.
Offering rewards for implemented improvements incentivizes agents to share innovative ideas and solve their own problems.
Cons:
Increase negativity. If agents just vent about problems without providing solutions on issues that management likely already knows about, then it undermines morale.
Waste time. Reading feedback takes time. Stakeholders must meet, discuss ideas, and report back to employees, so it should be worth this effort.
Decrease engagement. If employees don't embrace this feedback opportunity, then it won't help you increase agent engagement.
Take credit. If employees feel like leadership doesn't give them proper credit for an idea, then dissatisfaction increases.
Waste time (again). If employees make inappropriate jokes or bash leadership instead of suggesting problems and solutions, then it's a time waste.
A virtual suggestion box is most successful when agents see management acting on the feedback and they're awarded prizes or receive recognition for good ideas. But, if that's too old school for your modern contact centre, there are other options.
Tip 2: Brainstorm Sessions
Hosting virtual brainstorming sessions is a great team-building exercise. These sessions help agents to build on each other's ideas in a fun way. There are several free online brainstorming tools available online that are easy to learn.
Pros:
Remote and in-office agents can get to know each other better.
Workforce engagement. Remote agents are more visible to management and peers
New ideas. Real-time discussions can bring a vague idea into focus or inspire new ones, reducing friction in the agent experience.
Trends emerge. If multiple agents have similar suggestions, it highlights a specific process or pain point they're experiencing.
Cons:
Other people's work. Ideas might need to be developed by others, and those ideas are likely lower priority for them.
Lag time. There's a long gap between the idea being offered and execution.
Low engagement. If most agents opt out, then time spent arranging and running the session is wasted.
Idea mongers. One or two agents might be more vocal and opinionated, making it uncomfortable for others to speak.
If feedback skews negative and everyone focuses on that, then the session could affect morale overall.
Brainstorming sessions are most successful at engaging remote and in-office agents in a hybrid contact centre environment.
You might uncover different friction points in remote or in-office agent journeys that affect their job satisfaction—a key factor in agent attrition and turnover.
"A contact centre is an intense world. Anything we can do to increase employee satisfaction is worthwhile," Todd Baxter, Chief Services Officer, HireRight
Brainstorming is an informal process that produces creative solutions to common problems, and it's as easy as setting up a meeting.
Speaking of meetings, that's my third tip.
Tip 3: Leadership and Team Meetings
This shouldn't be the standard team huddle to discuss daily work. You give agents a platform.
Meet with agents weekly, monthly, or quarterly, so they can ask questions and talk to executives. Agents need to know how their role impacts company success, so they feel included and valued.
This personal, casual time with the executives gives frontline agents visibility to leadership. Even better, it prevents separation that typically forms between them.
Pros:
Face time. Agents have visibility with levels of leadership.
Siloes are sidelined. All levels of staff meet and collaborate, strengthening connections.
Virtual delivery. Remote agents are just as visible as in-office ones, increasing workforce engagement.
Cons:
Executive engagement. If management becomes too busy to participate, agents feel devalued.
Unstructured format. Anything can come out of someone's mouth in these meetings. What they say might be negative, unproductive, or even offensive.
News flash. Instead of giving agents a platform, the meeting morphs into executives highlighting new initiatives or expressing their concerns.
A variation of this method is having virtual and in-office round-table meetings. Form groups of 8 to 10 people from different staff levels and have them meet every couple of months to brainstorm, discuss concerns, and develop solutions to problems identified in earlier sessions.
For in-office participants, provide snacks to set a social, light-hearted mood, and send gift cards to remote agents so they can buy their own snacks.
Give this meeting a fun name (Nosh Rally? Snack Meet?) Let your team come up with a fun name as your first step in engaging them! And offer on-the-spot prizes for good ideas.
Make it easy for all agents to attend—in-office and virtual, through a webinar, or a conference call (webcams on).
No matter which method you choose, leadership must respond to feedback, either in those meetings or through a later communication. Not closing this feedback loop risks alienating agents. And that causes turnover.
What's important is having two-way communication with leadership and human interaction.
Communication Choices: Informal and formal
There are two types of communication under the concept of employee voice: informal and formal. The informal voice enables employees to provide feedback or discuss their concerns daily, like that virtual suggestion box.
With unstructured feedback, you get insight into how agents feel, not just what they say. That's an opportunity to dig deeper if you sense there are underlying issues to uncover.
Unstructured feedback sheds light on friction in agent and customer journeys—even when comments are about a different issue. Provide informal and formal channels to get feedback. Employees like using various methods.
Formal employee voice uses more structured communication channels, like having a process to file grievances. Or you can create an engagement study where you interview agents, supervisors, and executive management.
Make sure you analyze the results, publish the findings, and use them to inform your employee engagement and CX strategies.
You'll get the feedback you seek that way, but conducting surveys is the most common (and fastest) formal communication employee voice channel.
Let's dig into that one.
Employee Surveys: A Structured Way to Collect Feedback
Surveys are efficient, structured, and focused. You can explore pain points you might know about but need more information on—details from your frontline workers.
Agents have a close-up view of all the touchpoints in customer journeys. They can inform you of what processes to change, technology to update, or where friction appears, not just in customer journeys, but in their journeys, too.
Customer journeys cross several voice and digital channels now. They might search online first and end up in an agent interaction.
Or they start chatting with a chatbot and eventually transfer for agent support when the bot can't provide resolution. Surveys uncover friction in those journeys.
You can identify trends, like difficulty finding answers in a disorganized knowledge base. That can help you prioritize exploring how AI-powered solutions can surface relevant answers faster—for agents and customers looking to self-serve.
Agents might report that they need help identifying customer needs from the outset, and that same AI solution can offer customer journey analytics.
Integrating AI could solve two big problems with one solution, improving all user experiences simultaneously. And you acted on agent feedback, which shows them you care about improving their experience.
You can use third-party systems like SurveyMonkey, QuestionPro, or SurveySparrow to create surveys, but first, you need to plan and design them to get the most insight.
Employee surveys have clear objectives, actionable questions, and a feedback loop to share findings with all participants. Pick the right type of survey before jumping into the fun part—developing questions.
Types of surveys related to employee voice are:
Company culture. Measure how well your company's actions match core values.
Employee. Measure how much your employees feel empowered by the organization and valued by leadership.
Employee satisfaction from exit interviews. Gain insight on how to improve job descriptions or identify reasons for the turnover.
Management performance. Evaluate how employees view management to improve communication and increase the quality of leadership.
Onboarding for new hires. Collect feedback on the onboarding experience and ways to improve it to increase retention.
Measure how effective your program is, and if other formats (like bite-size training or microlearning) might work better.
360 survey. Get a comprehensive look at performance from your employees' perspective.
Create a Feedback Loop With Surveys
After making process or technology changes, send surveys to agents a few months after implementation to see how if it helps or hinder their ability to deliver ideal CX.
This is especially effective if changes were driven by agent feedback because it shows management is listening and taking action. Your agents are inspired when they know their performance and voice matters.
Pulse Surveys Deliver Fast Answers
Pulse surveys are a great choice if you want to evaluate agent reactions to changes in technology or processes at your contact centre.
They have between 15 and 20 targeted questions relating to one objective and should only take five minutes to complete. This pulse check gives you quick insight into what areas need fast improvement.
Survey Length, Format, and Timing
The number of questions and format are conscious choices no matter what type of survey you choose. Multiple-choice surveys are easy to compile and analyze, but open-ended questions can uncover unknown issues.
Consider timing when you send surveys. Ideally, onboarding and training surveys happen directly after an agent completes them to get fresh insight, but no matter what kind of surveys you send, make sure you avoid survey fatigue.
Yep, that's a real thing. Employees stop completing surveys if they receive too many back-to-back or feel like management isn't listening.
Employee Voice Cycle: Ask, Listen, Communicate, Act, and Repeat
Agent engagement isn't a task to accomplish. Giving employees a voice is a valuable opportunity to share and transfer knowledge.
It promotes an inclusive work environment instead of a "my way or the highway" heads-down culture. It affects morale—that's a key factor in reducing absenteeism and turnover. If agents feel valued and they like their jobs, it shows in how they serve customers.
Consult and Retain High Performing Agents
Agent jobs have expanded far beyond simple support now—they handle complex technical issues, cross-sell and upsell products, and provide customer service.
Sometimes agent interaction is the only human contact a customer has with a business. Agents have deep insight into the friction points in customer journeys and ideas on how to modify their own processes to transform CX.
The cost of replacing seasoned agents who have the soft skills needed to successfully navigate complex interactions is high, and not just the recruitment and training costs from replacing them.
It takes time to find, hire, onboard, and train new agents who lack knowledge or need coaching to develop high-value interpersonal skills, affecting your quality of service and CX during the learning phase.
An agent's level of experience influences whether your customer gets a resolution the first time they contact you—or not.
Seasoned agents have more experience running processes and using different tools and technology over time, so the feedback they offer on friction points in customer journeys and solutions they propose to alleviate them are grounded in deep internal knowledge.
Improving their experience reduces attrition, but their feedback becomes business intelligence that informs CX strategy now and in the future.
Customer experience is in the hands of the agents. The agent experience is in yours.
Give Agents Frictionless Experiences
When you identify and resolve friction in agent process, they see how their feedback influences organizational changes that makes their jobs easier and more fulfilling, especially if they're rewarded for their input. And that reduces turnover.
Contact centre managers who give employees a voice will ask for agent input and offer support, guidance, and resources.
They will respond to requests and feedback and check in with agents on personal and professional levels to reduce friction in their experience.
Champion giving your employees a voice to treat agents like teammates instead of employees. Agents are stakeholders who put in personal energy and time to support customers and build revenue for your company.
When you ask for, listen to, communicate, and act on their feedback, you'll see agent satisfaction increase along with retention. Be the employer of choice who retains the best agents because that improves CX.
This blog post has been re-published by kind permission of NICE – View the
Original Article
For more information about NICE - visit the
NICE Website