Your customers can tell you a lot. And they're speaking through all kinds of touchpoints.
That's because today's customer journey is more complex than ever. It has more channels, more ways to interact, and more ways to give feedback. So the success of your voice of the customer (VOC) program depends on capturing feedback from all of these touchpoints.
Looking beyond one or two transactions gives you the comprehensive insights needed to transform the customer experience and improve customer satisfaction, loyalty, and retention. And increase your contact centre's financial outcomes.
When you gain insights from all of the ways a customer has interacted with you before they even speak with an agent, you can understand the "why," not just the "what." And that's essential for taking the right action—the kind that gets results.
Bigger Customer View, Bigger Business Impact
When you have these kinds of insights across the end-to-end customer experience, you're able to understand where your customers are coming from—both literally and figuratively. Take GenXers. Many don't respond to emails—but will engage with texts and even WhatsApp.
Knowing the best ways to reach each customer, how to help them, where improvements are needed, and which issues matter most all lead to higher customer retention and loyalty. It also helps you achieve your customer success strategy, and your business goals and objectives.
Having these holistic insights requires collecting and correlating your direct feedback data—like that from surveys—with the wealth of customer interaction information that may be sitting unused—called indirect feedback.
Indirect customer feedback from chat, text, call recordings, sentiment analytics, social media posts, community forums, and more help complete the customer picture. When you add valuable operations data such as wait time, paths through your contact centre, and purchase history data, you have a treasure trove of insights.
Different Ways to Collect Customer Feedback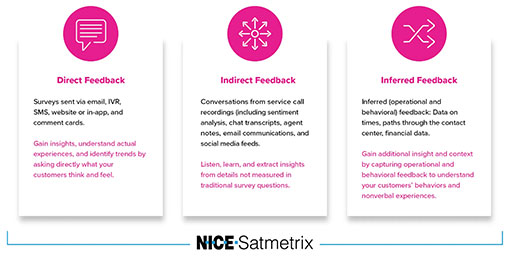 Collect feedback across all channels and correlate the findings to drive success in your contact centre and across your organization.
While surveys are essential for driving CSAT, they only capture one moment in time. Understanding the bigger picture helps you implement changes that help you create true efficiencies, make better strategic decisions, and proactively solve problems before they happen.
Make Your Contact Centre the Epicenter of Experience Transformation
Your contact centre is uniquely positioned to gather feedback from across the customer journey and transform it into actionable insights.
This information helps improve agent performance and create customer experiences that lead to long-lasting relationships. It also gives departments across your organization access to valuable customer data they need to drive improvements too.
That's because a powerful, omnichannel VOC solution unifies disparate silos of data across your organization, bringing direct, indirect, and inferred feedback into a single view. Using AI and interaction analysis, your VOC program can reach a wider audience and uncover deeper, more representative feedback.
This kind of unified solution turns your contact centre into the hub of customer experience transformation. You'll be the driver of a customer-centric strategy, sharing customer insights that add value across your organization—from marketing and sales, to operations and the C-Suite.
A journey-based VOC program gives you insights from across all customer touchpoints, automates workflows to take appropriate actions, and allows you to personalize each customer interaction to close the loop.
Identify unhappy customers and those at high risk of churn, giving your business a chance to win them back – in real time.
Increase customer loyalty through proactive, personalized resolutions.
Identify gaps in agent skills and behavior, and improve them with training and coaching.
Quickly identify and prioritize potential issues with your brand or product.
Understand gaps in functionality or performance for products or services.
Support a culture of continuous improvement within the business.
Close the loop smarter, faster, and more strategically.