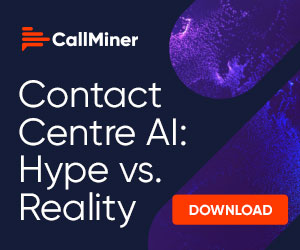 Great omnichannel customer experiences lead to increased growth rates and easily met business milestones. However, it can be difficult to deliver those experiences consistently without the right intel. That's why measuring Voice of the Customer (VoC) is crucial for today's modern organizations.
Ben Bernanke, 14th Chair of the Federal Reserve, once said, "In many spheres of human endeavor, from science to business to education to economic policy, good decisions depend on good measurement."
This sentiment rings true across all industries today, and it applies to your customers' experiences with your brand just as much as it does to your company's growth and profit metrics.
Improving CX starts with tracking VoC — what customers think (and how they feel) about your services and products. There are numerous ways to do this, and your exact goals should be reflected in the methodologies you choose.
Looking for the perfect methodology to obtain, monitor and act on VoC can be complicated. However, exploring the options that follow can help you get the ball rolling.
Each methodology offers multiple variations worth considering and potentially implementing if they match your organization's current capabilities and interests.
Focus Groups
Approaches in this category leverage organized assortments of interviewees and interviewers to obtain fairly candid, open information about your products and services.
This category of methodologies for obtaining VoC intel is among the most labor-intensive as it requires extensive planning for each session to take place. Participants must be hand-picked with care to help represent a diverse, yet consistent subset of your target audience.
Owing to the small relative size of each focus group when compared to your actual audience at large, sessions are often repeated multiple times to ensure the insights gained from them are credible enough to act on.
Focus group sessions can be held to obtain exploratory or experiential results, depending on your goals. The former quite literally explores new ideas and concepts through the eyes of your participants and helps in identifying any of their needs that you may otherwise have missed.
The latter revolve around the actual use of your product or service, highlighting both buying decisions and bottlenecks in your current designs.
There are many ways to plan a focus group session. Besides recruiting customers to serve as participants, the following variations on the basic process of asking a small group pointed questions about your product or service exist:
Having a respondent be the moderator — In this scenario, one of the customers from your focus group is tasked with guiding the questions and conversations the other attendees address. This alters the way participants may respond, yielding more interesting answers.
Having more than one moderator — Multiple moderators (generally up to two) are often used to help ensure the session progresses smoothly and yields actionable results. These moderators may also be tasked with arguing against each other's stances to encourage participants to pick a side they agree with most.
Separating larger groups into smaller ones — Although focus groups are often comprised of 10 or less individuals, setting up sessions with less than 10 respondents can create a more intimate atmosphere, encouraging participants to share more throughout the session.
VoC surveys
An effective survey can reel in all kinds of useful responses from an organization's customers without necessitating intimate interaction or extensive session planning to get started. There are many types of surveys to try out and a number of insights that can be derived from them.
Surveys can be issued over the phone, on paper and online and can involve a variety of types of questions related to your customers' perceptions and how satisfied they are with your products or services.
Ideally, you should take the time to carefully plan not only how your surveys should be issued to your customers, but when and why as well.
Asking questions about a product's design that a customer has just purchased but not yet used makes for a poor survey all around.
The same can be said of a survey that asks a question that is more appropriate given the customer's place in their journey yet does so using the wrong medium.
There are several types of surveys that provide valuable VoC insights, such as:
CSAT (Customer Satisfaction)
CES (Customer Effort Score)
NPS (Net Promoter Score)
CX Scorecards (Customer Experience Scorecards)
Interviews
On certain occasions, an interview with an individual customer could be the best method to move forward with.
Interviews conducted immediately after a customer has contacted or otherwise interacted with your brand are likely to be the most useful, yielding valuable insights that speak more accurately on the concerns they may have.
Conversation Intelligence
Alone, the above methodologies offer limited information. Even employing all of the methodologies discussed above fails to show the full picture, which is essential for creating the seamless omnichannel experience today's customers demand.
Surveys, for example, are useful, but they tend to be heavily influenced by the customer's most recent interaction on a particular channel. However, today's customers interact with brands through a variety of channels, such as mobile, web chat, social media, email, phone, and more.
Truly capturing VoC requires gaining a comprehensive view of individual customers across all channels and touchpoints.
Conversation intelligence platforms make it possible to break down silos between communication channels by analyzing every interaction, on every channel, at every touchpoint throughout the customer journey.
Conversation intelligence goes beyond survey data, focus groups, and interviews to provide a complete view of the customer, providing insights such as:
Real-time customer sentiment
Whether agents have the relevant information and context to support customers on any channel
What types of interactions drive certain outcomes
Why customers take desired actions (and what happens before)
Whether you're meeting customers' expectations
Ineffective or disjointed customer journey touchpoints
Which customers are at risk of churn
These insights provide crucial information and context that enables companies to drive results by fine-tuning the customer journey and providing a frictionless omnichannel customer experience.
By understanding how interactions and behavior drives customer actions, you can take action to prevent customer churn, identify cross-selling and up-selling opportunities, and identify customer needs in real-time to provide personalized experiences.
Regardless of the specific methodology you choose to obtain VoC information, you will need to take action on those insights for it to be effective.
Improving the customer experience should be your top priority and empowering your organization to better meet customer expectations starts with understanding those expectations at the deepest possible level.
This blog post has been re-published by kind permission of CallMiner – View the
Original Article
For more information about CallMiner - visit the
CallMiner Website