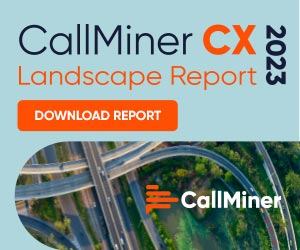 The CallMiner Index, a study into switching suppliers in the UK, revealed that 68% of consumers are very likely to switch after a bad experience with a call centre.
So it's vital to create an environment where your agents feel engaged and empowered to help improve customer satisfaction and meet other business objectives.
However, a 2017 Gallup survey found that 85% of employees are "not engaged or are actively disengaged at work". And disengaged agents contribute to absenteeism, attrition, customer complaints, low employee retention and lost business.
So, let's take a look at five ways to create engaged and empowered advisors, without damaging productivity.
1. Ensure your agents have access to learning opportunities
Today's employees are pushing for continuous skill development and dynamic careers.
As a result, the opportunity to learn and progress fast is quickly becoming the primary driver of a company's employment brand. If this need is not met, 42% of employees say they are likely to leave because they are not learning fast enough, according to Deloitte figures.
A survey by Instructure into employee attitudes to personal development identified that 56% of employees think it is an employer's responsibility to upskill them, 50% of employees want frequent feedback delivered via regular check-ins with their line manager, and 45% want to be able to learn at times that suit their role and lifestyle.
This is why call centres need to be prepared to offer their agents better and clearer career choices and talent pathways to keep them engaged. Providing your agents with tools and fair feedback, based on accurate data, to help them self-develop more quickly and improve their skills through targeted coaching and training is essential to keep them feeling empowered in their jobs. Other opportunities that modern contact centres can offer include: micro-learning, digital and social learning, dedicated learning 'zones' or gamified learning.
2. Reward and recognition should not be just about the money!
Dan Ariely (social scientist and New York Times bestselling author) found that lack of acknowledgement of a job well done can have a crushing effect on employees.
Ariely's study concluded that: "When we are acknowledged for our work, we are willing to work harder for less pay, and when we are not acknowledged, we lose much of our motivation." 
Neuroscientists have linked this to the way our brains are hardwired to minimise threat and maximise reward.
Our brain automatically (and very quickly) works out if someone is behaving like a 'friend' or a 'foe'. This is a deeply ingrained survival mechanism and it conditions how people behave at work.
So, little things you do can derail your best intentions. The things you say, and the way you say them, can be received as a 'threat' by your team. This automatically triggers reactions in the brain, puts people on the defensive and stops them from being productive.
The reverse is also true. The things you do can create a 'reward' reaction in the brain. This will automatically mean people will be open to engaging with you.
This is why call centres should look into other ways besides money to reward and recognise their agents. This may be in the form of positive reinforcement – and delivered in a way that best suits the agent (e.g. public or private praise).
It is important to explain what the impact is of what they have done well – either on their team or the entire business. This will ensure that agents feel more empowered and understand how they are contributing to the success of the business.
The reward and recognition can also be facilitated through sharing best-practice examples with the entire team, awarding certificates and awards or providing additional learning opportunities.
3. Ensure that leaders set the right examples in facilitating the culture of self-improvement
There is a saying that "You don't leave your job, you leave your boss." And the Instructure survey revealed that 58% have been surprised by their reviews, and 31% have left a company because of the behaviour of their line manager!
To ensure that employees feel engaged and empowered in their work, leaders should allow their agents more autonomy over how they improve their own performance.
Tools like interaction analytics provide agents with automated feedback on their performance based on 100% of their interactions with customers. This allows them to see how well they are performing and set their own improvement targets where necessary.
Often, taking the advice 'straight from the horse's mouth' is the best option. By asking agents what motivates them, leaders already empower them to make decisions that impact their work. However, leaders should remain visible and involved to support their employees when needed.
Interaction analytics can help free up team leaders' time to provide more coaching and training by removing the need to manually listen to random agent calls.
4. Base performance evaluations and coaching on ALL of your agent–customer interactions
Most organisations only analyse a small proportion of interactions – typically less than 1%. Without analysing every single interaction, it is impossible to provide agents with meaningful and fair feedback on their performance. It is also impossible to identify correctly and quickly their individual coaching and training needs. Not only will this lead to a waste of time and effort by a supervisor or coach, but it will also mean that the organisation will fail to achieve essential performance improvements. Managers and supervisors will also struggle to create a complete picture of the customer journey, reducing the opportunity to identify trends, problems and opportunities within their call centre.
5. Make sure your agents feel you treat them fairly
Managers of contact centres understand the importance of treating customers fairly but may not realise that traditional approaches to performance management can leave agents feeling unfairly treated.
Making decisions about agent performance based on listening to random calls, or reviewing random interactions, can create a negative response in the agent. They will think this random sample is not representative of their whole performance and therefore that any coaching is not only unnecessary but also unfair. Agents feeling unfairly treated can really hurt your business.
Research into the way the brain works proves that feeling unfairly treated can feel like physical pain. Not only will it not get the best from your agents, but it also runs the risk of creating a reputation for your call centre of acting unfairly. This will damage your ability to attract the best talent.
We'd love to know what you are doing to create engaged and energised agents that take responsibility for their own performance improvement.
This article was based on the insights discussed by Carolyn Blunt of Ember Real Results and Frank Sherlock of CallMiner in the webinar: "5 Ways to Create Engaged and Empowered Agents".