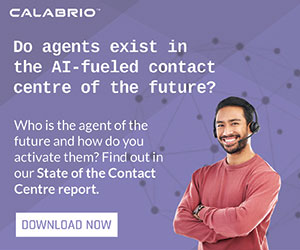 Magnus Geverts of Calabrio shares his advice for improving contact centre performance through utilizing certain technologies.
Gone are the days when the contact centre was simply a hive of activity intent on answering the greatest number of calls in the shortest space of time.
Operating in the new era of Customer Experience Intelligence means going beyond the simple 'what happened?' to understanding why customers are contacting organizations in the first place, pre-empting their preferred communication method and even suggesting new purchases.
With this in mind, here are five ways to improve performance that will take your contact centre to the next level.
1. Make Everyone a Customer Experience (CX) Champion
Increasingly, the contact centre is viewed as the hub of CX, the strategic enabler of excellent customer service. To deliver the best customer experience, the entire organization has to work together, pool its knowledge and rethink processes.
Everyone – from accounts to marketing, from warehouse to sales – should develop the skills traditionally associated with customer care representatives and become highly adaptable, good communicators, problem solvers, excellent listeners and rapport builders.
To do this, up- and cross-sell the CX philosophy starting with a taskforce that includes contact centre representatives.  They are seasoned experts who know instinctively how to work closely with other departments to get the answers and support they need to come up with new ideas for delighting customers. Make them ambassadors of customer service best-practice principles.
Next, supply them with collaborative tools, such as internal chat and enterprise social media, to share learning and tips for improving customer service swiftly and consistently across the whole organization.
Think about using automated workforce management (WFM) to schedule in time for agents to lead these taskforce sessions.  Very soon, you will create an interconnected customer care network that is poised for success.
2. Introduce Interaction Analytics
No longer a 'nice to have' but a 'must have', interaction analytics work by harnessing valuable data to give a comprehensive view of 100% of customer interactions, whatever the channel.
Use this powerful capability to identify the one word that keeps cropping up in every conversation or highlights when 90% of customers are asking the same question to focus on what really matters, make necessary changes and solve customer enquiries quickly and efficiently.
Interaction analytics are driving employee, operational and customer success in a highly tangible way.
Management consultants McKinsey & Company found that companies that have already applied advanced analytics have:
Reduced average handle time by up to 40 percent
Increased self-service containment rates by 5 to 20 percent
Cut employee costs by up to £4 million
Boosted the conversion rate on service-to-sales calls by nearly 50 percent
Many of the companies that have achieved these benefits have done so all while improving customer satisfaction and employee engagement.
3. Wrap It All Up With Predictive Analytics
Predictive analytics leverages AI-driven machine learning to discover ways to make a customer's journey smoother by alleviating contact centre pain points and anticipating a customer's future needs.
Organizations are already using predictive analytics to improve their net promoter score (NPS).
The technology swiftly analyses the positive/negative/neutral sentiment of customer interactions, valuable intelligence that contact centres can then use to pre-empt and predict future patterns and outcomes.
So, if 75 people out of 123 scored 10/10, rather than hope for the best, managers could simply use the results of machine learning to introduce different ways of working that satisfy the other 48 customers.
It might just be time for contact centres to utilize the predictive powers of analytics and machine learning to enjoy a series of tangible and repeatable benefits from increased first call resolution and NPS scores and targeted quality management to effective employee recognition and reduced customer attrition rates.
4. Create a Circle of Continuous Customer Improvement
Make continuous improvements by listening and placing the voice of the customer in the right setting. Talking face-to-face with customers is good but be aware that many customers prefer feedback sessions to be casual rather than intimidating.
Advise contact centre leaders to use anonymous surveys or introduce smaller group discussions with more of an 'around the water cooler' mood.
Encourage them to be creative, perhaps using AI and machine learning to establish trends from unstructured data to establish the key focal areas for future CX initiatives.
Whatever you do, always remember to close the loop.  Devise a mechanism for agents to share customer service best practice – using WFM automation to build in time for workshops during quieter periods to hear what works and what doesn't work.
Celebrate any successful changes adopted as a result of these gatherings to boost morale and increase employee engagement.
However customer input is gathered, the main take-away is to keep communicating and show how your contact centre is acting on customer feedback, a vital component of all QA programmes.
5. Deploy One Integrated Platform for Customer Experience Intelligence
Essentially, the world of automated WFM is shifting up a gear to become WEM or workforce engagement management.
Some forward-looking organizations are a little more discerning when it comes to selecting a new technology partner, seeking one integrated suite of solutions for traditional scheduling and forecasting while extending and automating these traditional WFM capabilities to encompass the five key elements of Customer Experience Intelligence.
The five areas of Customer Experience Intelligence, in my personal opinion, include:
Performance Management (PM)
Quality Management (QM)
Interaction Analytics
Desktop & Process Analytics
Employee Recognition.
These next-gen solutions actively bring together call recording, quality management, WFM and voice-of-the-customer (VoC) analytics into one fully integrated workforce optimization (WFO) software suite.  They are designed to enhance agent performance, increase operational efficiency and improve the customer experience.
To watch a demo of Calabrio's Quality Management (QM) solution, click here!
This blog was shared with us by Calabrio.