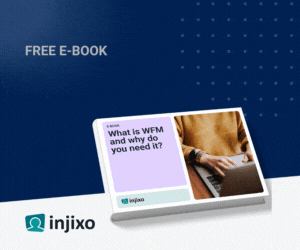 Darren Deehan of Injixo takes us through how contact centres can use workforce management (WFM) to upgrade Employee Net Promoter Score (eNPS) sustainably.
The Net Promoter Score (NPS) was introduced in a Harvard Business Review article titled 'One Number You Need to Grow'.
Just like the NPS, the Employee Net Promoter Score asks one simple question. For the eNPS, it's "How likely is it that you would recommend our company as a place of work to a friend or acquaintance?"
The eNPS emerged from a straightforward need:
To keep an eye on employee morale at a start-up in San Francisco that was competing to hire top talent.
In particular, it was used to detect low morale in a group of employees and give the company the opportunity to do something about it before it became a problem and people started leaving the company.
How Employee Net Promoter Score Is Calculated
The calculation is quite simple:
eNPS = Promoters (%) – Detractors (%)
The lowest possible eNPS score is −100 (it means everybody is a detractor), and the highest is 100 (everybody is a promoter). An objectively good eNPS score is 50.
Given this, there is another important question to answer.
How can we apply this concept to our contact centre operations?
How Do I Apply eNPS in My Contact Centre?
There are a lot of NPS services available, but the challenge is that they will not work to collect Employee Net Promoter Scores (eNPS).
The reason is that these services are specific to customer NPS surveys and they are not anonymous. This is a big difference.
In the customer world, you'd like to know exactly who your promoters are – you might want to reward them in some way or ask them to recommend your product or service online, retweet your Tweets, like your Facebook page, whatever.
The big difference here is that you don't collect eNPS surveys to reward your employees.
The goal here is to get valuable, honest feedback, and act quickly so that you save the pain of staff attrition and the associated costs of recruiting and training and any potential negative impact on the quality of service delivered to your customers.
Consider this: Agent turnover costs UK contact centres on average £202,125 annually, according to EvaluAgent.
It's a simple mindset change that happy employees make happy customers and happy customers grow your business. It's the traditional win–win scenario.
How WFM Helps to Improve eNPS
The simple goal of effective WFM is to focus on the customer service objectives.
Once you have created your forecast and calculated your staffing requirement, from a staff-planning perspective you are now at the mercy of the available resources.
You already know what it takes to deliver a pixel-perfect service, you have the numbers.
But there are some questions to consider:
Do your employees' contracts and working patterns reflect what you need to meet those service level goals?
Do you have enough flexibility in your scheduling capability?
Are you optimising those resources in the most efficient way?
Flexibility is the key to success, and very often it is assumed that agents are only happy with a traditional 9 to 5 schedule or that they will be unwilling to adopt any new working routines.
When given the option, employees are more likely to want flexibility in their working patterns.
According to JobSite, 66% of employees said that, given the opportunity, they would request flexible working.
The balancing act is the perception of flexibility from the planner and the employee's point of view. There are a number of things from a workforce management perspective where we can influence this.
Give agents more visibility of what their work schedule looks like, in advance.
Allow employees to swap or trade shifts with other employees without the interference of a 'manager'.
Permit agents to manage their own holiday balances, opening periods of time when time-off requests are welcomed.
Give agents the ability to bid for popular shifts, covering overtime if required.
Grant agents the visibility to see when their teammates are working and when they go for lunches and breaks so that their working day can be perceived at least to be sociable.
Have easy methods to monitor coverage, and remember to track and measure shrinkage and occupancy correctly so that productive hours are at an acceptable level for the customer, the business and the agent.
According to JobSite, 35% of the UK workforce already cited flexible working as the most important employer attribute. So done properly, it works.
The Real Business Impact of Growing eNPS in Your Contact Centre
At the conception of the NPS, the Harvard Business Review article concluded that "the only path to profitable growth may lie in a company's ability to get its loyal customers to become, in effect, its marketing department".
If we think of eNPS in the same way, given that agents are the face of the business, it can only have a positive influence on customer satisfaction.
In fact, 62% of Call Centre Helper readers viewed employee satisfaction as a "Very Important Metric".
There is a lot of research that connects employee engagement to customer engagement.
Gallup's State of the American Workplace reports, "When organizations successfully engage their customers and their employees, they experience a 240% boost in performance-related business outcomes compared with an organization with neither engaged employees nor engaged customers."
Jobsite research concluded that as many as 56% of UK businesses believe they will improve their business, as their employees will be happier.
Conclusion
So, in summary, when contact centres utilise eNPS with NPS together, they have two powerful metrics to follow, analyse, and grow.
Empower the Uber generation with the tools they expect to live their lives by.
An ultra-personalised app-driven group of people, some may say pampered, but that is now the way things are: deal with it, embrace it, change.