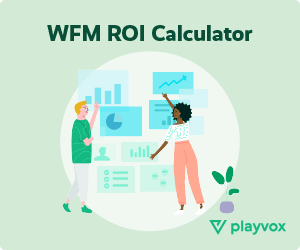 Rohit Rakkar at Playvox takes a look at call centre workforce management metrics and how to measure and improve performance.
For just about any business or department, metrics are crucial to measuring performance. For the typical contact centre, metrics are the key to identifying the reason behind a bad day and being able to create operational efficiency that helps avoid a repeat.
Metrics can outline whether the outcome had nothing to do with your preparation or whether you were woefully unprepared and undermined the requirements to fulfill the expected volume of the day.
Choosing the right call centre workforce management metrics to monitor and manage in your customer support centre is essential for the success and longevity of the customer experience. Workforce management metrics provide crucial insight into how well you are planning your workforce.
If your workforce is not properly planned and scheduled, not only do your contact centre agents suffer, but your customer experience will also. Properly planning and staffing your workforce for the channels your customers prefer keeps agents engaged and productive and provides customers with the service they expect.
What Is Workforce Management?
Workforce management is the process of forecasting, scheduling, and monitoring support centre agents to ensure they are working on the right channels.
Preferably monitored in real time, it's the most important element for optimizing your contact centre and your staff to ensure they are working when and where they are needed most to efficiently service customer needs.
Essentially, it's about maximizing performance for the best customer experience for as low a cost as possible.
Why Measuring Workforce Management Metrics Is Important
Measuring contact centre workforce performance metrics is essential because it allows you to understand how efficiently employees are performing and whether they are meeting the company's service level agreements and customer experience goals.
By tracking workforce management performance metrics, contact centres can create more accurate forecasts, identify areas of process improvement, set realistic goals, and create effective training programs to develop agents' skills and expertise.
But don't forget your ultimate goal for tracking workforce management metrics: creating the best possible environment in which to address customer issues and boost customer satisfaction.
Measuring the metrics will ensure you are set up to meet — or, better yet, exceed — customer expectations. The customer retention that follows these efforts makes them worth it.
The Most Common Call Centre Workforce Management Metrics
So, what metrics should you look at? Workforce management solutions let you take a much more detailed approach to analysing a customer support centre.
By upgrading from a spreadsheet or even basic schedule-sharing software, you can use additional real-time data points to analyse agent tasks, agent productivity, and forecasting performance all within a single solution.
The benefit of all of this being in one place? Speed, of course — there's no endless switching between applications.
Let's break down these three key metrics.
1. Schedule Adherence
By failing to prepare, you are preparing to fail — a sentiment that couldn't be truer for resource planners in a contact centre.
Measuring agent Schedule Adherence empowers you to go one step further than tracking if agents are turning up to the correct shift on the correct day.
It allows you to monitor whether agents are sticking to the tasks they are assigned to complete during their shifts.
Schedule Adherence is a critical real-time metric that will immediately indicate if your plan is flawed or if agents are not following the plan.
If your plan is flawed, this guides you to adjust your intraday distribution to meet the needs of the business and ensure a positive customer experience.
If the forecasted volume is aligned with the actual volumes, then the agents aren't following their schedules accurately and need to be coached.
Explain to agents who aren't meeting this metric why it's so important and the impacts that occur when they are out of adherence. This transparency can help quickly change the behavior and improve overall productivity.
2. Occupancy
The Occupancy Rate, sometimes called Agent Utilization Rate, is a measurement of how much time was actually spent handling customer volume compared to the total time a person was scheduled to do it.
This helps provide a better understanding of just how productive agents are, rather than only relying on total volume worked as a singular metric.
Analysing only how much volume an agent has completed on any given day gives you just half the picture and can be misinterpreted.
A person can have a 90% occupancy rate but have handled a small amount of volume while an agent who had a 50% occupancy rate might have handled double the volume.
Rather than relying on the total volume worked alone, we can use this example to investigate further and identify that it's possibly taking longer to handle certain channels or types of customer interactions.
Without occupancy to assist your understanding, it can make one agent appear to be outperforming another even though their days were not comparable.
Occupancy is a key tool to give you a better understanding of agent performance and help outline variables in your contact centre. The right workforce management software will help make occupancy easy to measure.
3. Forecast Accuracy
For any WFM scheduler, understanding historical volume trends and creating an accurate forecast is quite the challenge to begin with.
To then take that information and apply it to any given day when you then have to account for the staff available — and the individual skills of each agent — makes it an even greater challenge.
In fact, 42% of contact centres told ICMI in 2022 that they varied as much as 15% from their forecasts — and 10% of contact centres said they varied by 16% or more.
Measuring the accuracy of that initial forecast is a critical task to ensure that what you originally predicted for the upcoming period remains as accurate as possible.
Understanding your forecast accuracy along with schedule adherence can help identify areas the plan may have gone wrong or just changed — or if agents need additional training on how to stay on track.
It's important to remember that historical trends certainly help a planner make logical assumptions, but they are not always an accurate indication of the actual day's plan and can be impacted by several factors.
Not only do you have to analyse all of the variables of your business but you also have to use that information to create an accurate plan.
An accurate forecast leads to a more accurate schedule — which, in turn, leads to more cost efficiencies and more job satisfaction for agents and contact centre managers.
Being able to retrospectively assess how well a day was scheduled, take into consideration if it was a one-off issue or a bigger problem, and then apply those learnings in real time is key.
Being able to automate that in a single tool? Invaluable.
How to Use Call Centre Workforce Management Metrics to Improve Performance
These metrics are invaluable tools that give you a greater insight into your contact centre. They can give you more context for performance, identify better ways to develop agents, and even save time when planning for the future.
A solution lets you make the most of these metrics without an extensive spreadsheet or specialized users to manage it.
All of the metrics can work together to give you the bigger picture, and using workforce management metrics properly can help drive process improvements — and therefore contact centre performance.
WFM can empower you to take control of your performance by supporting metric management and overall autonomy, creating more time for you to focus on other areas.
This blog post has been re-published by kind permission of Playvox – View the
Original Article
For more information about Playvox - visit the
Playvox Website