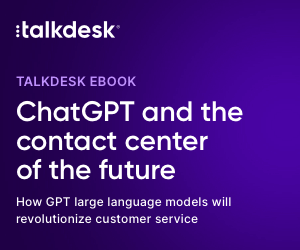 Lídia Dias at Talkdesk explains that for most businesses, metrics are an important way to create roadmaps to success. Call centres are no exception.
Whenever a customer service team answers inbound calls or instigates outbound calls a number of statistics are captured by the call centre.
Analyzing these metrics and reviewing business processes with them in mind can improve daily functions–your call centre agents will learn how to improve their processes when interacting with customers and overall become a better customer service team.
In addition, these metrics can serve as KPIs (Key Performance Indicators) for managers as they seek to improve functionality and efficiency. These metrics can even double as sales intelligence and market research.
1. Average Handle Time (AHT)
Average handle time tracks the average time for phone calls, from the beginning of the call when the agent picks up, to the end when either the customer or the agent disconnects.
AHT can be a key indicator of good or poor customer experience. For instance, if call centre agents tend to conduct brief calls, then that could be an indication of good service since customers are getting their questions answered in a timely manner.
If AHT is high, on the other hand, call centre services may not be running as efficiently as needed. call centre agents could be detracting from the customer experience with your brand by keeping customers on phone calls for too long and wasting time–both theirs and yours.
2. First Call Resolution (FCR)
FCR indicates if the majority of an inbound call centre's phone interactions only need one agent to resolve the issues, or if most calls have to be transferred, escalated, or returned by another customer service agent.
The more times a customer has to be transferred to different customer service agents, the more frustrating their experience will be and the less efficient the team will become.
Improving FCR Rate
FCR Rate can be improved by:
Documenting commonly-asked questions, to ensure that the majority of your agents know how to best answer them. Then, organize them in an easy-to-access database or "cheatsheet."
Routing calls based on language, type of customer inquiry, etc. By directing the initial customer call to the right agent, transfer rates go down and FCR rates go up.
Setting up self-service options, so customers can get some questions answered before they even reach out via phone support.
3. Cost Per Call (CPC)
CPC indicates how much money call centres are spending on each of their calls. To calculate CPC, divide the average hourly wage paid to contact centre agents by the average number of calls handled by the centre in an hour.
Improving CPC
To improve CPC, you can take the following steps:
Put quality training in place, so that each customer service representative can contribute to your call centre productively.  More calls per hour with the same staff means lower CPC.
Monitor customer service calls with technology such as call monitoring.
Schedule your call centre agents in shifts that line up with the volume of incoming calls. For instance, you should calculate which hours are peak call times for your business, and then assign additional agents to assist customers during those times.
4. Percentage of Calls Blocked
The percentage of calls blocked is a metric that helps inbound call centres specifically. Sometimes known as "abandon rate," it tracks how many calls were dropped when a customer attempts to call the contact centre, by measuring how many inbound calls don't get answered.
This can be a common occurrence for some call centres, as incoming calls hit a pre-set threshold on your phone system and get deliberately disconnected.
Decreasing the Percentage of Calls Blocked
To decrease the percentage of calls blocked, call centres can make a few changes:
Creating self-service options for customers, to help reduce overall call volume.
Configure call queue settings such as queue callback to provide customers alternative options.
Using virtual queues whenever customers try to get in touch with your team during periods of high call volume.
5. Average Speed of Answer (ASA)
The average speed of answer calculates the time it takes for calls to get "picked up" by agents after the initial connections to the contact centre have been made.
Average speed of answer and customer satisfaction are often directly related. If a customer waits for a long time before they talk to an agent, their customer experience will be poor, leading to a low CSAT.
6. Average Time in Queue
Average time in queue shows the average time until your customer inquiries get resolved.
The longer a customer has to wait to receive call centre service, the more impatient they will become, possibly abandoning the call or gaining a negative view of your brand.
Decreasing Average Time in Queue
To decrease average time in queue, customer service call centres can focus on:
Creating a straightforward interactive voice response (IVR) system, to make it easy for customers to find the specific help that they need.
Asking agents to keep an eye on the average time in queue that's associated with each of them, individually. By seeing their performance with this metric, they can consider if they should be making their calls with customers more efficient, changing their way of performing daily operations, etc.
Staff appropriately, according to the ebb and flow of call centre operations. If your call centre expects to see an influx of calls because of a widespread sale or holiday, you can consider partially outsourcing customer service to a third-party vendor.
7. Customer Churn Rate (CCR)
Customer churn rate measures the percentage of customers who unsubscribe from your paid services over a specified period. CCR can help businesses gauge their rate of customer retention.
If CCR is high, it could be an indication that your customer satisfaction is low and needs improvements. Many businesses can link poor performance metrics, such as high average speed of answer and average time in queue, to an increase in customer churn rate over time.
8. Customer Retention Rate (CRR)
CRR is the opposite of CCR and stands for the number of customers a company retains over a specified time period.
To improve customer retention rate and, consequently, decrease customer churn rate, it's important to align marketing/sales with customer success efforts. Developing and executing a strategy for growing customer success can help.
9. Customer Satisfaction (CSAT)
Customer satisfaction (CSAT) is a performance indicator that shows how satisfied your customers are after a recent experience with your brand. Survey tools such as Net Promoter Score (NPS) can help you collect this feedback.
Often, CSAT is collected through surveys, and could include questions such as:
Were you satisfied with your experience? (Yes/No)
On a scale of 1-10, how satisfied are you with your experience?
10. Customer Effort Score (CES)
CES is another way to understand customer sentiment, similar to conducting customer surveys for collecting CSAT. The customer effort score focuses on the amount of effort that it took for a customer to get in touch with your brand, and how easy or difficult it was to get in touch with your team.
FAQs
What Does a Customer Service Call Centre Do?
A customer service call centre provides answering services for customers with questions about a product or service. It is a type of inbound call centre, which focuses on responding to customer issues or inquiries.
Is Call Centre the Same as Customer Service?
While call centres fall under the customer service category, they are only one type of customer assistance that a customer service department could provide.
These departments also focus on setting up self service options for customers to browse, facilitating other means of contact such as email and chat, and serving as technical support for providing more specialized answers to highly-technical questions.
What Are the 3 Types of Call Centres?
The 3 types of call centres include inbound call centres, outbound call centres, and blended call centres.
An inbound call centre focuses on customers calling in with inquiries or concerns, while outbound call centre services serve a sales function by calling potential customers to create interest in a product or service. Blended call centres can facilitate either inbound or outbound calls.
This blog post has been re-published by kind permission of Talkdesk – View the
Original Article
For more information about Talkdesk - visit the
Talkdesk Website