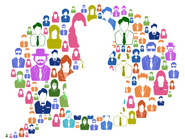 Ashley Williamson looks at the four pillars of a successful Voice of the Customer strategy.
How often have you heard the phrase "our customers are at the heart of everything we do"? It's turning into something of a cliché. But, as with most clichés, that's because it is true.
Customer service professionals really do care about their customers and have their best interests at heart. However, the challenge in the real world lies in tuning out the noise of the everyday and really listening to what your customers are saying about your service and your brand.
We believe that effective, actionable customer insight simply can't happen without the following four pillars as a foundation:
1. Stop the silos
Most businesses demand a good level of reporting from the customer service department and it can be tempting to simply focus on this one area when setting up a Voice of the Customer (VoC) programme. However, to gain a true picture of the customer experience, it's essential to involve all areas of the business.
Think of the VoC as the 'DNA' of your company – it should be part of the way the organisation operates rather than letting the programme fall into small isolated silos.
Your customers see your organisation as a single entity, not a number of different departments. And when they contact you, they want to get a particular job or need fulfilled with very little consideration for how the business is organised. Therefore, implementing a VoC strategy must cover every part of the organisation that is customer facing – such as your stores/branches and the customers they serve.
The entire organisation and all its parts need to take ownership of VoC and ensure that the strategy is carried out wherever a customer comes into contact with it.
2. VoC is more than just the tools you use
Technology is a great tool, but on its own it is just a facilitator and not a panacea for all your needs and goals. When developing a VoC strategy, it's important that it is a strategic choice encompassing the whole organisation – ultimately it is the people within the company that will drive the changes, not the technology that is used.
To fully embrace a new VoC strategy, a company needs to work from the outside in, to ensure it works efficiently to benefit customers and addresses their needs rather than simply being designed to fit internally.
This can be a real challenge for many organisations because it involves really listening to customer feedback and acting on their actual needs, rather than delivering preconceived brand promises about excellent service.
If there is no clear vision that focuses on cultural changes, even the most advanced IT solution will fail to properly implement an effective VoC programme.
3. Focus on the positive customer as well as the negative
Understanding the root causes of customers' problems is a vital part of any successful VoC programme, as these can be varied and potentially crippling if left unchanged. But what happens with those customers who genuinely really love your products and services?
These customers are ambassadors for your company and its offering, which is great for advocacy and recommendations – but they also offer a lot of valuable insight and positive feedback on the things you do well. Listening to them will prevent you changing your proposition and inadvertently discontinuing the very things your customers like.
Focusing on the positives is also hugely beneficial internally, giving your team pride in what they provide, demonstrating why your business makes the offerings that it does, and boosting the self-esteem of the whole organisation.
4. Understand the full digital experience
Another area where it's important to include all touchpoints of the customer journey is in the organisation's digital offering.
Prospects and customers can perform tasks and services themselves through one website portal – searching for product information, managing their online account, using self-service tools, asking questions online through webchat and buying new products. It's important to understand this and ensure you are meeting your customers' needs and expectations fully.
The added complexity will make it harder to offer a consistent service, and also more difficult to correlate feedback or insights back to all parts of the business. However, the technology is now available to ascertain exactly how visitors are using your website and to ask them questions about what they like, what they don't like and what they would like to see in the future – when it is most relevant for them.
This offers a much wider view of the digital customer experience and helps get a much clearer understanding of the whole customer journey and its suitability for your customers.
With thanks to Ashley Williamson at Bright UK
---