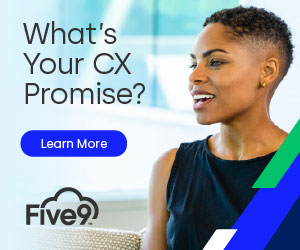 Brian Atkinson of Five9 makes four predictions for 2021, the year in which he predicts: "Customer service becomes more human."
Remote working was never traditionally considered a widespread possibility for the contact centre – then 2020 came along.
New communication platforms were installed, desktops with customer history couriered to agents' homes, all happening against a backdrop of lockdown and having the entire family at home at once.
It's been a stressful time, but thankfully technology has prevented it from becoming even more challenging.
Accelerated by the impact of COVID-19, the cloud, AI and automation have all been chipping away at legacy systems in the contact centre. But while these technologies have been a major enabler for business continuity, there's still a long way to go for the industry to become fully digitised.
To achieve this, tech has to sink seamlessly into the background and create a frictionless communications experience between agent and customer.
Will 2021 achieve this? Here are my predictions for the contact centre space…
Migration to Cloud
Customer demand is changing, fuelled by economic pressures of the pandemic. More than ever, businesses need to be there for their customers by maximising responsiveness at any point in time, regardless of location.
In 2021, we will see a greater shift to the cloud away from on-premise, as more organisations look to create efficiencies and free up agents' time to focus on more complex customer needs.
As well as providing an easy work-from-home set-up, it will also offer more omnichannel options, scalable staffing, intelligent routing, easily accessible data and AI-assisted capabilities.
The cloud will provide the foundation on which executives can quickly and easily deploy new technologies without having to install them in their own organisations – further enhancing the customer experience and helping to future-proof the contact centre against similar adverse events as the pandemic.
Empathy Rings True
The COVID-19 crisis has shown the importance of empathy between brands and customers. Messages of comfort and positive support have provided assurance to consumers, as well as employees, that they are cared for during so much uncertainty.
In 2021, organisations will continue to strive for human connection with customers by responding to their needs – from setting the right expectations, to being respectful of their time and proactively meeting their requests.
Empathy will be a deciding factor in every decision – from hiring people who are naturally empathetic, to training initiatives that encourage employees to communicate more empathetically.
This will also be factored into decisions over what technology to invest in – using software, applications or processes to allow the agent to focus on truly listening and engaging with the customer.
The Future of IVR
Once deemed the most exciting development in customer service technology, interactive voice response (IVR) has become the most frustrating part of the call centre experience for customers and agents alike.
Customers have grown tired of getting lost in an IVR tree which fails to provide options truly reflective of their needs, meanwhile agents all too often end up on the receiving end of their anguish.
In 2021, the time is ripe for disruption in this area. Intelligent omnichannel routing will improve first contact resolution by giving agents the ability to easily access subject-matter experts who are using unified communication (UC) capabilities.
Agents can connect to them during the customer engagement and bring them directly into the conversation if needed.
Forward-looking companies have already begun integrating UC, CRM and contact centres, enabling seamless communications between agents, customers and, if needed, subject-matter experts within the business, making information available at their fingertips to deliver excellent customer experiences.
In 2021, more leaders will embrace this technology to gain a competitive advantage with improved customer experience, all while lowering costs when it's needed the most.
Hold No Longer
While phone lines won't be going anywhere in 2021, being put on hold will. Phone support provides that all important personal connection valued most by customers, but making them wait an average of up to 20 minutes causes frustrations and shows little respect for their time.
In the year ahead, we expect to see a wider uptake in technologies that can help alleviate the irritation customers feel when they are tied to their phone. In particular, we'll see greater investment in comprehensive workforce management systems to reduce hold times.
These can automatically and accurately forecast call volumes, allowing organisations to deploy the right number of agents to handle calls, while also leveraging flexible agent scheduling to address volume spikes.
Callback technologies will also be used more widely to manage customer service expectations. Immediate, instant, or scheduled callbacks can allow customers to keep the same spot in line and receive a call the moment an agent is free or select a time to be called later in the day.
These technologies will considerably help to improve the customer experience.
The New Front Door
The pandemic isn't over, and the UK could potentially face more lockdowns in 2021. Consumers likely won't be out and about at the shops like usual, leaving the contact centre as the front door to communication between a brand and its customer.
At a time when human connection is so limited, offering exceptional customer service is a sure way to break the mould. We expect to see brands continue to build on the human connection, investing in technology to enhance the consumer and agent experience.
For more information about Five9 - visit the
Five9 Website