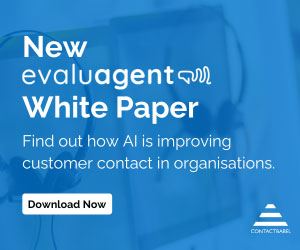 From AI to analytics and everything in between, we've been busy finding out what the contact centre must-haves are for 2023! Lucy Phillips at EvaluAgent explains more.
As the world continues to evolve and change, it's important to regularly assess your systems and make any updates as necessary to ensure you're keeping up with the latest trends and technology that will take your business to the next level.
So, we've done the hard work for you, here are the 5 must-haves that'll improve your contact centre in 2023 and beyond…
Learning Management System
Artificial Intelligence
Omnichannel Support
Real-time Analytics
Flexible Work Options
A Learning Management System That Your Agents Will Thank You For…
Save Time With Artificial Intelligence…
Whether it's chatbots or Auto-QA, AI can help reduce the workload on contact centre agents by improving efficiency.
The use of AI through Auto-QA will allow you to automate compliance checks and evaluate every call, chat, and ticket against your own measures of success.
Whereas using chatbots can handle repetitive tasks such as answering frequently asked questions. Both AI-led solutions will save agents time and allow them to focus on more complex issues.
Make Sure You Never Miss an Opportunity With Omnichannel Support…
Just because your customers are getting through to you via email, doesn't mean that they haven't looked to contact you via social media first.
Every customer is unique, and so is the way that they are most comfortable contacting your business. It's important to allow your customers to be able to contact your business by using a variety of channels, including phone, email, social media, and online chat.
An omnichannel system allows agents to seamlessly switch between these channels and provide a consistently great experience for customers, no matter how they choose to contact your business.
Improve Customer Experiences With Real-Time Analytics…
To continuously improve customer experience, contact centres need to be able to track and analyse data in real time.
By using tools that identify trends and issues, managers will be able to make changes to processes and procedures as needed.
By having access to this data, Heads of Quality Assurance will get the whole picture across agent performance and evaluator performance, allowing them to quickly identify what needs urgent attention and enabling you to track how your QA efforts positively impact your business KPIs.
Reduce Agent Attrition With Flexible Work Options…
Cast your mind back to 2019. Contact centres were largely run out of offices, but as we faced the pandemic, we saw a rise in remote working in the industry.
Now, although we are still seeing large numbers of businesses that have moved to a remote business model, some have returned to the traditional office way of working.
It's now time to allow your agents to have flexibility with how they work, whether this is remote or hybrid working or flexible schedules.
By allowing your agents flexible options, you will improve agent morale and retention, whilst also providing cost savings for your business.
Overall, the key to a successful contact centre in 2023 is a combination of the right technology, people, and processes. By keeping these must-haves in mind, you can continue to provide excellent customer experiences and stay ahead of the curve.
This blog post has been re-published by kind permission of EvaluAgent – View the
Original Article
For more information about EvaluAgent - visit the
EvaluAgent Website