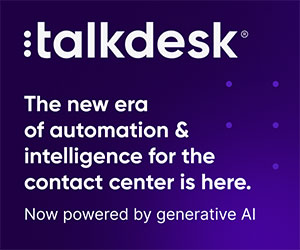 Marta Lima at Talkdesk explains that when receiving a high number of inbound calls, contact centre agents struggle to manage and prioritize each in the best possible way.
Long hold times, exhausted agents, and angry customers—this is a common scenario in every contact centre.
ACD helps contact centres sort and manage large volumes of calls to avoid overwhelming the team—and frustrating customers. It improves customer experience (CX) by making sure that customers are connected to the most suited agent in the shortest time possible.
In this article, we will go through the concept of ACD, explain how it works, and the advantages it can bring to your business.
What Is an ACD?
An automatic call distributor (ACD) is a telephony system that answers incoming calls and routes them to the most appropriate agent or department based on pre-defined information.
It typically works with computer telephony integration (CTI) systems and interactive voice response (IVR) to intelligently route calls within a company. The main goal of an ACD is to route incoming calls to contact centre agents with specific skills that answer particular customer needs.
How Does ACD Work?
The call distribution process can be divided into three main steps:
1. Caller Identification.
The first step in the call distribution process is to understand the reason for the customer's call. For this, contact centres use an IVR. IVR allows callers to interact with an automated agent before they are redirected to a live one.
They are used to determine the reason why the customer is calling and, by extension, the kind of support they need. The customer is asked to press a series of keys of their phone that corresponds to their issue.
Caller ID systems can also be used to determine where the customer is calling from and the language they speak. This information will allow the ACD to route the caller to the agent that's best equipped to handle their issue.
2. Call Queueing.
The second step is to sort the callers into a waiting list. The ACD determines the order of the queue based on factors such as status—if it is a VIP or new customer—waiting time, type and severity of the issue, or others.
3. Call Routing.
Finally, the ACD routes the call based on the predefined distribution method. There are many types of distribution methods, and these are chosen according to each contact centre's goals—either improving KPIs such as waiting time or boosting agents' efficiency and productivity.
For example, if you can reduce the waiting time, your ACD can route the incoming call to the immediately available agent.
On the other hand, if your focus is to offer a not only fast but efficient service, your ACD can route based on the skills of each agent—such as efficiency, expertise, or language proficiency. You can decide which skills are the most important to your team and prioritize agents based on them.
6 Advantages of Using an ACD.
By now, you already have a clear understanding of what an ACD is and how it works. But how does this technology impact your business? Read about six of the main advantages of using an ACD in your contact centre.
1. Flawless Routing.
An ACD routes calls based on an algorithm that takes into account diverse factors—such as the phone number the caller dialed, the caller's information and area code, IVR configurations, agent availability and skills, and business rules.
When calls are routed based on this comprehensive data, there are common errors like dropped calls, and transfers to the wrong agent. An ACD will increase the efficiency and the professionalism of your team.
2. Faster Response to Calls.
Using an ACD, calls are answered immediately and transferred to the most appropriate human agent. Waiting queues are optimized and customers are allowed the option to be called back during high call volume periods.
In addition, VIP customers can be identified and immediately routed to agents who are assigned to receive their calls. This expedites response time and the call handling process, increasing customer satisfaction.
3. Increased Efficiency.
ACC routes calls to the most appropriate agent or department, ensuring that customers always reach the right agent, minimizing call transfers, and increasing the specialization of agents. ACDs also allow for business tools integrations as well as the capability for dispersed companies to work from one system.
This allows for teams to always be on the same page. Additional ACD capabilities such as call monitoring, call conferencing, and whisper coaching, support the agents' performance and teamwork and build the foundations for a better CX.
4. Streamlined Business Processes.
ACDs will significantly streamline any company's business processes. ACDs integrate with CRM, Salesforce, helpdesks, social media, and live chat so your agents will have a more comprehensive understanding of your customers' needs.
Your agents can keep track of all customer interactions in one interface and will never have to open and update multiple business tools with customer information.
Additionally, with ACD and integrations, your entire team will have access to up-to-date customer information, can engage in call conferencing, and can seamlessly transfer calls to different agents or departments. Your team will be more efficient and effective with streamlined processes.
5. Increased Agent Productivity.
An ACD will dramatically increase agent competence, efficiency, and productivity. When agents have only routed calls that they are trained to handle, they will become more proficient at handling that call type, will handle them faster, and have more confidence.
They will also waste less time trying to figure out issues that are beyond their training or expertise. In addition, with ACD and integrations, agents will have access to comprehensive information about the caller, before they take the call.
They will never have to open multiple databases and business tools searching for the customer information that they need. An ACD, therefore, increases agent productivity and efficiency.
6. Optimized Resources.
Efficient routing optimizes agent productivity and minimizes downtime. Agents can spend more time doing what they do best and less time trying to figure out problems that are outside of their domain. ACDs collect usage data that feed real-time and historical reporting.
With this information, managers can more effectively assess KPIs in order to optimize workflow and resources. ACDs also allow for geographically dispersed companies to be more integrated and work together as one team.
With an ACD, managers can easily monitor calls, no matter where their agents are working. Therefore, ACDs can optimize resources in any company.
Before You Go.
ACDs can add significant value to any company by streamlining business processes, increasing agent productivity, enhancing managerial practices, and increasing team cohesiveness and collaboration. They are very affordable, easy to implement, and can result in huge ROI.
This blog post has been re-published by kind permission of Talkdesk – View the
Original Article
For more information about Talkdesk - visit the
Talkdesk Website