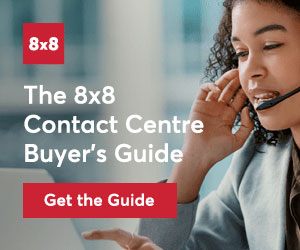 8×8 has announced the launch of X Series, a new platform that combines robust call, collaboration, conferencing and contact centre solutions to help businesses improve their customer experience.
Although 72% of businesses say improving customer experience is their top priority, very few have built their communications infrastructure to enable the interactions that drive world-class customer experience.
Many enterprises today have siloed point solutions and separate platforms for voice, contact centre, collaboration, and conferencing. This historical approach to communication involves costly infrastructure and results in slow time to resolution, fragmented interaction data, and disjointed analytics.
With customers and employees interacting through one system of engagement, enterprises can also now optimise valuable moments of engagement with one set of data in one system of intelligence.
'I don't know' is eliminated from the resolution process as X Series brings the history, current context, and internal experts all together during the initial customer interaction. The end results are a faster time to resolution, a lower cost and a better overall experience for customers and employees.
"Delivering an exceptional customer experience is the difference between thriving and failing for a business like ours," said Ravi Kurumety, CIO, Lenox Corporation.
"8×8's X Series is the foundation Lenox needs, leveraging real-time customer data, an integrated set of communications tools, and providing access to the right subject matter experts to transform our employee and customer experiences."
The new X Series platform provides enterprises with one set of data, one workflow engine, and one analytics engine inside an integrated solution for voice, meeting, team collaboration and contact centre.
Because of its ownership of all of the core underlying technologies, 8×8 is uniquely equipped to design and build each element of its solution in a way that optimises the functionality, security and intelligence of the overall system.
With one system of engagement built to deliver a superior customer experience, companies can now take advantage of:
Context-Rich Engagements
8×8 X Series arms contact centre agents and employees with complete context before they start a conversation.
X Series has native CRM built-in and also integrates with third-party solutions like Google G-Suite, Salesforce, Zendesk and NetSuite to provide rich contextual insights such as previous engagements and preferences.
Collaborative Contact Centre
X Series allows businesses to harness the collective insights of the organisation through real-time collaboration with peers and instant access to subject matter experts.
Companies can significantly increase performance by empowering their employees to move from chat to voice to video to web conferencing with one click.
Advanced Customer Journey Analytics
Instead of piecing together data from multiple systems, X Series provides the enterprise with a view of the customer journey from the moment they reach the contact centre through to issue resolution.
In addition, X Series offers advanced analytics based on a single data set for all employee and customer interactions that enables the enterprise to continuously improve the customer experience.
"Customer-obsessed companies are looking for a communications infrastructure that helps them transform their employee and customer experience," said Vik Verma, chief executive officer at 8×8.
"X Series is designed to radically change how companies deliver unparalleled customer experience by providing intelligent interactions between their employees and customers."
"8×8's X Series enables thousands of our loan officers, who work on the move, to quickly connect with the right subject matter experts to finalise the best loan rates for their clients," said Cam Lawler, Director, Enterprise Applications at Movement Mortgage.
"The platform helps boost our employee–customer interactions in real time with integrated voice, email and webchat, which is integral to giving customers the quick responses they demand."