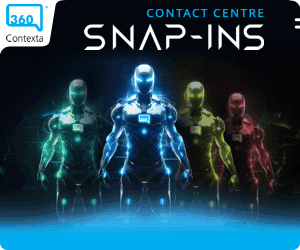 Rene van Popering at Contexta360 provides eight actionable CX insights to increase customer success.
The benefits of speech analytics in customer service are widely documented, but which elements of speech analytics make a difference to customer success?
From the outset, contact centre success needs to be measured correctly. This can be a bone of contention within an organisation when every stakeholder has their own view of what those measures are.
While this may appear complex, there are several factors that can provide reliable customer satisfaction, friction and effort ratings. These insights strike a healthy balance between self-service and personal attention.
Checks should always be made to ensure that there are no risks or unacceptable behaviours that jeopardise your brand's reputation. It is important to understand what skills your teams need to build a plan that you can execute consistently and confidently.
Remember that you should use AI analyses that are applicable immediately and that map customer success and contact efficiency to create a strategic CX program.
Here are the questions you need to ask to gain the insights that make your contact centre cost-effectiveness, customer satisfaction and risks manageable.
CX Insight 1: Identify and Understand Contact Reasons
What questions do my customers have? Do customers contact me for reasons I expect? Which contact moments have different questions or interests, and how many of the contact moments do not belong within a (my) service point?
Understanding customer contact reasons will help you to monitor contact centre costs and emerging trends that drain your customer service. You should know precisely what call volumes to expect and be able to intervene fast when the service becomes overloaded or service levels are compromised.
CX Insight 2: Create a Framework for Efficient Handling and Resolution
Which of my customers experience resistance while handling their questions? Which customers indicate that they have already been in contact several times? How many of my customers say they want to leave? How many of my employees cannot convince the customer to continue to do business with the company?
By creating a framework for efficient customer handling and contact resolution, you can ensure a smooth customer satisfaction experience, reduce repeat traffic, monitor customer loss, and understand how service teams improve customer retention.
CX Insight 3: Ensure Consistent Handling Within Teams
Which interactions with my customers follow the correct procedures? In which interactions is the ID verification performed correctly? Which of my employees refer to the condition and acceptance requirement? How many of my customers do not receive the desired handling conditions for their contact?
Understanding the content of and monitoring every call will help to ensure quality and consistent handling for your customers, guarantee all necessary questions are asked, prevent complaints and procedural errors, and quickly identify where risks or handling procedures are not followed.
CX Insight 4: Monitor Customer Satisfaction, and Act on the Underlying Causes
Which of my customers express some form of dissatisfaction? Which subjects or events are most often connected to this dissatisfaction? How often does an employee check satisfaction at the end of the call? Which aspects of handling determine a good NPS valuation? How many of my employees use a friendly approach with an active listening ear?
Understanding why dissatisfaction occurs will help you to improve customer satisfaction. Monitoring customer satisfaction will help you to recognise patterns that lead to the best possible balance between efficient trading and personal attention. You can also gain and use insights to take customer appreciation as an NPS to a higher level.
CX Insight 5: Eliminate All Effort and Friction From Your Touchpoints and Procedures
Discover the causes of longer handling times. What is the underlying reason for (too) long silences during an interaction? How many of my customers indicate that promises made have not been fulfilled? Which customers indicate that a procedure request was unsuccessful or not accepted?
By eliminating effort and friction from your touchpoints, you can make customer service more efficient. You not only need to understand which handling aspects lead to longer talk times, but you should gain insights into which knowledge or application use influences smoother handling of customer questions and interests.
CX Insight 6: Create a Culture of First Contact Resolution
Take a look at which questions are unclear on the website and end up in the service centre. How many customers wait for an expected promise and call back? Which customers report having called before? How many employees ask to be contacted another time or to call another department? How many customers did not get any further with the auto-bot handling and do not feel they have been helped immediately?
By monitoring every customer call and contact, you can see when promises are made and not followed and find ways to enable your employees/customer contact channels to resolve issues on first contact.
By ensuring that more customers get the service they need on their first contact, you not only improve customer satisfaction, but you can also reduce the number of calls your contact centre receives, reducing work pressure for your employees.
CX Insight 7: (Auto) Evaluate Consistently and Pay Attention to Talent Coaching
How many of my employees need my direct attention? Which skills are decisive for creating success? Which employees indicate that they have problems with company applications or work-from-home set-ups? How is emotional intelligence used to aid customer retention and good NPS ratings? How can I spend my time more efficiently, and what is the impact of my coaching and education on the business results?
Consistent evaluation will allow you to coach your service talent in the right focus areas and help you to better understand what your top talent does differently. This will enable you to tailor your coaching plan based on a proven result.
CX Insight 8: Eliminate Any Business and Reputation Damage and Monitor Trends
Which risks to my business arise during customer contacts? Which topics do my customers say they find unacceptable? In which conversations do customers indicate that they do not trust the authenticity of the information? Which of the interactions can cause damage to the brand's reputation?
By monitoring and following trends closely, you can protect your organisation and corporate culture from any form of mistrust, negative social media, or fraud attempts. It will enable you to recognise patterns and stay informed if your customers or employees indicate they do not trust something.
Conclusion
With AI-driven insights, you can achieve a CX improvement culture that focuses on managing all customer experiences and linking them to the desired success bandwidth.
By paying attention, you can react more quickly and effectively to customers who express dissatisfaction or experience unnecessary friction and effort. These insights should help you continue to monitor and improve your CX strategy and achieve customer success.
This blog post has been re-published by kind permission of Contexta360 – View the
Original Article
For more information about Contexta360 - visit the
Contexta360 Website