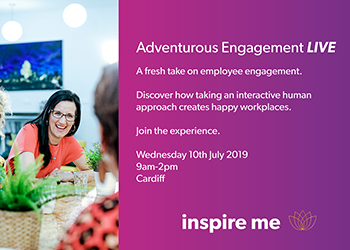 About the Event
Date and Time
Wed, 10 July 2019 09:00 – 14:00 BST
A unique event for business leaders inspired to be authentic, change the norm and put people first.
Following a successful 1st first event in 2018, we're excited to bring you our 2nd Human Side of Engagement Engagement summit (with a twist!) taking place on the 10th July.
Inside this event
The workplace is ever evolving, and disengagement is estimated to be costing the UK economy £348 billion per year. Organisations are taking action to improve employee engagement and ultimately improve their bottom line. But with so many engagement solutions, both online and offline, how do companies cut through the noise and select the right tools and initiatives that align with their brand ethos, customer promise and internal culture? That give employees what they need to do their jobs well?
Come along to Adventurous Engagement and discover how taking a human Interactive approach to engagement can fast track your business performance, inspire positive cultural behaviours and create a thriving community of employees.
This is a LIVE event giving you the opportunity to experience multiple high-energy activities, share practice with fellow leaders, explore real engagement challenges and come away inspired to put people first.
We also have a surprise guest speaker showcasing how their adventurous approach to engagement created an award winning culture.
What will you get from the day?
How to inject energy into your workplace daily
Discover new ways to get people on side and bring the best out of your teams
Explore a range of activities that can you can introduce for team bonding
An opportunity to get explore real engagement challenges and be part of the solution.
A Q&A with guest speaker and engagement practitioners.
This event is ideal for Employee Engagement Champions, HR Leaders, Internal Communications Leaders, Heads of Learning & Development, Contact Centre Managers, and CEOs.
Lunch, snacks and refreshments will be provided.
Who can attend?
We welcome all professionals from corporate and non-profit organisations with a responsibility for improved employee engagement and communications. Please use your company email address to register.
Date and Time
Starting:
Wednesday 10th July 2019
Date and Time
Starting:
Wednesday 10th July 2019