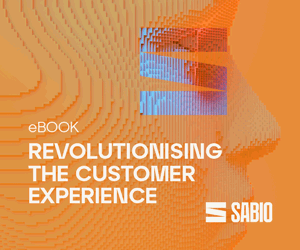 Kevin McGachy at Sabio explains why your agent desktop strategy is becoming more and more critical to CX success.
We've seen this story play out all too often…
You visit a website – possibly using a chatbot in the process – as well as engaging with the company's social media channels in a desperate bid to gain the information you desire…
You have a complex query, and the self-service/AI tools put in place by the business you're looking to engage with aren't doing the trick. It's now going on 45 minutes, give or take, and probably has involved you repeating yourself several times along the way…
Finally, at last, your query has been escalated to a skilled Contact Centre Agent; although you've a complex query that is now being topped up by more than a hint of frustration…
And your ordeal isn't over yet…
The Agent, through no fault of their own, is unaware of your journey and what you've had to endure to get to this point. They can't see that you spent 15 minutes on the company website, or that you exchanged several messages on social media and through the chatbot… and to add further to your frustrations, you're now having to repeat yourself as the Agent attempts to get up to speed themselves.
This is a frustrating experience for everyone – but sadly it's all too common. Firstly, for you, the customer, who's had to go through several channels to get something close to an answer (not to mention the realms of repetition).
But secondly, and this is thankfully now becoming a major focus for businesses, the Agent is now frustrated also, having now been forced to enter into this interaction with you completely blind.
Across the industry, there is a lack of investment in essential agent desktop technology by organisations; technology that would provide them with all the information and data they need at their fingertips to handle complex interactions, such as the example above.
This lack of investment is leaving them with one, and sometimes both, hands tied behind their back, oblivious to the journey of the customer on the other end of the line, which in turn has an adverse impact on their overall customer experience.
Organisations have been quick to benefit from the continued growth and adoption of AI across the contact centre industry. They can now automate those simpler, transactional calls and queries, providing the business with impressive 'time to resolution' stats and keeping management and/or the Board on side at the same time.
But what that means is that the modern Contact Centre Agent is instead being left to deal with lengthy, more often than not extremely complex, queries brought to the surface by frustrated customers.
It's affecting Agents' confidence in their ability to do their jobs, and confidence that their employer has their best interests at heart – not to mention the impact on their mental health and wellbeing.
Simplifying the Agent Experience With a Unique and Bespoke Desktop Strategy…
Contact Centre Agents are challenged with an overwhelming number of tools and applications to manage while trying to maintain a consistently positive customer experience outcome.
Agents struggling with a complex desktop setup can lead to frustrated customers, regulatory fines, increased operational costs, and employee dissatisfaction.
Thankfully, the urgency to provide Contact Centre Agents with the appropriate supportive tools is growing.
We are now seeing increased interest in agent desktop technologies from businesses – particularly the latest generation of assistive, unified desktops that can equip advisors with the insights required in managing their evolving workloads and simplifying today's cluttered and complex multi-system CX environment.
It's only in simplifying the Agent experience that you can really start providing them with the right information at the right time to support their customer conversations.
Reducing friction from every aspect of the interaction needs to be at the core of every agent desktop strategy – whether that's from legacy technology or needlessly complex processes that can easily cause frustration for advisors; from poor quality routing systems that often fail to connect customers to the right advisors; or from people simply not having access to the information they need to help resolve customer enquiries.
Having visibility across systems such as CRM, service ticketing, marketing automation, e-commerce, retail and logistics, means that the desktop can identify relevant details and present them exactly when they're needed during an interaction.
But getting this level of insight invariably requires a deep dive to gather customer journey insights, understanding exactly which pieces of data are needed to help resolve customer issues first time.
Here AI tools can help by offering real-time guidance as well as desktop access to additional insights. A unified agent desktop is valuable in providing advisors with immediate updates on their performance, with continuous data-driven feedback loops offering real-time insights, engagement surveys helping to capture critical feedback, and bite-size training and best practice coaching made available where needed.
Reducing Potential Advisor Overload…
Having such a unified view of the customer journey – one that brings together and consolidates both the digital, voice and the advisor customer experience – is crucial.
But advisors certainly don't need a desktop that presents everything they might need to know all of the time. Context is critical here.
Being able to take advantage of the latest AI tools helps to address this issue of potential advisor overload by supplying them with only the most relevant customer, product and service insights in real-time.
This way they can engage more effectively, providing customers with the right information at the right time, and positioning the advisor desktop as core to the delivery of faster, smarter and more personalised service.
The modern Agent Desktop should be unique and bespoke to the organisation's needs. What goes into each organisation's interactions and CX strategy is different from business to business and so investing in and delivering a Desktop solution to their Agents that meets their own individual needs is critical.
The technology organisations implement should help simplify the Agent experience, which we know is growing over-complex.
It should provide the single view on what an agent needs to concentrate on during their customer interaction – rather than the customer experience being pushed into a secondary thought, while the Agent scrolls through multiple screens and systems to resolve their query.
The technology should surface the Agent with the information as it's needed, making it digestible and presented when it's relevant.
Delivering as good an advisor experience as possible is clearly an important CX differentiator. Of course, technology alone isn't the answer, and that's why an end-to-end agent desktop strategy is becoming more and more critical.
For more information about Sabio - visit the
Sabio Website