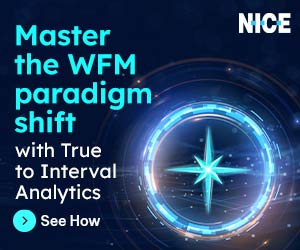 Using artificial intelligence (AI) capabilities to deliver agent guidance in real time, at the exact moment it's needed, helps contact centers maximize agent performance, delight customers, and reduce costs.
That's the finding of a report by Aberdeen, which surveyed more than 300 contact center leaders across industries around the world.
Aberdeen found that the number one priority of contact centers, regardless of industry, is to improve the customer experience, followed by reducing service costs to drive operational efficiency. In the report, "The ROI of Real-time Agent Guidance: How AI Helps Align Agent Performance with Customer Expectations,"
Aberdeen Vice President and Principal Analyst Omer Minkara details opportunities for improvement for contact centers considering implementing AI.
Aberdeen defines contact center AI as encompassing:
Artificial intelligence: Automated reasoning and decision-making capabilities based on insights uncovered through machine learning algorithms.
Machine learning: Technology applications that learn by themselves by analyzing a pattern of historical and recent data.
Prescriptive guidance: Tools used to analyze structured and unstructured historical data to make predictions and suggest decision options.
Predictive analytics: Tools to predict future behavior of customers.
Automation: Tools used to automate the execution of tasks such as customer routing, agent scheduling and quality assurance.
Traditional contact center quality programs are designed to uncover inefficiencies after the fact – after they observe poor performance. They "learn by doing," according to the report, and rely on coaching and guiding agents based on evaluations of just a handful of interactions each month, in many cases.
The pure volume of interactions inhibits many contact centers from doing more than random sampling of customer interactions on a monthly or quarterly basis.
AI, on the other hand, enables organizations to monitor and analyze 100% of customer interactions in real time and give agents the contextual guidance they need to turn the conversation around in the moment.
Supervisors gain relevant and accurate insights that help boost their productivity and inform the one-on-one coaching and guidance they offer to agents.
In fact, firms using AI report a 2.9% annual improvement in the amount of time supervisors spend helping agents, compared to a 0.1% worsening by contact centers without AI capabilities.
The benefits of AI in the contact center extend to customers as well. According to the report, contact centers leveraging AI capabilities like speech analytics, text analytics, and journey analytics enjoy superior CX performance improvements that include:
A 10.5% increase in customer retention (compared to a 3.2% improvement for contact centers not using AI).
A 3.5x greater improvement in customer satisfaction (10.1% vs. 2.9%).
An 8.8% improvement in customer effort score (compared to 1.1%).
"Modern contact centers leverage AI capabilities to take quality assurance to the next level," Minkara wrote.
"Instead of periodic reviews and subsequent agent coaching and guidance, they use AI capabilities to review all interactions in real time – using the resulting insights to provide agents with real-time contextual guidance."
"This helps shorten the time to make necessary improvements in agent skills and activities to address evolving client needs," he added. "It also minimizes customer frustration and churn due to inefficiencies in service delivery activities."
Minkara concluded the report with a strong recommendation that contact centers not currently using AI to boost agent productivity and performance consider doing so.
AI models can learn from and be trained using an organization's historical interaction data, enabling quick results. Read the full report here.
For more information about NICE - visit the
NICE Website