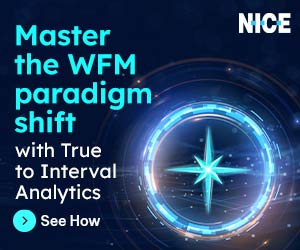 A recent study by Glassdoor revealed that at companies with close contact between workers and customers, there's a clear link between happy employees and happy customers.
Across industries, the survey found that the rating that employees give their employers corresponds directly to improvement in customer satisfaction scores.
This makes it critical to prioritize employee happiness – not just for retention but also to deliver customer experiences that help contact centers achieve business goals.
And with millennials and Gen Z projected to comprise half the U.S. workforce by 2020, it's important for contact center leaders to understand what makes these generations happy in the workplace.
One of the top benefits on these workers' minds today is work–life balance: 22% of millennials and 19% of Gen Z are considering leaving their employer within two years due to a lack of flexibility.
That makes greater schedule flexibility a top priority for contact centers that want to make their employees – and, by extension, their customers – happier.
Contact centers that want to connect with their customers must embrace change and start incorporating employee preference in their scheduling processes.
But a few common fears often keep contact center leaders from implementing scheduling flexibility – here's what they are and how to overcome them.
Fear of complex scheduling processes
Fixed schedules ensure that contact centers have enough agents scheduled during times that typically have high volume and enable supervisors to shave hours off the scheduling process by repeating each week's schedule.
That process, however, doesn't provide employees the flexibility they want. For example, an agent may prefer to have several consecutive days off to spend time with his or her children.
The agent may not need consecutive days off every week, but if that preference is never met, the agent could become disgruntled.
Moving away from a fixed schedule can be intimidating and complex, but there are new solutions that make it easier.
Workforce management tools that empower employees to share their schedule preferences and challenge them to make compromises in line with business needs enable contact centers to walk the line between employee scheduling needs and business demands.
They use proprietary algorithms to automatically compare a generated schedule with employee requests.
Each week won't look the same, but leaders can rest assured knowing that all scheduling demands are taken care of.
Fear of compromising scheduling fairness
Every employee has a preference for when they prefer to work. For example, one agent might work better in the evening than in the early morning and so would prefer shifts at night.
Another might appreciate having certain times off for community events they're involved in, such as volunteering or attending church. When tallied up across an organization, agent demands add a lot of pressure onto scheduling managers who might otherwise be fair.
Organizations also want to reward seniority. The reality is that all employees want to feel that their needs are being catered to, but organizations must be careful to avoid the appearance of favoritism.
To ensure that employees are given a schedule that fits their preferences without being unfair to other agents, contact centers can implement workforce management tools that use composite scoring.
These tools compile an agent's preferences and seniority rank. Once a single score is created for evaluation, a fairer schedule that's more closely aligned with agent schedule needs is produced.
Fear of not meeting business needs
Offering agents schedule flexibility doesn't mean that you can't also meet business needs. There will always be shifts that are more difficult to fill – weekends, early mornings, holidays and peak hours, for example.
But by using a capability in new workforce management solutions known as Availability Points, contact center leaders can drive agents to take shifts that must be filled.
Availability Points enable supervisors to tie a number of points to a defined time interval, then set parameters for agents when they provide their availability. Parameters could include:
Requiring a minimum amount of available time.
Requiring a minimum number of points each week.
Requiring a minimum number of hours each week.
Requiring a minimum number of days each week.
Requiring approval if availability does not meet all rules.
Once supervisors set parameters to business needs, the onus is on agents to provide availability in line with parameters – they're tasked with adjusting their availability to get the schedule they want.
This capability unites the needs of agents and businesses and ensures that contact center availability needs are met.
Contact center leaders have an opportunity to tap into younger generations' desires for greater work–life balance and, as the Glassdoor study found, have a direct positive impact on customer satisfaction.
Leaders who utilize new workforce management tools to overcome these fears can open the door to happier agents, happier customers and opportunities for continued business growth.
For more information about NICE - visit the
NICE Website