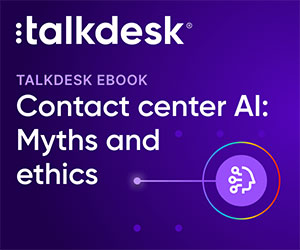 Talkdesk's Jay Gupta explores how artificial intelligence helps businesses modernize customer engagement.
The world is becoming increasingly connected through digital channels, and in many ways, the pandemic expedited the digital revolution. Right now, there's so much potential arising from increased digital connectivity, including how easy it can be to activate artificial intelligence for businesses.
Recently, I sat down with Paige Lord, AI Ethicist and TikTok Influencer, to discuss common misconceptions about artificial intelligence in businesses and what it really means to modernize customer engagement.
Learn more about how companies around the world can tap into the digital revolution and leverage AI to deliver better customer experiences.
Modernizing Customer Engagement.
First and foremost, every company needs to be on the right side of the consumer. This means offering convenient solutions when they're shopping on their phone at 2 a.m. It also means being prepared to be compared against the gold standard of customer service Amazon has created, which every company is measured by.
Modernized customer engagement is internet-enabled, speedy, and low-cost. At the same time, customer service is also becoming increasingly accessible to people with disabilities, people from different locations, diverse backgrounds, and languages.
With the help of AI, we're more equipped than ever to provide greater convenience and fair, accessible, and equitable customer experience solutions for all.
Ultimately, modernization isn't only about the functional aspects of the tools. It's about better serving customers as a result of using the tools. All of this translates into building stronger emotional connections with customers and that's great news for the CX community because our reach is expanding.
The Biggest Misconceptions About the Use of Artificial Intelligence in Businesses.
AI myths and misconceptions include the following:
AI Will Take Away Jobs.
These days, there's an overwhelming amount of information to consider and it can be difficult to separate fact from fiction. There's information about AI that causes a great deal of fear and there's information about AI that fuels fascination.
What we've learned is that AI has tremendous potential to improve productivity in contact centres and that it's helping make customer service a more exciting industry. AI tools are helping to move agents away from repetitive, simple tasks.
Artificial intelligence in businesses ends up freeing up agents for opportunities to work with more complex tasks, including responsibilities that push them up the value chain.
As a result, the role of agents is evolving and they're getting more latitude to influence decision-making and CX outcomes using their domain expertise.
AI Will Trick Humans.
The question is why a company would want to fool their customers into believing they are communicating with real humans.
As customers become increasingly dependent on digital technologies, they're interacting with AI-powered bots more than ever; however, it should be clear that they're interacting with a chatbot, not a human.
A better way to look at it is to consider that for years people have been using interactive devices like Siri and Alexa and they have come to accept that these products are interfaces.
AI tools are used all of the time for simple tasks. Siri and Alexa illustrate how technology can make lives easier.
They show the ways in which AI and automation gradually become mainstream and create a positive impact. Similarly, artificial intelligence in businesses is used to enhance operations in the contact centre.
Why Leveraging AI in Business Is Not as Daunting as It Seems.
The truth is, getting started with any IT project is half the battle. Initially, there are big questions about costs, expectations, and long-term results. Often, there's initial hesitation because it's a big risk and questions about whether the project will fail.
We don't see artificial intelligence in businesses as a monolithic system. We consider it a source of energy that can be used to drive better outcomes in the business.
To that end, we help companies weave AI into existing business practices. AI can be used to get real-world insights from customer service and contact centres.
The conversations that companies are already having with their customers are a great source of free data. AI can analyze each and every customer interaction and use that information to deliver new insights. There are a lot of incentives to capture these insights, especially because they come from everyday customer interactions.
Additionally, AI is becoming more democratized in the ways it can be implemented. It comes out of the box with skills, but companies can add AI-powered virtual agents that are pre-trained to understand simple customer queries.
In the same way you can add skills to Siri or Alexa, you can add skills to an AI-powered virtual agent to solve recurring customer problems.
Some of the Ways Companies Can Modernize With AI.
Artificial intelligence for business modernization opens up doors to more creativity, productivity, and innovation. It creates direct opportunities for companies to truly wow their customers.
AI helps companies take actions that impress customers, build trust, and increase brand loyalty. In the end, AI is helping companies modernize by creating more connected customer journeys.
Now, it's possible to bridge the gaps between the different stages of customer experience. There can be continuity through every stage of a purchase and companies can offer consistent, memorable experiences that exceed expectations.
Modernized customer experiences serve as a strong foundation to build long-term customer relationships.
There are so many different ways to improve business operations with AI:
It creates more data-driven cultures, which helps companies take a proactive approach to problem-solving.
It helps companies discover revenue leakage and stay mindful of sustainability.
It drives inclusivity because customization makes it possible to reach more customers with different backgrounds, languages, and cultures.
It supports increased cybersecurity. Cybercrime is always going to be a consideration in the modern business world and AI can also be used to combat online crime and safeguard sensitive customer data.
Why Sentiment Analysis Is a Game Changer for Businesses.
Customer service is an emotional experience. Sentiment analysis is a process for reviewing and interpreting qualitative data to understand and categorize the emotional tone toward a product or service. It can be enlightening to understand how customers feel about a brand, product, or service.
It's important for a company to know whether customers are happy, angry, or frustrated with the service they're receiving.
Sentiment analysis tools can help predict customer loyalty and analyze how customers feel about the way questions are asked and the amount of effort they're exerting in order to be served. To put it simply, sentiment analysis tools help businesses understand their customers.
There's so much to learn about how customers feel about companies and their brands. There are many layers to sentiment analysis, including tone of voice and the different ways in which people express emotions.
While there's still a long way to go with sentiment analysis, there are incredible advances available that offer highly-valuable information that companies can begin to use right away.
The key takeaway is that sentiment analysis helps ensure that companies are providing customer-centric service.
The Benefits of Using AI to Analyze Data.
The speed, scale, and efficiency of artificial intelligence for businesses is unparalleled. AI can analyze high volumes of customer interactions in a way that simply isn't realistic for humans.
And unlike humans, AI has an objective, mechanical lens that allows it to deliver actionable insights with accuracy, consistency, and speed.
Let's say a company receives a high volume of customer calls and feedback related to a product defect. AI will capture the number of times customers have raised a red flag and bridge the necessary gaps between humans for immediate action.
In a traditional contact centre, information would spread much slower and the data would need to be analyzed manually. The power that AI has to analyze data ensures that the contact centre operates with efficiency and that customer voices are heard.
Any company can benefit from modernizing with AI and improving customer experience with automated processes.
We know that many small and nimble companies, like startups, are using various out-of-the-box applications that have AI capabilities baked in, enabling them to win market share quickly and gain an incredible amount of value from backend analytics that these applications offer. Large-scale enterprise companies should be able to do the same thing.
Diversity in Voice Assistants Is Critical.
Diversity is critical because companies need to make sure that every person who calls is heard. In today's global marketplace, companies serve diverse populations, with different accents and languages, possibly from anywhere in the world. Companies everywhere need to be prepared.
The ability to provide fair and equitable service is critical to any company's success. Ensuring voice assistant diversity is a key part of this objective. It all boils down to the fact that outcomes shouldn't be better for some people over others, based on their accents and language skills.
Going forward, AI needs to be exposed to different accents, languages, and speech disabilities so that companies can better serve everyone. Thus, we work to train AI to understand all people.
What Are Companies Risking When They Choose Not to Modernize Their Customer Service?
In recent decades, there were companies that didn't act fast enough to modernize and adopt online business models. For many of those companies, inflexible business models led to ongoing negative consequences. Failure to adapt can create tremendous long-term effects.
Throughout the business world, companies are addressing IT transformation and moving to the cloud. In the midst of all of this transformation, the same strategic questions apply to customer service.
Customers expect to interact with brands online and through digital channels. Customer experience capabilities should align with customer expectations and meet customers where they are when buying products and services.
In today's marketplace, consumers have a lot of choices. Modernization is becoming a necessity to keep customers engaged. There are systematic, proactive steps that companies can take now to avoid unexpected disruptions in the future.
If we've learned one thing from the pandemic, it's that companies in every industry need to make investments in modernizing their technology and their customer service to remain relevant and competitive.
This blog post has been re-published by kind permission of Talkdesk – View the
Original Article
For more information about Talkdesk - visit the
Talkdesk Website