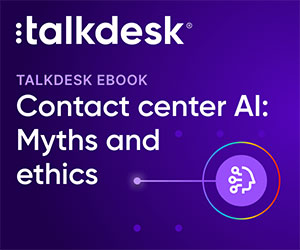 Talkdesk has released its new research report, "The Future of AI in the Contact Centre," revealing 80% of CX professionals believe AI will provide a better contact centre experience. The report explores the key drivers, challenges and expectations of AI growth and adoption in the coming years.
Talkdesk found an overwhelming majority (89%) of CX professionals believe in the importance of leveraging AI in the contact centre, with another 82% saying AI is increasingly necessary for business success. However, organizations still struggle to advance along the AI maturity curve.
The research highlights that only 14% of businesses label themselves as "transformational" in the way they use AI currently, and of the 69% of organizations that have invested in AI and automation for customer self-service features, half (48%) have yet to use it.
This reveals a large gap between organizations' desire to leverage AI in the contact centre and their ability to effectively manage it.
"Companies today are under immense pressure to deliver stellar customer experiences. They know artificial intelligence can help them better serve customers but many struggle to implement it properly," said David Gardner, vice president of research and insights, Talkdesk.
"Our research shows that automation can and should become an integral component of contact centres if professionals develop and commit to a comprehensive strategy."
The Talkdesk report shows that AI is well positioned to improve not only customer experiences but the employee experience as well.
With streamlined workflows and processes across functions to expedite innovation and go-to-market plans, many enterprises can transform their contact centres to provide more than just traditional customer service.
The biggest obstacles keeping companies from progressing on the AI maturity curve are often perceived challenges. Talkdesk's report found three major myths amongst CX professionals in contact centres:
Perception 1: 55% of CX professionals believe AI will have a short-term negative impact on customer satisfaction (CSAT).
Reality: Customer satisfaction is the top contact centre KPI, making it easy to understand why CX leaders worry about short-term CSAT dips. However, these dips are often recovered in the long run and can be mitigated with a strategic approach to implementation.
Perception 2: 43% of CX professionals see the cost of AI tools as a barrier to implementation.
Reality: The efficiencies gained from AI may far outweigh the costs as AI analyses mountains of data in a fraction of the time it takes agents to do so, freeing them up to focus on higher-value initiatives.
Perception 3: 30% of CX professionals believe reliance on the IT department will impede progress in implementing AI.
Reality: With IT teams on board, they will have access to broader visibility across tech stacks and solutions, making them a valuable partner in identifying where maturity is lacking. Additionally, AI tools are becoming more accessible to employees outside of IT.
To break down these perceived obstacles, organizations must consider a cross-functional AI strategy that addresses technological gaps, promotes transparency and focuses on long-term success.
What Lies Ahead in AI and Contact Centres
Talkdesk Research also examined the role AI plays in the future of contact centres and outlined four key predictions:
Organizations will invest more in AI capabilities, with 64% of respondents citing deeper investment in AI functionality as a priority for their contact centre.
Automation will drive operational efficiency and CX, as 84% of professionals expect their company's total spend on AI and automation to increase through 2025.
Humans will rise in the AI-enabled contact centre. In fact, 79% of CX professionals see AI as an assistant, providing agents more tools to help with customer interactions – and with these tools come new expectations and desired skills.
AI will enhance the customer journey, securely, as 79% of CX professionals believe AI will be more secure than interacting with human agents.
Talkdesk plans to automate 80 percent of customer contact centre interactions over the next three years, leveraging artificial intelligence and machine learning.  The company recently launched Talkdesk AI Trainer, a human-in-the-loop (HITL) tool for contact centres.
While most artificial intelligence systems require the employment of highly specialized data scientists, Talkdesk AI Trainer allows agents with domain knowledge to improve the AI models autonomously.
To download the report "The Future of AI in the Contact Centre", click here.
For more information about Talkdesk - visit the
Talkdesk Website