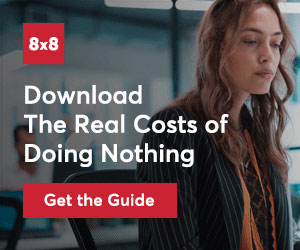 Craig McGill at 8×8 takes a look at some of the findings of a new report that reveals CIOs believe AI will improve CX and profit in the coming years.
Customer experience (CX) is a huge topic at the moment in the contact centre space, with organizations spending large amounts of both money and staff time to deliver better CX.
8×8 recently teamed up with Freeform Dynamics and the CIO WaterCooler to deliver the report, A CX Perspective on the Contact Centre – Automation, AI and the Transition to a New Era, which shows what UK CIOs see as the opportunities and challenges ahead.
The Path to CX Success
One of the main questions driving the research and the survey of 50+ UK CIOs was: where does CX responsibility currently lie and who is pushing the agenda?
As you may expect, the most significant champions of an organization's CX agenda are IT leaders. Other prominent champions include line/business managers and the main board.
According to the report, what stands out is that across all areas of the business, there are sizable minorities that CIOs believe should be more involved in driving customer experience.
For example, 16% of CIOs believe customer service managers aren't currently contributing to CX enhancement, but should be. Likewise, 12% believe research and development should be more involved.
Even so, when asked about CX enablers, CIOs' priorities did not include the contribution of different teams. Rather, their focus was on better business processes, call centre data, and responsive mobile apps.
Exactly 65% of CIOs said they were far from where they want to be when it comes to joined-up business processes, and 40% and 44% said the same about their monitoring and feedback mechanisms and mobile apps respectively.
AI and Automation
When it comes to AI and automation, CIOs have a very positive outlook. Three-quarters agree that AI can positively improve CX, and almost two-thirds believe AI investment will yield significant revenue and profit increases.
Yet the promise of revenue and profit increase may not yet be a powerful enough driver to bring about organizational change. More than two-fifths think stakeholders are skeptical of AI for CX purposes, and 44% think it is hard to get executive commitment for AI investment.
As the report suggests, this could be because of customers' uncertainty around AI usage, as 57% of CIOs believe customers distrust AI.
The report also highlights the division between CIOs' opinions toward the direction of travel with AI and automation.
When asked whether they agree with the statement, "the direction of travel is away from agent-based to automated customer interaction," the responses were torn between two broad camps: 44% agree, while 34% disagree—the rest are neutral.
The report speculates that this could be indicative of a "middle way" approach towards AI and automation in the future. Rather than AI replacing or taking agent and employee roles, it's more likely organizations will use it to enhance and support their work.
Skills Gaps and Emerging Technologies
When it comes to specific technologies, CIOs are clear on their importance. Live voice is overwhelmingly (68%) considered to be the most important technology for customer-facing roles, with agent-based and automated emails following closely after that.
Although AI excites CIOs, they don't consider it the most important emerging technology. They see agent-to-customer web conferencing as the most important. AI-driven chatbots and agent assistance are currently only "on the radar" of CIOs.
There could be many reasons for this, and, as the report outlines, one may be the CIO's view of the inhibiting factors for AI adoption. They view company culture and the availability of skills as the two major blockages to wider adoption.
Many CIOs may therefore consider technologies for which they have the current skill sets and culture the most important.
Chris Angus, 8×8 Vice President of Sales, said: "Customer experience is a priority for many organizations and a responsibility that must be shared between all teams. It's down to every employee to enhance the overall experience of their customers, at every touch point.
"From voice calls to live chats to digital-first interactions on a mobile app, companies must enhance the customer journey. However, the contact centre remains a central focus for many organizations."
Along with the findings highlighted here, the report contains more important insights into CIO attitudes toward CX in the contact centre and the oncoming rise of AI and automation.
For greater detail and analysis, why not take a look at the full report.
This blog post has been re-published by kind permission of 8x8 – View the
Original Article
For more information about 8x8 - visit the
8x8 Website