Many contact centres exist in silos to the wider business, but it doesn't have to be this way. By taking a proactive approach to delivering a total experience (TX), all departments can be connected in a more customer-centric way.
In this article, Rob Clarke, Director and Co-Founder of Elev-8 Performance, explains what TX stands for and how to get started with shifting towards a total experience (TX) strategy.
What Does the Acronym TX Stand For?
TX is an acronym for total experience – a strategy that combines brand, user, customer, employee experience, and more. It's about bringing people together across the business with a single mission, in a unified way.
How Does TX Differ From CX?

Total experience (TX) creates a more coherent strategy across all departments to wow customers, whereas a customer experience (CX) strategy only focuses on the external customer touchpoints – like the contact centre.
In short, TX takes CX to the next level. This is much needed right now as the CX world has moved on, particularly since the pandemic, and customers' expectations are far higher.
A good way to think about it is to look to the businesses already claiming to be customer-centric. Yes, they may have strong C-SAT scores, but when you look under the bonnet you might see how disconnected their user experience (UX) team is from the contact centre in delivering digital transformation, or how their frontline agents are being micromanaged so much they leave the business.
All of which has the potential to compromise future success and innovation for CX. In comparison, a TX strategy aligns all these elements across the business, so they can drive forward together.
☆☆☆☆☆
How Do You Get Started With Total Experience?
Consider the Components of TX
First, you need to break down and understand the components of total experience into more detail, including:
Multi Experience (MX) – This is another fairly new acronym, all about the overall experience that individuals have with your brand across digital channels, on different devices, with different interactions, (e.g. voice, the metaverse, etc.). It's all about connectivity and the different ways that your brand can interact with the customer.
User Experience (UX) – This comes down to the design, usability, and functionality of a specific product or service experience. It's the sum of all interactions a customer has with the brand during and after a product purchase or service engagement.
Employee Experience (EX) – This is the sum of all interactions an employee has throughout their tenure with the company – from recruitment all the way through to leaving for a new job or even retiring.
Customer Experience (CX) – Of course, not forgetting the experience with the contact centre too.
If you think about how businesses are structured, one of the barriers to creating a genuine uplift in TX is about breaking down some of the silos that exist between these elements and departments.
Understand Who Owns Which Piece of the Puzzle
Creating exceptional experiences for every person who interacts with your brand – whether a customer, employee, or partner – is undoubtedly a challenge.
One of the biggest barriers is that there are many 'chiefs' in those various areas. You've got directors, heads of, operational managers, and the hierarchy tends to be that each of those core areas of TX are run by different leaders. You need to know who these people are.
Get Them on Board – With Help From the CEO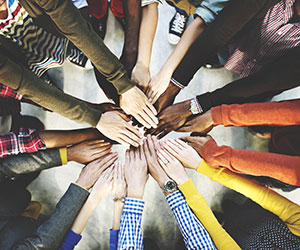 To drive a TX strategy forward, you not only need to know who the 'chiefs' are in these areas, but also to get them on board with the strategy.
As you may already anticipate, when you start trying to do this, you may typically encounter resistance in the form of their own KPIs, numbers, and business priorities.
So, you need to galvanize them under one common north star. In practice, this means whoever's at the top of the chain, for example the CEO, should also be your Head of Total Experience (TX) and take on that role to bring people together.
Hold Regular TX Meetings
Aren't you already doing this? Probably not. When lots of departments are running projects, some would argue that TX is happening. But it's about more than that, it's about whether it's all joined up behind the scenes.
One way to make sure this is happening is to get these people round a table at a regular 'TX meeting' to review how aligned their objectives are.
It is important that meetings are run well. For some expert advice, read our article: 10 Steps to Chairing a Great Meeting
Have a Compelling Story
Another way to align everyone is to have a compelling story and map out what that goal really means. If you want to be number one for service, what does that mean when you drill into the details? Does it mean that you're better than your competition? Does it just mean that you're better than you are now?
Have a compelling story and map out what that goal really means.
Getting this right comes down to everyone recognizing that they are all part of the TX dynamic.
It's about having a brand narrative which is compelling, choosing your target markets and your customers, inviting customer feedback, and more.
This approach can really help to ensure your customer service team is aligned to your brand messaging and delivers against your brand expectations – covering your brand experience end-to-end.
Amplify the Benefits
There's lots to be gained from delivering against a TX strategy too, so make sure you build a business case that amplifies the benefits.
For example, a TX strategy can help to drive key business projects forward – such as digital transformation – without compromising on the customer or employee experience. There are also significant financial benefits to having happy, loyal customers and employees that don't leave.
Don't Forget About HR
HR teams often exist in a silo to the wider business operations, but a successful TX strategy comes down to them recognizing their role in it too – mainly how they are directly impacting how the customer views the business because of the employees they are supporting and bringing into the business.
Positive ways to help bring HR into the wider TX strategy include:
Looking at sentiment analysis across your internal and external social media networks
Looking at your employee surveys and understanding what the key themes are
Adding questions into your employee surveys such as "do you recommend us to friends and family?", "Are you a customer of ours?", "If you're not, why not?".
These small shifts can help to bring HR's role into the spotlight.
Zoom Out and Look at the Bigger Picture
Finally, measuring TX is no mean feat, so leaders need to step away from using a small handful of metrics as a marker of success. It's much broader than that. It's about recognizing what good looks like and having a continuous improvement mindset across all the various elements.
This can take many forms – including having a continuous improvement committee, inviting ongoing suggestions from across the business (and implementing the best ones), reviewing HR recruitment processes, using mystery shoppers, celebrating good customer feedback, and hosting customer 'think tanks', as well as reviewing success across financials, market share, and industry press.
Whatever you decide to use, once you've got your framework, you can keep a close eye on your TX strategy and drive together towards a more positive, customer-centric future.
Thanks to Rob Clarke, Director and Co-Founder of Elev-8 Performance
To discover more information about customer and employee experience in your contact centre, read these articles next: