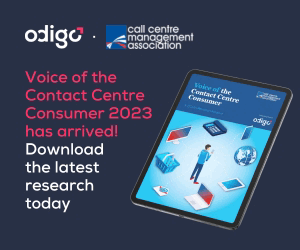 Thibault Gilardoni at Odigo looks at how optimal integration between your customer relationship management (CRM) software with your contact centre as a service (CCaaS) solution requires firm knowledge about the capabilities of both, as well as a dedication to the customer experience (CX) and agent experience (AX) you want to provide. With that said, integration with readily-available CRM platforms can save money and boost performance.
A great deal has been written about how CRM platforms are a crucial element of CX because of how quickly they can feed data to agents concerning customer issues.
When Elisabeth de Longeaux wrote about the four steps to integrate a CRM platform with a CCaaS solution successfully, the first two read as follows:
A four to eight-week immersion phase between the business and IT teams gives experts from both sides the time to understand the solutions and receive training.
Identification of key processes to enable the cloud platform to be perfectly integrated into a company's infrastructure (ecosystem) through open APIs.
This blog explores those two steps in more depth, giving insight into the guiding principles behind a successful CRM-CCaaS integration before getting down to the serious work of such an implementation.
Not all CRMs are built the same, and yours may be just the way you like it, but its design might limit the depth of a CCaaS integration. Leveraging ready-made solutions and recognising how to combine the respective strengths of CCaaS and CRM can set projects up for success.
Additionally setting an equal focus on customer experience (CX) and agent experience (AX) means your CRM integration can start making a difference in your contact centre operations right away.
Know What You're Aiming for With Your CRM Integration
Adding additional functionalities without an objective in mind is unlikely to make the most of your technology. What would you like for your customers and the agents helping to make that happen?
Customer journey maps make sure interactions have a logic and flow that take customers to resolution and lay out the steps agents can take to facilitate this.
This is when the interplay of a CRM and CCaaS delivers on its promise. Expertly delivered journeys can have each step enhanced with personalisation thanks to the additional details from your CRM.
Whether customers are served by your interactive voice response (IVR) system or by one of your real-life agents, a deep and native CRM integration boosts CCaaS performance and personalises CX.
With regard to the former, the more solidly integrated your CRM is with your CCaaS, the more effectively it will put customer information stored there to good use, working with your IVR or callbot to automate the qualification process and provide contextual routing based on skill or priority.
For the occasions that calls are routed to live agents, deep integrations make it possible for complete 360° dashboards to show all relevant data about a customer's issue: customer history, call qualification journey and more.
Naturally, this will aid boosts in both first call resolution (FCR) and customer effort score (CES) metrics. More importantly, however, is the trust your brand builds with customers.
When CRMs provide info to help agents tackle complex issues, it frees them up to pay more attention to the human connection inherent to CX, where the focus is rightly put on people and interactions.
Learn the Respective Strengths of Your CRM and CCaaS Solutions
Before jumping headfirst into the integration process, become familiar with the respective capabilities of both your CRM and your CCaaS solutions. Understand their strengths and weaknesses to define the scope of your envisioned solution.
For example, suppose your goal is to help your agents better manage customer interactions. In that case, you need to make sure that your existing contact centre solution can route efficiently from various channels such as voice, messaging, social media and any others relevant to your operations.
Likewise, your CRM of choice should be capable of managing the qualification of calls and collection of data to feed to agent consoles. Take the time to consider what each can do.
Not only will you leverage the best of both worlds without paying double the price, but you stand to increase the value of these technologies by being able to add third-party applications easily.
This blog post has been re-published by kind permission of Odigo – View the
Original Article
For more information about Odigo - visit the
Odigo Website