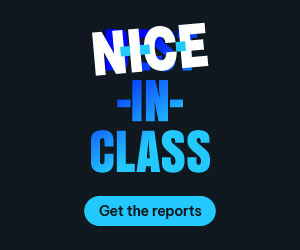 Jodi Reuven at NICE explains how to break the vicious cycle of unhappy agents and poor sales habits.
Think back to your first entrepreneurial endeavor – perhaps it was even setting up a simple lemonade stand outside your childhood home.
You probably remember how invigorating it was to close your first sale – the sensation of holding someone else's money in your hand.
You'll also remember the sweat dripping down your face, and the exhaustion you felt after a day of speaking to those potential customers who just weren't interested, no matter how deliciously refreshing your product was, or how hot it was that day!
Selling is an art; an intricate dance between soft skills, interpersonal skills, and psychological aptitudes…and behind it all – and perhaps less exciting – a methodology.
Getting the balance right can be stressful – as anyone who's worked in sales knows. The levels of stress that salespeople deal with is a well-researched topic.
Research has proven that, as with other people-oriented professions, the high frequency and intensity of interpersonal contact in sales can cause emotional exhaustion, which lies at the core of burnout.
This is even more so in a contact centre environment, where sales people are typically engaged in multitudes of interactions every day, and the medium of the phone or chat gives potential customers license to be quite rude – in a way they may not dream of being if they were face to face with the agent.
The Supervisor Perspective
Contact centre supervisors have all the incentive in the world to concern themselves with the happiness of their sales agents.
True, the average supervisor is already dealing with countless stresses of their own: ensuring SLAs are met, ensuring a high level of customer service, maintaining high levels of agent engagement and retention, effective gatekeeping, coaching their agents.
However, job satisfaction is proven to be linked to performance, specifically for sales professionals. And here's how:
Research shows that high levels of job satisfaction lead to higher-quality interactions between salespeople and customers. This achieves a more favorable perception of the firm in the eyes of the customer, which directly increases customer satisfaction.
Beyond driving a high-quality CX, satisfied sales professionals sell more! Another study, which looked at job satisfaction of sales professionals in different bank branches, showed that a salesperson's peak level job satisfaction directly affects the amount they sell, which in turn affects company revenues.
So, it really pays to keep your salespeople happy.
Boosting Employee Satisfaction
Many organizations do already recognize that it is in the best interests of managers to implement techniques and initiatives that bolster employee satisfaction.
However, the typical approach taken is to periodically offer generic sales training, based on topics that management assumes to be the most effective way to motivate their sales teams.
Such training is not personalized in any way to the needs and skills gaps of specific employees, and it doesn't happen in real time – so it's often not relevant, or too late.
As a result, sales performance either stagnates or gets even worse, and a vicious cycle of poor performance and low job satisfaction ensues. If this is not properly handled, potential talent may be lost, becoming just another attrition statistic!
But there is another, more effective way…
Real-Time Sales Support
In a survey conducted by NICE, 58% of agents reported that they "get very little" out of their company's existing coaching programs.
Meanwhile, context-specific and real-time support from managers has a proven track record of significantly motivating employees – and agents are openly expressing a need for it.
Powered by NICE's core AI engine, Enlighten, and Real-Time Behavioral Guidance, CXone Supervisor provides AI-powered alerts about sales effectiveness for each interaction.
This enables supervisors to monitor an agents' sales effectiveness scores and, where necessary, intervene with real-time support to potentially turn sales risks into sales opportunities.
Equally important, when a positive trend in sales effectiveness is indicated by high-scoring sales interactions, supervisors can commend such sales-focused agents on their performance, giving them the boost they need to keep up the good work.
In the realm of sales, the power to monitor sales effectiveness isn't just a perk; it's a strategic advantage. It allows supervisors to pinpoint precisely where each agent requires personalized support, enabling them to fine-tune their sales coaching to perfectly match the unique needs of every individual agent.
A platform transforms the sales coaching experience, providing a more hands-on, immediate, and therefore more relevant approach.
This ultimately improves the employee experience, increasing their job satisfaction, and with it, sales. Win-win-win!
This blog post has been re-published by kind permission of NICE – View the
Original Article
For more information about NICE - visit the
NICE Website