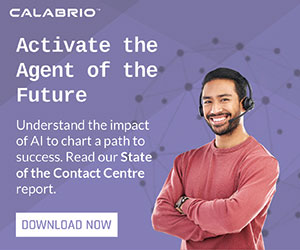 Calabrio, have introduced a new version of Calabrio ONE—an intelligent, fully integrated enterprise workforce optimisation and engagement suite.
The new capabilities in Calabrio ONE help customers accurately capture and interpret the voice of the customer.
Featuring Sentiment Analysis and new workforce management functionality, Calabrio continues to strengthen the contact center's role as a rich source of voice of the customer insights by enabling contact centers to more accurately identify trends and shifts in customer attitudes, and utilise the data to drive change within the business.
Sentiment Analysis is a new solution in Calabrio Analytics. It delivers quick, accurate and meaningful customer engagement metrics via a new dashboard and customisable reports.
The technology automatically delivers a sentiment score for every voice-transcribed customer interaction, allowing contact center, marketing and customer experience decision-makers to access reliable customer sentiment data that allows them to quickly uncover root causes of customer discontent and ultimately drive key business decisions.
"Understanding not only what your customers say but also what they mean is a very powerful tool," said Matt Matsui, SVP of products and strategy at Calabrio. "Our new Sentiment Analysis solution outperforms the others in this category and we're excited to bring this level of unrivaled insights to improve the customer experience."
"The ability to proactively identify unhappy consumers enables a critical level of intelligence around customer satisfaction," said Nicole Price, customer experience manager at Radial.
"Calabrio Sentiment Analysis is an easy to use solution that automatically delivers sentiment scores, allowing us to quickly leverage valuable consumer insight to make decisions and drive customer loyalty."
In addition to the new Sentiment Analysis solution, new features include:
Adherence, agent activity and forecasting metrics, offering contact center managers greater visibility into performance, and better insight for planning and staffing.
Added Japanese language support, giving customers more choices in how they can use the Calabrio ONE workforce optimisation suite—including call recording, quality management, workforce management, voice-of-the-customer analytics, and advanced reporting.
An expanded integration with Amazon Connect that delivers a powerful combination of contact center flexibility and agent engagement, with key enhancements including real-time agent status and user synchronisation.
To learn more about how contact center analytics drive business decisions, view Calabrio's Webinar on Demand:
3 Ways to Boost Your Bottom Line with Contact Center Analytics – View webinar
Find more at http://calabrio.com/