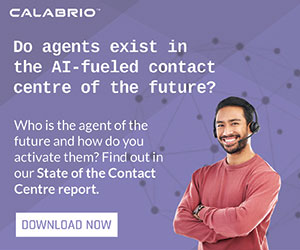 Calabrio has announced the integration of Calabrio ONE with advanced AI (artificial intelligence) systems from OpenAI, an AI research and deployment company. Integrations include ChatGPT and GPT-3, with GPT-4 also being evaluated.
The commercial integration accelerates the potential of their proprietary AI and machine learning (ML) capabilities and the framework of its modern workforce performance solutions.
"Calabrio's long-tenured research, customer collaboration, and partnerships with top-tier universities has established us as a pioneer in enterprise AI innovation for contact centres.
For over a decade, our Innovation Center and product teams have been integrating with sophisticated AI and ML tools. Early beta testing of OpenAI solutions showcased tremendous potential to streamline the contact center operations," said Matt Matsui, Chief Product Officer, Calabrio.
"We eliminate tedious, manual tasks, and provide strategic, data-driven insights at the blink of an eye. The integration with GPT systems—such as ChatGPT—is another step forward in Calabrio ONE's product evolution to amplify the agent experience and deliver the highest standard of customer support."
Calabrio continues to lead the industry with advanced workforce performance solutions for contact centres, developing functionality in AI-fueled analytics and automated workflows that tangibly simplify the complexity of customers' operations and drive them to succeed.
The integration complements their robust analytic and automated capabilities. By reducing the amount of manual work agents undertake, agents can focus on the valuable customer interactions that drive brand loyalty and generate valuable insights.
Integrations with cutting-edge systems like OpenAI's ChatGPT will supplement Calabrio's own extensive collection of internally developed ML and AI product offerings.
The team currently has 16 AI and ML patents—from trend identification to predictive analytics—and continues to develop workforce performance solutions that help organizations scale their use of intelligent data.
"Contact centres are often the digital front door of a brand, and almost always the last line of defense. As consumer expectations rise and economies tighten, we firmly believe frontline agents are imperative to brand reputation and revenue," said Kevin Jones, Chief Executive Officer, Calabrio.
"The commercial potential of generative AI tools requires a moral juggling act, balancing possibility with responsibility.
While others may look at AI's potential to eliminate vital agent roles, we're focused on our obligations to augment the performance and experience of the frontline workforce, and make contact centres more efficient and effective."
For more information about Calabrio - visit the
Calabrio Website