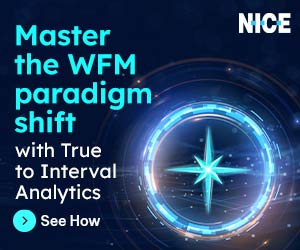 Andrea Matsuda at NICE outlines three steps to capture greater value from your hybrid workforce.
The COVID-19 pandemic rapidly and fundamentally changed how society viewed the workplace. While just 8% of U.S. employees worked exclusively remotely pre-pandemic, as many as 70% worked from home by May 2020, according to Gallup.
In the traditionally rigid scheduling environment of contact centres, the universal adoption of remote working resulted in an unprecedented blending of work and life and a dramatic shift in employee expectations.
While the world has mostly returned to business as usual, remote workers are pushing against a return to the office: Gallup research shows nine in 10 remote-capable employees prefer continued remote-work flexibility going forward, with six in 10 reporting they expect a hybrid work model.
While remote or hybrid work environments are preferred by agents, they make workforce management increasingly complicated for contact centre leadership.
Moreover, they call for a renewed focus on face time and a new generation of tools to tame the complex and empower greater employee accountability and autonomy.
Here are three first steps for contact centre leaders looking to enhance or establish a hybrid work model today:
1. Optimize Face Time
Connecting the right people at the right times must become a core capability. From celebratory in-office events to one-on-one management coaching, leaders need tools to ensure that premium office-time is optimized while protecting net staffing.
Consider adopting tools that enable flexible, rotating scheduling wherein contact centre leadership can create and apply rules to an agent's shift on a week-by-week basis.
An agent assigned to a rotating weekly rule could get a different type of schedule every week, rotating between day and night shifts or between four- and five-day work weeks, all optimized to generate the greatest ROI from in-office hours.
As opportunities emerge within a weekly—or even daily—schedule, contact centre leaders should be empowered to make real-time schedule changes to reallocate staffing and optimize face-time.
Features like the NICE Employee Engagement Manager (EEM), which allows for intraday and intraweek schedule changes, empowers leaders to prioritize spontaneous in-person connections while protecting KPI objectives and service-level goal attainment.
2. Grow Agent Accountability
In hybrid work environments, outcomes become the true gauge of accountability. This represents an opportunity for the business, but only if performance outcomes are clearly defined, tracked and communicated.
Communications should be customized by audience type—agent, supervisor, or administrator—with push notifications designed to flag your audience's most critical performance metrics, from adherence and time-in state to tardiness.
From there, allowing agents to take corrective action independently is an important element of building accountability. Solutions like EEM alerts can be customized to allow for continuous performance improvement regardless of where the agent and their supervisor are physically working.
3. Empower Agent Autonomy
In a contact centre environment, employee autonomy is a carefully orchestrated dance best led by intelligent automation systems.
With EEM, for example, agents can change their schedules via an automated self-scheduling solution fueled by pre-approval capabilities that ensure changes will benefit net staffing and empower agent autonomy.
Done right, employee autonomy has been shown to increase job satisfaction, foster employee engagement, and encourage innovation. In the contact centre, however, employee autonomy could easily come at a cost to customer experience and other business KPIs.
Fully capitalizing on the value of autonomy while maintaining or improving performance requires a seamless end-to-end solution for analyzing staffing, identifying shift change opportunities, communicating with agents, and implementing intraday schedule revisions.
A recent survey found that 42% of employees had moved to a hybrid schedule, and about 53% of employees expect to be on a hybrid schedule in the future. The hybrid work environment is here to stay, if employees have anything to say about it.
Smart contact centres will use this opportunity to redefine high performance and establish the protocols and resources to best capture greater value through employee accountability and autonomy.
This blog post has been re-published by kind permission of NICE – View the
Original Article
For more information about NICE - visit the
NICE Website