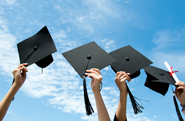 Colloquy has boosted student engagement with help from NewVoiceMedia.
Colloquy, a part of Kaplan, partners with top universities to deliver and manage online degree programmes.
After experiencing technical issues like patchy global call coverage, inadequate reporting and a lack of features like click-to-dial, the company replaced its contact centre technology.
Colloquy selected ContactWorld because of its Salesforce integration, integrated call management, deep analytics, reliability and the team's expertise.
A scalable engagement centre was built that supports more than 20 university degree programmes. This has helped to personalise the student and partner experience by connecting them to advisors and experts – and improve coaching experiences with call recording capabilities.
"The beauty of what we do is build relationships with candidates and students, and so the time on the phone is paramount. That's where the rubber hits the road for us, so ensuring we have an efficient and robust call centre solution is really important," said Lynne Koreman, Vice President at Colloquy. "NewVoiceMedia has delivered everything we hoped for and improved our efficiency and service, enabling us to consistently maintain our retention rates at 96 percent term over term."
"Colloquy is pioneering the future of online education, and we are thrilled that our technology has exceeded their expectations and provided the resources needed to connect with their students and university partners," said Jonathan Gale, CEO at NewVoiceMedia. "Our contact centre tools and solutions enable Colloquy to extend its global reach benefiting students by offering a more personalised experience."
For more information about NewVoiceMedia, visit their website.
---