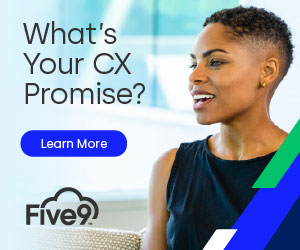 Sarika Prasad at Five9 outlines seven questions to ask a CCaaS provider.
Customer experience (CX) is mission-critical to any business. So, selecting the right contact centre partner can be a daunting task.
Companies spend a lot of time doing due diligence on the feature requirements and which vendor can meet their unique needs. But most often, what gets sidelined in this time-consuming process is to inquire about services and support available post-sales.
The right tool does you no good if you can't use it effectively. You need continuous expert support and guidance at every step of your journey to maximize the value.
Often vendors don't have the right processes for customer success, leading to implementation failure. Unfortunately, too many businesses learn it the hard way. The cost of failed implementation is staggering.
According to one estimate from Forbes, failed IT projects alone cost the United States $50-$150B in lost revenue and productivity.
So, don't just zero down on a vendor based on the core feature competencies; make sure to consider the following services and support factors.
1. What Are the Post-Sales Processes to Ensure Implementation and Ongoing Success?
Many vendors spend time and attention to woo prospective customers, which gives the impression that they provide excellent services, but that is not always the case. Make sure to ask how they plan to progress you through the different stages of implementation.
Do they offer implementation support? What are their processes for transitioning from sales to professional services to support?
A good vendor works with you to implement the solution and has a well-defined but flexible methodology that helps achieve results.
It is critical that the vendor defines your CX solution based on your business goals and success criteria, configures the solution, trains your staff, and validates that the solution meets your business requirements.
But when the implementation is complete, they will continue to work with you to review and optimize the solution. This will help your team build the competence and confidence to run a contact centre. A good vendor approaches the relationship as a true partnership, not merely a transactional relationship.
2. Does the Services and Support Team Have Relevant Contact Centre Background and Expertise?
Another key area to look into is if the vendor has a skilled and experienced team of experts with knowledge in contact centre technology. Team competency, track record, and expertise are critical components.
Check if they leverage a partner ecosystem if they don't have specific expertise in-house. For example, if you are planning to move your existing IVR flows from the legacy system to the new platform, do they have a team who can help map the migration? In addition, a good vendor will focus on learning your business and which KPIs are important to your business.
3. Does the Vendor Offer Programs to Train Your Staff?
Look for a vendor that has a robust training program and offers role-based courses for agents, supervisors, and administrators. Ask for sample training program modules and see if the information is presented in an efficient and practical way.
Do they offer knowledge check certification? Does the vendor offer individualized training suitable to your organization's learning needs – from basic self-help overviews and videos to advanced, interactive instructor-led classes.
These training modules should create a solid foundation for administrators, agents, and supervisors to perform tasks effectively.
4. What Levels of Support Are Available?
From a customer support perspective, a few things to consider are: What levels of support does the vendor offer? For example, do they offer access to 24/7 phone and online support, including product documentation, case management, and a knowledge base for common issues?
You want a responsive, competent customer service team that can work with you to troubleshoot issues quickly.
Further, if your use cases are complex and you foresee that you would need ongoing advice and guidance as you continue to grow and scale your business, check for a dedicated Technical Account Manager (TAM).
A TAM is always helpful because they provide regular account reviews, personalized new release previews, and training, consulting hours to help you grow and optimize.
5. Ask for References, NPS Scores, and Accreditations.
References are one of the best ways to get a glimpse into after-sales life with the vendor. Of course, you can expect vendors to provide glowing references. But be prepared to probe deeper and ask specific questions to discover valuable insights.
Additionally, investigate various online testimonials and rating and reviews sites such as Gartner Peer Review that help you get a more complete understanding of their reputation.
Another critical way to gauge credibility is the Net Promoter Score (NPS), which measures the customer loyalty between a company and its customers.
For context, an NPS of +70 or more typically places a vendor on the list of top customer-centric companies. Also, check if they can provide any other industry-standard accreditations.
6. What Is the Vendor's Company Culture?
Culture is another essential way to assess a vendor, even though it can be harder to quantify. As you're getting to know your vendor and interacting with different teams, look for signs that their culture aligns with yours.
Vendors with a customer-centric and an employee-centric culture fare well in the long run. In a positive company culture, employees are happier and ready to help customers and do the right things. You can look at employer review sites like Glassdoor for insights into a vendor's employee experience.
7. What Ongoing Support Is Provided for Tuning Contact Centre AI Technologies?
AI is reimagining contact centres. But don't just look for a vendor that offers AI-enabled applications for self-service, agent assistance and workflow automation. Choose a vendor who can help you deploy these technologies as part of a "digital workforce," and make sure there is ongoing support to optimize the AI.
You will need to tune and train the AI models to ensure accuracy and efficiency. If you don't have data scientists inhouse, make sure your vendor provides user friendly tools, and plenty of support.
This blog post has been re-published by kind permission of Five9 – View the
Original Article
For more information about Five9 - visit the
Five9 Website