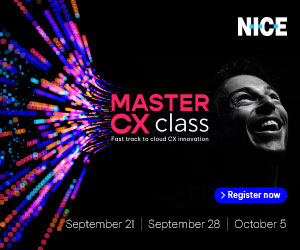 Join NICE for a four-part webinar series as they explore the impacts of Conversational AI on digital CX:
What it takes to make your AI implementation exceptional
How it's changing the way we think, interact and converse
And how you can put AI to work for you to build next-generation self-service experiences
AI began transforming the way we do business long before ChatGPT arrived on the scene. Yet the explosive popularity of OpenAI's Large Language Model takes it to a new level in user adoption and business deployments. What's next? How did we get here? And how can you leverage AI for your business? Find out.
AGENDA
Generative AI: Revolutionizing Search, Shopping, and Support
Session 1: On Demand | Available March 28
Why generative AI will fundamentally change what we think about when we discuss conversational AI and how its capabilities will completely overhaul how consumers look for and consume information.
AI Building Block for Delivering Exceptional CX
Session 2: On Demand | Available April 11
Learn about the necessary pieces for creating exceptional CX flows with generative AI.
Generative AI for the Modern CX Organization
Session 3: Live | April 27, 2023 | 11 am EDT, 4:00 pm GMT
In this session, we discuss the impact on IVAs and AI-supported agent interactions and how this can improve not just efficiency and impact of employees but can create new experiences that previously were not available to a brand's workforce.
Deploying GPT for Business in 2023
Session 4: On Demand | Available May 9
Bringing everything together, join our final session to learn how integrating this technology can de-risk your roadmap and alleviate pressure on current macro employment pressures across the current economic landscape.
Click here to Register for the Series
For more information about NICE - visit the
NICE Website