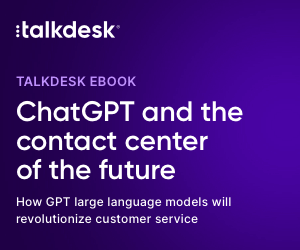 Ben Rigby at Talkdesk looks at the future of ChatGPT in the contact centre.
Automatic summary, now powered by the same engine as ChatGPT.
Over the last several weeks, ChatGPT has taken the world by storm. This quote captures the spirit of the moment:
"ChatGPT is one of those rare moments in technology where you see a glimmer of how everything is going to be different going forward." Aaron Levie, CEO, Box
You'd be right to think that sounds a bit grandiose. But as we look across all of the areas of the contact centre that can be improved using the generative AI that underpins ChatGPT, the grandiosity is justified.
Almost every software function in the contact centre can be enhanced by an order of magnitude that multiplies what is possible now.
Today, we're announcing our first generative AI-powered feature. Automatic summary can shave 30-60 seconds from every interaction by automatically summarizing the key points and selecting the appropriate customer disposition.
At the end of every call, chat, sms, or email, most customer service agents will write a summary of the interaction and then pick from a list of pre-set dispositions that describe the outcome—e.g., "demo scheduled" or "happy with service," and others.
These summaries, or after call work (ACW), are key for the next agent who may have a follow-up conversation with the same customer.
Rather than slowly scrolling through the previous conversation transcript, the new agent can quickly read notes from the previous agent and immediately engage with the customer.
This data is also critical to create customer experiences (CX) that drive loyalty and repeat business. Understanding trends and patterns across interactions—like which topics are occurring most often—helps CX teams modify their tactics and proactively respond to customer needs.
For example, if a CX team knows there is a spike in demand for a specific piece of merchandise that is out of stock, they can make sure their agents and virtual agents are prepared to provide a tailored response that can quickly help the customer, boosting customer satisfaction and first contact resolution rates at the same time.
ChatGPT for the Contact Centre: Keeping Your Data Clean and Clear with Generative AI
Most agents are in a hurry to finish up their ACW. There is generally another call or chat waiting, and they are under pressure to increase their speed-of-answer rate and lower the average time in queue.
Not surprisingly, manually written summaries are sometimes lacking in detail or skipped altogether. This information is key to creating personalized experiences, and in some industries like Healthcare, it plays an even bigger role.
These types of summaries are integral to effectively managing the health outcomes of patients.
Similarly, disposition selection is often incorrect as agents will pick any reasonable topic, versus the most accurate topic.
With generative AI-powered automatic summary, these are yesterday's problems. As you can see from the transcription screenshot, when the interaction is complete, the agent simply selects "Summarize" from the list of ACW shortcuts.
The interaction is then automatically summarized and the most accurate disposition is selected (the contact center administrator would have previously input the appropriate dispositions for this particular queue and made them available for agents).
The data is populated in the notes area, where the agent can review it and make changes. And then at the click of a button, all the ACW is done, the agent is onto the next customer, and clean data is ready for analysis.
All that information is then available front and centre for the next agent when the customer calls back or is transferred to another agent.
With generative AI-powered summarization and dispositioning, ACW shrinks down to a bare minimum and becomes much more reliable. It's a big boost to one of the core jobs that we're committed to solving: helping agents resolve issues correctly and quickly.
Going back to Aaron Levie's quote above, this is just a glimmer of how things are going to be different in the contact center.
Large language models and generative AI are going to revolutionize customer service. Automatic summary is the first of many new generative AI-powered enhancements we will be bringing to market.
This blog post has been re-published by kind permission of Talkdesk – View the
Original Article
For more information about Talkdesk - visit the
Talkdesk Website