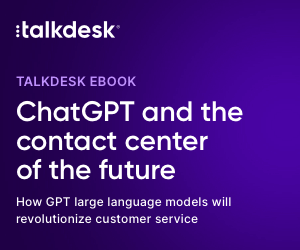 Antonio Gonzalez at Talkdesk explains how financial services institutions must effectively leverage people and technology to deliver a client experience that meets modern customer needs.
Talkdesk Research delivers industry-leading insights on financial services customer experience (CX). Emerging technologies and the rise of client experience (CX) in financial services outlines the key findings of a global survey of 200 CX professionals representing banking, payments, insurance, and wealth management institutions.
In this report, Talkdesk Research explores emerging technologies' role and future potential in enabling financial services institutions to meet the heightened expectations of clients and policyholders in an increasingly competitive market.
We hope that these findings will inspire your organization to reenvision the use of emerging technologies in CX alongside your frontline staff.
New Entrants and Higher Customer Expectations are Redefining the Financial Services Landscape
The financial services industry is facing a wave of change.
Traditional institutions increasingly compete with a new generation of financial service providers—often non-financial organizations leveraging embedded finance and offering wallets, payments, and insurance products in partnership with traditional providers.
Amidst a more competitive market, financial services institutions are facing pressure to elevate the experience clients and policyholders have in working with them.
Clients expect easy, seamless, and connected experiences. They expect their financial services institutions to provide fast and personalized service experiences and are open to switching providers if their expectations are not met.
At the same time, most CX professionals believe that clients are now using more interaction channels (such as social media, phone, or chatbots) compared to a year ago.
As clients' propensity to work through multiple channels when solving a service issue grows, financial services institutions find it increasingly challenging to meet their expectations for fast, proactive, and tailored support.
Long call wait times, confusion around support needs, and reactive communication are the most pressing pain points for clients today. These issues hurt client loyalty, increase client attrition rates, and reduce chances to deepen relationships and increase share of wallet.
Although modern technology has shown to help improve CX, financial institutions realize that a hybrid approach that meets clients' emotional and digital expectations is a better way to drive greater client experiences.
A Hybrid Model Approach Will Enable Institutions to Elevate CX
To effectively stand out, financial services institutions need to embrace a hybrid approach that leverages both humans and technology. CX professionals agree that harnessing people's strengths and technology is important to delivering a better client experience in today's environment.
A great majority (71%) of CX professionals say that frontline staff is important to their CX strategy execution.
Executing well on these priorities will require financial services institutions to find the right balance between technology and their people.
Organizations will leverage technology to facilitate access to seamless service and support to deliver faster, easier, and more efficient experiences for simple interactions, such as filing a claim or adjusting investments.
At the same time, knowledge about their clients and policyholders, along with agents' intuition and discernment, will be key to solving complex issues and delivering a white-glove experience.
This blog post has been re-published by kind permission of Talkdesk – View the
Original Article
For more information about Talkdesk - visit the
Talkdesk Website