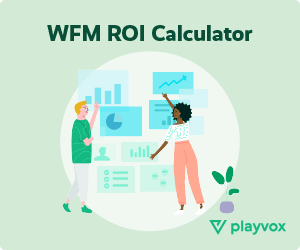 Nikki Quinn at Playvox explains nine ways a collaborative culture benefits your contact centre.
Teamwork, sharing knowledge and best practices feed company culture. According to a white paper from the UNC Kenan-Flagler Business School, when collaboration permeates organizations, they experience huge bottom-line benefits, including engaged employees, attracting and retaining talent, increased velocity, and profitability.
With widespread collaboration, employees are more likely engaged in their work, and embracing challenges that take them to the next level.
What Is a Collaborative Culture?
Collaboration doesn't just happen because someone decides to initiate it. Instead, it's baked into the process of how people do their work each day, and into the attitudes employees have about that work. At its core, a collaborative culture embodies the idea that we are better together.
What Drives a Collaborative Culture?
These four elements are key to fostering a collaborative culture in your organization:
1. Teamwork
True quality management involves company leaders and employees identifying improvement opportunities and working together to resolve them. It should be a channel for helpful feedback to work toward building a collaborative culture as objectives are achieved.
2. Transparency
Mutual trust between leaders, employees, and coworkers is needed for organizations to thrive. Trust is built through honest and open relationships. A collaborative culture places an emphasis on transparency and authenticity.
An organization's competitive atmosphere can sometimes hinder collaborative efforts. You can encourage the growth of transparent and authentic relationships on your team by:
Making information freely available – share information across departments and leadership levels.
Allowing people to take responsibility – delegate authority to other leaders and employees so they can make autonomous decisions, when appropriate.
Encouraging open communication – set aside times and create forums for people to communicate openly. This is more important now with the rise of contact centre agents working remotely.
Leading by example – make sure your word is your bond and that you honor commitments to your team.
3. Partnership
It's frustrating when a lack of information prevents employees from performing their best. Organizations thrive when performance is valued, and one key to building that value is making sure employees are put in a position to succeed.
Sharing knowledge throughout an organization means fewer opportunities for a lack of information to hinder team efforts and a greater opportunity to reward – and retain – top performers.
4. Performance
According to Gallup, only 14% of employees strongly agree that their performance reviews inspire them to improve, and only two in 10 employees strongly agree that their performance is managed in a way that motivates them to do outstanding work.
Plus, 71% of those same people surveyed believe their company rating system is unfair and 74% believe it's inaccurate.
Organizations conduct annual reviews for a number of reasons. Leadership can share helpful feedback — that's both positive and constructive — so employees can enhance their performance and grow their careers.
In addition, reviews give organizations valuable data to help leaders when considering promotions, allocating resources, and succession planning.
Reviews help leaders identify their top, average, and low-performing team members. High performers are often rewarded with bonuses, raises, and other incentives in an effort to keep the best employees.
Rating systems are inherently subjective. What one person considers outstanding work is just average to another. But in a professional environment, a performance calibration meeting among leaders:
Ensures accuracy and consistency of performance ratings:
These sessions should clearly define each performance rating, so they're awarded accurately and consistently. This helps encourage employee retention, build team unity, and foster strong working relationships between leaders and direct reports.
With this information, leaders help employees understand what's expected to receive a specific rating, and if necessary, opens the door to a conversation about performance improvement.
Changes perception of the review process:
When employees understand the rating system and understand the criteria for receiving ratings, they're more likely to believe that they've been treated fairly even if the rating is lower than expected.
Think of the performance calibration process as the collaboration of team leaders, and it's a crucial contact centre activity that should take place as a matter of course.
9 Benefits of Creating a Collaborative Culture
1. Agility
When collaboration improves, so does an organization's ability to navigate sudden and dramatic change — like a pandemic.
2. Engagement
If you aren't proactively working on your team's engagement, your company could be at risk. It's estimated that disengaged employees cost the UK economy £340 billion each year in lost training and recruitment costs, absences, productivity, creativity, and innovation.
3. Efficiency
Effective collaboration results in more productive meetings. With proactive teamwork enriching the corporate culture, employees require fewer meetings as they accomplish their tasks and use tools to document work progress.
In addition, when meetings are held, there's more proactive information sharing, more engagement, and more support for others' efforts.
4. Recruitment
Collaboration gives you a competitive advantage when it comes to attracting top talent. Highly motivated job prospects want to work for people they respect and can learn from. According to research from PWC, Millennials relish the opportunity to engage, interact, and learn from senior leaders.
A collaborative culture gives you a foundation for attracting top talent — especially those in younger generations.
5. Retention
What's the best part about having engaged employees? Happier, more fulfilled workers. Why would they leave if their work is fulfilling, their team works well together, and they receive the recognition they crave?
Collaboration sets the foundation for a more open culture that keeps people loyal and committed to the organization.
6. Speed
With a collaborative culture, your organization can bring products to market faster. Teamwork and communication speed up the process and accelerate an organization's ability to create value.
7. Productivity
According to a study by McKinsey & Company, implementing collaborative processes and networking tools improved productivity by 20-30% in global software development teams.
When teams use tools or processes that make teamwork and communication more efficient, employees achieve their goals faster and with higher quality results.
8. Profitability
After recruiting high-performing talent and building a collaborative and transparent culture, they get to work generating innovative ideas that propel your company forward and positively impact your profitability.
9. Availability
When information is visible and freely shared, data silos, gaps, and overlaps are eliminated. Easier access to information streamlines communication and boosts efficiency.
Collaboration is just one area that feeds into driving company culture and there are many benefits associated with having a collaborative culture within your organization.
A Stanford University study demonstrated the benefits of collaborative working, with employees working in teams sticking to a task for 64% longer than those working alone. They also show a marked increase in focus, stamina and an increased success rate.
And employees' overall ratings of their company's qualities – like collaboration, work environment, and mission and value alignment — are 20% higher at companies with strong cultures. These qualities help winning cultures keep employees aligned and motivated.
A collaborative organization is committed to knowledge-sharing, authenticity, and open communication. And fostering it requires companies to be dedicated to providing a workplace that encourages teamwork, transparency, partnership, and calibration — at all levels.
When your organization commits to a culture of collaboration, the positive effects are seen everywhere — from talent recruitment and engagement to speed and agility, to productivity, profitability, and ultimately, your bottom line.
This blog post has been re-published by kind permission of Playvox – View the
Original Article
For more information about Playvox - visit the
Playvox Website