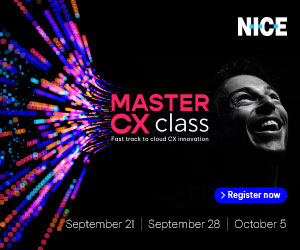 Catherine Gurwitz of NICE discusses how some contact centres have been successfully using robotic process automation (RPA) technologies to better deal with some of the implications of COVID-19.
Organizations around the world are turning to RPA to become more agile and efficient in the face of increased demand and rapidly changing environments during the COVID-19 pandemic.
While call centres become increasingly aware of the necessity of a remote workforce, organizations are realizing the benefits of automation.
Leveraging RPA for COVID-19 Challenges
Industries like healthcare, financial services and the public sector have rapidly mobilized resources to help people cope with the financial, health and practical challenges of life during a pandemic.
But along with the growing volumes of service queries they face during the COVID-19 crisis, these organizations have been asked to allow their employees to work from home where possible.
The sudden need to accommodate remote work has put contact centres under enormous pressure. At this trying time, it is more important than ever to provide responsive, personalized and compassionate customer service.
But providing a consistent customer experience in a distributed working environment can be challenging.
The pressures of responding to customers who may be anxious or ill can be overwhelming for remote employees used to working in a structured corporate environment.
There are also the challenges of rapidly scaling up for demand and ensuring continuance in case employees cannot work because they fall ill or need to self-isolate.
RPA and COVID-19
Many organizations are turning to software robots for assistance. Robotic process automation (RPA) in the back office and virtual assistants (attended automation) on employees' desktops are helping enterprises to keep pace with growing service demands, to support colleagues working from home, and to ensure business continuity during these challenging times.
For companies wrestling with the challenges of COVID-19, RPA offers wide-ranging benefits. Every organization has clerical, time-consuming tasks that demand accuracy and speed but don't require decision-making to accomplish.
Companies that have needed to downscale or even shut down normal contact centre and back-office operations will have experienced a backlog in service requests such as changes of address or new account applications, for instance.
Unattended robots are a perfect fit for tasks like those, which involve searching, cutting and pasting, updating the same data in multiple places, moving data around, collating, and executing simple and repetitive.
Unattended bots running on servers in the back end can perform just about any rule-based work by interacting with applications.
With the escalating call volumes and back-office backlogs companies face due to COVID-19, unattended robots can power through high volumes of many admin-driven tasks, such as: address changes, claims for refund, orders, generation of customer letters and other tasks without any manual intervention required.
Everyone wins in this scenario: the customer gets a convenient experience and a quick response, employees can focus on complex, more personal interactions rather than on tedious manual work, and the company benefits from optimized efficiency and productivity.
Attended Automation, RPA and COVID-19 Efficiencies
In the context of COVID-19, RPA really comes into its own when it is combined with an attended automation solution like NEVA (NICE Employee Virtual Attendant).
Attended and unattended solutions working together can help organizations scale up and improve responsiveness at a time when contact centres are under enormous pressure because physical channels are closed for business.
At this time, employees may be facing a growing pile of paperwork and manual data capture requirements as national lockdowns begin to ease. A virtual assistant like NEVA can help them catch up with the backlog.
But it also improves engagement by helping them work efficiently to help each customer and freeing them from tedious work which machines can handle better.
This attended automation solution can capture data from scanned claim forms or faxes by using optical character recognition (OCR), and then update back-office systems with the new date.
The employee does not need to expend energy on this type of tedious, low-value task, allowing them to get more done and to focus on the human side rather than on data capture.
One common frustration for customer service employees is the requirement to cut and paste customer information from one system to another, or even to recapture data that exists in one corporate system in a different application.
An attended automation solution can auto-populate forms in a blink of an eye, then allow the agent to add or change details as necessary, in real time.
Attended automation is also a boon when front-office employees need to work across multiple applications and systems.
It can streamline laborious processes such as collecting data from numerous disparate systems, and present it all in a single view for the agent. It can also perform real-time calculations for the agent and present a view of summarized customer data.
Challenges of Remote Work and Automation
Since many employees are working remotely due to COVID-19, they are unable to turn directly to colleagues or supervisors for help and support. Virtual assistants have a valuable potential role to play in supporting remote employees – keeping them engaged, informed and connected.
They can also prompt employees to follow company guidelines, policies and procedures – all in real time.
This helps the organization to ensure regulatory compliance and maintain consistency of the customer experience. When a company changes processes or policies, the employee virtual assistant can help to quickly align staff to any changes.
It can also enable front-line agents to speak in a coherent voice by providing them with contextually relevant guidance scripts in real time.
When there are both attended and unattended RPA bots at work, in the event of a process exception or error, an attended (or desktop) bot can refer a request to a human worker for intervention when it cannot complete a task.
The human worker can then "collaborate" with their desktop bot to resolve a process error or complication, in real time. The automated flow can then resume without any downtime.