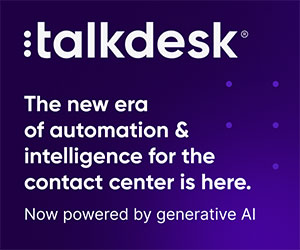 Celia Cerdeira at Talkdesk outlines fourteen essential contact centre tools for customer-centric companies.
Customer centricity is more than just offering a product or service. It's about establishing a deep, emotional connection with your customers, one that's built on trust, empathy, and convenience.
The foundation of being customer-centric lies in adopting the right contact centre tools to help create unforgettable customer experiences.
Modern customers now expect to interact with businesses seamlessly and effortlessly. They demand immediate answers to their questions and issues but also desire a personal touch in every interaction.
Whether it's answering a call, responding to an email, engaging in a chat, or even handling a social media inquiry, customers expect the same service regardless of the channel.
Data is power in the modern business world, and a cloud contact centre platform doesn't just facilitate conversations, it also gathers valuable insights that allow you to understand your customers better than ever before.
Things like tracking preferences, identifying pain points, and building a strategy tailored to the unique needs of each customer are possible through business intelligence that gives you the necessary insights.
The right contact centre tools, powered by artificial intelligence (AI), develop stronger customer relationships and deliver superior experiences.
Why Is Good Customer Service Important?
According to CCW, 90% of consumers say they are more likely to support a brand that delivers quick, easy, and convenient customer service.
Providing memorable customer service will not only impact customer retention and loyalty but also your bottom line.
Does providing exceptional support sound like a daunting task? With the right tools, processes, and team in place can adopt a customer-centric approach to delivering support with relative ease.
Top 14 Contact Centre Software Tools
Contact centres around the world rely on contact centre software to streamline operations and make their day-to-day workflows a little bit easier.
We've compiled a list of the top contact centre software tools that you should be using to improve agent productivity and enhance the customer experience.
1. AI for Self-Service Authentication
Self-service authentication tools offer a seamless and secure verification process. These tools use voice biometrics and multifactor authentication to verify customer identity, enhancing security while reducing handle time.
They allow customers to authenticate themselves before reaching an agent, providing a smoother customer experience and reducing the customer's wait time.
2. GPT-Powered Automatic Summary
GPT-powered tools simplify after-call work for agents by automatically creating a summary of the key points from a customer interaction.
This tool shaves 30-60 seconds off of after-call work, enabling agents to move on to their next call quickly and reducing wait times for customers.
3. AI Virtual Agents and Chatbots
AI virtual agents and chatbots provide round-the-clock support, solving simple issues instantly and escalating complex ones to human agents. This reduces wait times, improves efficiency, and enhances customer satisfaction.
These AI-powered tools are equipped with natural language processing capabilities, enabling them to understand and respond to customer queries in a human-like manner.
4. AI Workforce Management Tools
Workforce management tools use AI to forecast demand, schedule staff, and manage real-time adherence. They help balance operational efficiency with agent preferences and skills, increasing productivity and employee satisfaction.
Predicting call volumes and staffing needs ensures there are always enough agents to handle all customer queries.
5. AI Quality Management
Quality management tools can leverage AI to automate scoring, provide targeted coaching, and uncover actionable insights. It ensures consistent and unbiased evaluation, helping improve agent performance and customer satisfaction.
The tool offers personalized coaching sessions based on each agent's strengths and areas for improvement, promoting continuous learning and development.
6. AI Interaction Analytics
AI interaction analytics tools provide valuable insights from customer interactions. Machine learning (ML) and AI analyze customer sentiment, emotion, and intent in every conversation to help identify trends and make data-driven decisions to improve contact centre operations.
7. Workforce Compliance and Monitoring Tools
Some workforce compliance and monitoring tools use AI to proactively identify and mitigate risks, ensuring compliance with regulations while safeguarding customer data.
It also alerts managers about non-compliance, so they can take immediate corrective action and prevent potential legal problems.
8. Single Pane of Glass Agent Workspace
An agent workspace provides a unified interface for agents to manage all customer interactions across different channels.
It improves agent productivity, reduces handle time, and delivers a seamless customer experience.
The tool consolidates all customer information into one place, eliminating the need for agents to switch between different systems and applications during a call.
9. AI Knowledge Base Management Tools
AI knowledge base tools help create, manage, and share knowledge across the organization. They leverage AI to provide relevant information to agents and customers, improving resolution time and customer satisfaction.
These tools also use machine learning algorithms to continuously update and refine the knowledge base based on past interactions and feedback.
10. Business Intelligence Tools
Business intelligence tools provide real-time and historical data, allowing contact centres to make informed decisions.
They offer visual dashboards, customizable reports, and advanced analytics, helping identify trends, monitor performance, and optimize operations.
They can also integrate with other business systems to provide a holistic view of the company's performance.
11. Omnichannel Engagement
Omnichannel engagement features allow businesses to interact with customers across various channels including voice, email, chat, and social media.
They provide a consistent and personalized customer experience, improving customer satisfaction and loyalty.
Maintaining a unified customer history across all channels ensures every interaction feels personalized and contextually relevant to the customer.
12. Interaction Recording
Interaction recording captures voice and screens to provide a complete picture of every customer interaction.
It allows the contact centre to gather valuable insights about the customer, ensure compliance with legislation, identify key areas for improvement, and provide training and feedback to boost agent performance.
13. Real-Time and Historical Reporting
Ensuring that call centre agents are providing amazing support requires comprehensive metrics.
Providing a real-time dashboard that displays real-time metrics like service level, the number of calls in queue, average hold time, average handle time, and others allows them to improve their performance with minimal management feedback.
Likewise, giving managers real-time and historical data allows them to make data-driven decisions based on comprehensive metrics.
14. CRM Software
Customer relationship management (CRM) software centralizes customer data, giving agents a 360-degree view of the customer.
Agents have access to customer information across channels and previous interactions, empowering them with the knowledge to provide personalized customer service and increase customer satisfaction.
Deliver Exceptional CX With Cloud Contact Centre Software
The right contact centre tools are essential for any company looking to enhance the customer experience and increase customer loyalty and revenue.
A cloud contact centre helps your organization meet and exceed your CX goals by providing customized solutions.
FAQs
What Are Contact Centre Tools?
Contact centre tools are software applications and technologies that help businesses handle customer interactions more effectively.
They include solutions to streamline communication, manage workflows, monitor performance, and enhance customer service.
Key tools are AI virtual agents, workforce management tools, knowledge base and workforce compliance tools, and more.
Why Are Contact Centre Tools Important for Customer-Centric Support?
Contact centre tools enhance communication, automate tasks, monitor performance, and provide valuable customer insights.
They improve interactions across various channels, boost agent productivity, and reduce customer wait times.
Offering data-driven performance insights and integrating with CRM systems, these tools enable personalized support, leading to an improved customer experience.
Are There Any Important Trends in Contact Centre Tools for Customer Support?
Yes! Current trends in contact centre tools for customer support involve increased use of AI and automation for operational efficiency and data analysis, including AI-powered chatbots and advanced analytics.
Omnichannel support has become essential, with tools integrating multiple platforms for a consistent customer experience. Businesses are also adopting cloud-based solutions for flexibility, scalability, and cost-effectiveness.
This blog post has been re-published by kind permission of Talkdesk – View the
Original Article
For more information about Talkdesk - visit the
Talkdesk Website