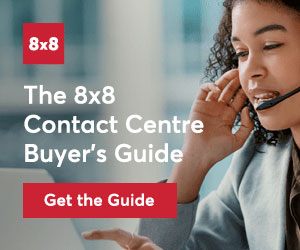 Jessica Smith at 8×8 outlines some 2023 contact centre trends and explains how conversational AI complements digital customer service.
Trust, Not Technology, Is the Reason That Digital Self-Service Is Becoming Mainstream
It's no surprise that consumers continue to favor digital self-service. As a population, we all rely on our smartphones for interactions. According to Harvard Business Review, 81% of all customers attempt to take care of issues themselves before reaching out to a live representative across industries.
At the same time, digital channels are preferred due to the convenience, consistency, and simplicity they offer.
Consumers now know that, using these channels, they can avoid long wait times and get their issues resolved more quickly. American Express research shows that over 60% of US consumers prefer automated self-service as presented through a website or mobile app for simple customer service tasks.
Why? Because the tech behind self-service has improved. Consumers know that, at least for simple interactions, they can trust self-service technology to resolve their issues. And trust cannot be overstated.
With every digital self-service interaction that is successfully resolved, consumers will increasingly look to resolve each and every interaction going forward using these same interaction channels.
Businesses, too, have realized the benefits. According to Forrester Research, 65% of customer service decision-makers want to invest in chatbots to drive operational efficiencies and customer satisfaction. As we say in business, ROI doesn't lie.
Contact Centres Get Smarter, Acknowledge Automation/AI Benefits
In the early days, "let's throw AI at the problem" was a common mantra. This approach failed for several reasons: (1) organizations didn't understand the problems they were trying to solve, (2) AI-powered technology was difficult to deploy and administer, and (3) the results were inconsistent at best.
With the advancement of artificial intelligence (spelled out intelligently due to all that is involved with an AI deployment; including aggregation of vast amounts of data, training, and tuning) what we're seeing now is a much more calculated, diligent approach to designing self-service experiences.
Measurement and metrics now provide greater levels of visibility into all aspects of the customer journey. In turn, this visibility allows contact centre leaders to design end-to-end customer journeys. Ultimately, the goal is to deliver self-service experiences across every part of the organization.
Self-Service Experience Delivery Gets Easier Every Day
The good news is that advanced studio frameworks can now help non-technical CC leaders deploy and manage experiences without IT involvement.
It is exactly this agile approach that will "make or break" customer-obsessed organizations. With the right tools and insights, chatbots are quick to deploy, easy to monitor, and can improve the efficacy of the automated experience.
Ready to get started? Here are some ideas to help you design your self-service journey:
Define the goals and expectations of the bot in the eyes of the customer
Understand channel preferences
Diagram typical conversation flow for routine inquiries
Anticipate every direction the conversation could take
Personalize through integration with CRM and customer data platforms
Utilize data to continuously train and tune your bot
Conversational AI Is Essential to Building Better Customer Experiences, Today and Into the Future
There's tremendous value in understanding your customers' unique journeys. The continued success of your bot will be based on your customer interaction flow learnings.
With the right solution, you will be presented with recommendations that will assist you in training and fine-tuning your bot deployment to improve your self-service experience.
This blog post has been re-published by kind permission of 8x8 – View the
Original Article
For more information about 8x8 - visit the
8x8 Website