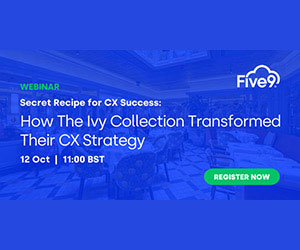 We discuss some of the latest trends in digital customer engagement and look into how they are impacting contact centres.
1. Smartphones Are Driving Customer Engagement
For many years, the smartphone has become the customer's window into your world, to the detriment of devices like the PC and the tablet.
With this in mind, many companies rushed to design customer service apps for digital customer engagement. But, unless you are a bank, you cannot guarantee that your app will be downloaded.
Customers only have a finite amount of space on their phones, so they are not going to download every app. If they have a choice between your app and their personal photos, they are going to delete the app.
Those in the digital customer engagement innovation world are starting to ask themselves: how can we have an app without an app?
So, those in the digital customer engagement innovation world are starting to ask themselves: how can we have an app without an app?
This is according to Nicola Millard, Principal Innovation Partner at BT, who says: "We've been working on micro-apps where the customer gets sent a link, they click on that link and it launches something that looks like an app, but you don't have to download it."
"You can personalize that, do everything that you could otherwise do in an app, without clogging up the customer's phone memory."
In terms of smartphones, the customer experience industry is also starting to investigate how they can begin to use voice assistants, such as Siri and Alexa, to automate tasks for customers. Clever stuff!
2. The Phone Remains Key to Digital Strategies
While the phone is not new or particularly sexy, it remains an important channel within the digital customer engagement mix.
There is all sorts of research out there that tells us that millennials don't use the voice channel any more, but they will pick up the phone when they are in crisis.
There is no doubt that the phone is a significant escalation point in any digital customer engagement strategy.
It's probably not their first choice, as they will try and use digital channels first, but there is no doubt that the phone is a significant escalation point in any digital customer engagement strategy.
In fact, much of the data out there suggests that there is under-investment in the phone channel, which is worrying when we consider that Average Handling Time (AHT) is increasing, as we are automating more of the transactional contacts.
This is a lesson that technology and the latest customer experience innovations do not allow you to forget the basics of customer service. Get rid of the dumb stuff first and build on it.
3. Live Chat Keeps on Growing
Not only is chat a digital-first channel, but most customers, advisors and organizations like it too. Why? Because:
It gives customers a way of accessing immediate support without picking up the phone
It gives advisors some job variety and better suits younger people's general communication preferences
It gives organizations the chance to save some money (if chat has been positioned as a channel for simple contacts only, so advisors can work at a higher concurrency).
Each of these reasons has led to 5.9% of all contact centre interactions now being conducted on live chat, which is up from 3.0% in 2016. This growth can be seen in the graph below.
In addition to this, it is interesting to note that email is growing as well – which is more controversial in terms of digital customer engagement, due to long wait times for customers and costs for companies.
So, older channels are not necessarily going away, and we are seeing newer channels, like live chat, growing – but that is an exception rather than a rule.
For more interesting insights regarding live chat, read our article: 10 Best Practices to Improve Live Chat
4. Customers Are Seeking Simplicity
As consumers, we just want things to be simple. Customer effort is no longer just a buzz term, it has been a primary focus for everyone in the customer engagement world for the past seven or eight years, with good reason.
Just take a look at some of the following figures revealed in a 2020 BT report – "The Autonomous Customer 2020" – on global customer attitudes:
41% of customers say in the last year they have stopped partly or completely using 2 brands or more because of poor customer experience or service.
3 in 4 consumers buy more from companies that make it easier to do business with them.
2 in 3 consumers say there is often not enough help available on organizations' websites or apps
There is also lots of research that links effort to customer loyalty, as when customers begin to find things difficult, they are much more likely to churn.
Yet, even if you are a public sector company with no competition, seeking simplicity in digital customer engagement is important because there are costs involved.
Think about it. If customers aren't finding things easy, they are more likely to contact you. This will probably be over more expensive channels, where they will ask lots of questions.
Remember that customers like to be in control, as we have seen with the growing popularity of self-service. So, remember to think about effort and control when designing customer journeys.
The final part of this is how do you measure how simple your journeys are? You can read about this in our article: How to Calculate Customer Effort
5. Understand the Psychology Behind Digital Channels
For many years omnichannel has been considered the key to great digital experiences. But most companies are not getting any better at doing it.
Why? Well, budget restraints, organizational silos and technology are limiting factors, of course, although many brands also do not understand the psychology behind omnichannel.
What is interesting here is the psychology in the channels that we choose for digital engagement and why customers choose to use them.
What you may have noticed in your contact centre is that customers turn to human support when their contact is emotive, complex or just a bit messy.
Nicola talks about this trend and how context drives customer behaviours in the video below.
Understanding which channels give customers the best results for certain contact reasons will enable you to better direct them, maximizing the effectiveness of your digital customer engagement strategy.
6. Video Is Starting to Add to Digital Customer Engagement
We have been talking about video for a while. It's always supposed to be the next big thing – but thinking of it only as channel for customer conversations limits its value.
For digital customer engagement, brands are starting to look into how they can engage with the YouTube generation, who prefer to find a video that tells them how to do something rather than to read big chunks of information.
The problem is that these videos can come across as quite flat and impersonal. But now certain brands are finding ways to personalize these videos.
You can add a customer's personal information to video templates and send them to customers to create a user-friendly, personalized customer experience.
"You can add a customer's personal information to video templates – a bit like those 'this is your year on Facebook' videos – and send them to customers to create a user-friendly, personalized customer experience," says Nicola.
"This can be a good idea, particularly for complex stuff, like mortgages and loans. So a company can securely send out details about the customer's mortgage as part of a video template that catches the customer's eye."
Video also shows promise due to smartphones now being the customer's channel of choice. These smartphones have cameras.
This has already enabled some innovative brands to help customers run fault diagnostics by asking the customer to take over their camera, so the customer can show the advisor what is wrong.
7. Chatbots Are Not Yet Pulling Their Weight
With the growing popularity of live chat, many brands consider automating some of those digital conversations with the help of chatbots. But some chatbots have been more successful than others.
"There is a certain irony in calling them chatbots because the one thing that they are not particularly good at is chat," says Nicola.
The problem with chatbots is that expectations of them are quite high. But the reality in what they are delivering is not so great in terms of proving good digital customer engagement.
Where they can work, though, is in doing the simple things, but we do like the reassurance from a human advisor, and when a bot fails, we want to talk to somebody.
We do like the reassurance from a human advisor, and when a bot fails, we want to talk to somebody.
What we are seeing, though, is chatbots working like an IVR in becoming a triage for digital, as organizations are thinking about how they can start to deflect the simple stuff that's coming in through chat.
The dilemma is that while there are some incredible advances in natural language processing (NLP), which enable bots to recognize what you are saying, unless you have the data behind it, these systems can be incredibly dumb.
At the very least, you need lots and lots of previous chat records and interactive FAQs to feed the bot – but then again, they need to be written in the right way, to have a conversation.
8. Self-Serve Is Stealing the Show
While chatbots and other forms of conversational AI are still in a largely experimental phase, other forms of self-service are thriving, as customers seek simplicity.
Most commonly, self-service is made available through the IVR, with 73.2% of contact centres having this functionality, according to a 2019 Call Centre Helper report.
The report also found that 53.7% of contact centres had also installed one of the following forms of self-service:
A customer-facing knowledge base
An FAQ page
Website smart search
To get any of these self-service capabilities working well within your business, Paul Weald, Director at mcx, recommends taking a close look at the first three steps.
Customer Journey: Understand the context of why the customer is visiting
Functionality: Provide the right information to resolve the customer enquiry
User Experience: Make it intuitive and simple
These three steps will help to better ensure good digital customer engagement.
9. Social Customer Service Is Stalling
Social media was the "in-channel" just seven or eight years ago, but it has been stalling recently. This is because, just like with chatbots, it has proved underwhelming because of the big expectations associated with it.
Many customers expect a response within 15 minutes on social media, and that isn't necessarily being fulfilled by every company.
In fact, that's not being fulfilled by almost every company, as highlighted in our research below, which shows the variation in social media service levels between different companies:
Another element of why social media is stalling is that everything is in public and contact centres have to be proactive in how they engage with customers, instead of answering queries directly. This goes against how most contact centres are set up.
Yet, just because social media is underwhelming to some businesses and customers, that doesn't mean that we can ignore the channel completely, as it does still add value for many customers, as highlighted in the statistics below.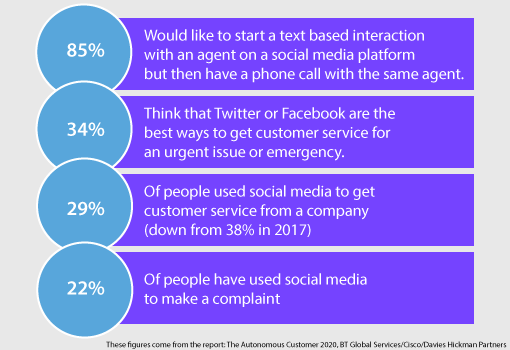 This research shows that social media is still a key channel for digital customer engagement, but it is not growing to the extent that was originally predicted.
To find out how to best use social media in the contact centre, read our article: How to Provide Great Social Customer Service – With Tips, Challenges and Expert Research
10. Stay One Step Ahead
Many organizations have implemented digital engagement strategies that require customer data. But there is such a thing as a "meconomy" – which means that customers will be willing to share their data with you, as long as you are clear about what they get in return.
This started off with personalization, which Amazon and Netflix do on a continuing basis, and most customers are now perfectly comfortable with us personalizing interfaces – for increased digital engagement – based on what they have told us.
The next step after personalization is becoming proactive.
Then, the next step after personalization is becoming proactive. This revolves around calculating when there are opportunities for us to tell the customer something before they tell us.
In an ideal world, we will do this through the customer's channel of choice and we will only reach out to them for something that they want to know.
With a proactive digital engagement strategy like this, there is a clear advantage for the customer, and if we can communicate that to them properly, the customer will be much more likely to share the required data.
The trouble then is when it all gets a little too predictive, where your machine learning technology starts to figure out what the customer wants before they want it. This can make things a little creepy.
Find out how you can stay one step ahead and increase digital customer engagement in our article: What Is Proactive Customer Service? With a Definition, Examples and Key Challenges
Final Thoughts
"Innovation needs to be customer led, rather than focusing on getting some great technology and then figuring out what to do with it," says Nicola.
So, while we have discussed lots of innovations within our top ten trends, it's important to really think about what the best digital customer engagement strategy is for your customer base.
At the peak of their hype, we saw brands rush into implementing social media and chatbots, because it seemed like everyone else was doing it, without obtaining the expected results.
This was a lesson that if a digital customer engagement trend isn't necessarily right for your customers, there are others that may prove much more beneficial.
For more on how you can increase digital customer engagement, read our articles: