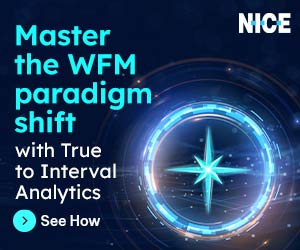 Lauren Maschio at NICE shares insights on how companies can create a successful analytics program.
Contact centres are increasingly leveraging analytics to unlock valuable insights about customer behavior.
By adding context to every interaction, an effective analytics program enables organizations to understand where they need to improve customer experience, why customers are contacting the company, which agents are delivering great service and what makes them successful, which sales offers are working and what customers are saying about the competition.
Creating a successful analytics program – one that drives the results an organization needs – is highly dependent on tailoring that program to the company's specific contact centre goals and objectives.
At our recent Interactions Live conference, a leading bank detailed how it implemented Nexidia Analytics. Here's what the bank learned.
Bolstering Traditional Contact Centre Reporting With Nexidia Interaction Analytics
The bank, which serves customers in more than two dozen states, harnesses analytics and insights to improve operating efficiency as well as the customer experience.
The bank built a powerful analytics program from the ground up and began yielding quantified benefits in only 60 days using Nexidia Analytics.
At the beginning of the process, the bank's analytics and platform administration team sat down with each of the bank's business lines to learn about their challenges and opportunities and what they hoped to learn from analytics.
As a result, once Nexidia Analytics had been implemented, the team was able to deliver insights that resonated with each business line and answered what had been previously unanswerable questions.
For the first time, the organization was able to substantiate business line leaders' gut instincts with data and link trends in sentiment to underlying gaps in training or agent skills.
Nexidia Analytics also allowed the organization to take traditional contact centre reporting from simply observing a trend to understanding why it was occurring – for example, not only seeing that call volume is up but also knowing the top five reasons customers are calling in.
Nexidia Analytics enables organizations to evolve their existing deliverables using Nexidia out-of-the-box reporting templates for both basic and advanced reporting. Some examples include:
Moving from a Calls Answered report to Top 5 Call Driver Gainers and Losers
Moving from an Average Handle Time report to Top 5 Call Driver Queries by % of Non-talk Time
Moving from a Transferred Calls report to Top 5 Transferred Call Reasons by Query as well as Top 5 Transferred Call Reason Gainers and Losers by Query
Moving from a Customer Experience report to Sentiment "Bucket" Score by Call Driver Query as well as Sentiment "Bucket" Score Gainers and Losers by Call Driver Query
The result? A more robust understanding of what's happening on calls and what is changing week-to-week in the customer experience.
What the Bank Learned Along the way
The key to its success, leaders say, are four key steps – steps that can help other organizations ensure an effective implementation too:
Clearly defining, communicating and obsessing over the program's initial success criteria. Start small with your scope, for example focusing on improving the customer experience, reducing call volume or supporting staff augmentation – but not all three at once. Gather extensive data on the progress you're making against your initial goal, and only then evolve your analytics program to take on additional goals.
Strategizing how the team would be built. Do you know how you are going to support Nexidia? There are a variety of skills and strengths you will need for your team to be successful, from business-line knowledge to analytics capabilities and experience using Nexidia Analytics, to ensure that your organization can manage the platform effectively, drive insightful analytics, and train and onboard new users. For the bank, the addition of line-of-business expertise played a particularly powerful role, providing a jump-start in delivering valuable analytics insights.
Balancing repeat deliverables and ad-hoc, problem-based deep dives. If this is the first time your organization will have interaction analytics, you may be surprised by the new world of data it unleashes. Harness this excitement to deliver foundational, repeatable reporting for stakeholders while also saving capacity for deep dive work, where you ask stakeholders throughout the organization about the assumptions they have about their business line that they haven't been able to substantiate.
Breaking down data siloes: Take a look at your existing reports and deliverables – are there components that could be bolstered by adding in insights from Nexidia Analytics? Create connections between Nexidia and other contact centre reporting to make existing reports more valuable, for example by moving from tracking the number of transferred calls to also understand the top five transfer reasons by query as well as the top five transfer reason gainers and losers by query.
This blog post has been re-published by kind permission of NICE – View the
Original Article
For more information about NICE - visit the
NICE Website