Your agents will spend around 40 hours a week in your contact centre. Here are some creative design ideas to help make it somewhere they want to be.
How should I decorate my contact centre walls?
Whiteboard paint can act as a washable canvas for art and ideas
Paint your walls with whiteboard paint. This will create a washable canvas for art and ideas.
For example, teams can use it for useful memos, to track scores on any sales competitions and targets, or just to draw cartoon versions of themselves to personalise their team area.
Choose paint colours that match your company logo
A good way to decide on paint colours in the contact centre is to choose colours that match your company logo or branding.
For example, Siniat's contact centre in Bristol have painted many of their walls pink to reflect the colours in their company logo.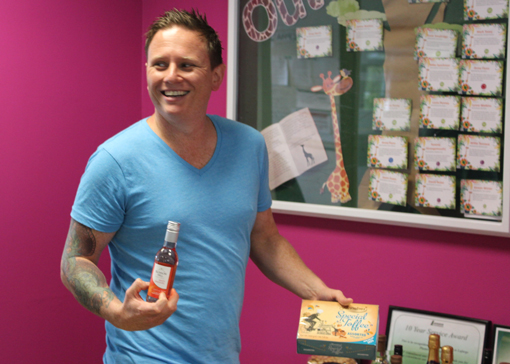 Display the products you are manufacturing or selling
Fill blank walls and personalise your contact centre space with shelves displaying the products you are manufacturing or selling.
Alternatively, you can hang images of your products or projects up on the walls.
White walls can give a contact centre an airy atmosphere
Grey walls can seem a little oppressive.
The contact centre I'm working in has white-painted interiors. Although it is a pain to maintain, it looks good and gives the place a light and airy atmosphere.
With thanks to Gautham
Break up white walls with cartoons in bright and vibrant colours
Our contact centre walls are mostly painted white. But to break up the monotony, we have painted some of the walls with graffiti boards and cartoons in bright and vibrant colours.
These are well spaced out to ensure they don't crowd the walls.
Most of the paintings and cartoons have also been done by the frontline team, so it adds to their sense of ownership.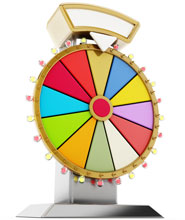 With thanks to Navin
Allow agents to choose a colour for their area (which isn't black!)
At a previous contact centre, we went through a redecorating exercise and allowed each team to choose a colour for their area.
The only caveat we had was "no black"!
With thanks to Dylan
Repurpose each room to create a variety of different spaces for agents to enjoy
Having a variety of spaces that agents can use, depending on their needs and current mood, can help to create a harmonious contact centre.
Here are some different types of rooms you can have in your contact centre:
Work area
A work area should be a quiet room tucked away from the noise of the contact centre floor, furnished with desks and chairs.
This should be a space where agents feel they can sit down with their team leader to discuss an idea they have had, or to work quietly on some personal paperwork (e.g. tax returns) during their lunch break.
Breakout room
Breakout rooms should be just that – a place to have a break away from work.
Add sofas, televisions, bar stools, pool tables, dartboards and games consoles for a fun and relaxed atmosphere.
You can also theme the room as a "beach shack", like Skipton Building Society (see image below), or something similar to give the room a more relaxed feel that also looks completely different from the contact centre floor.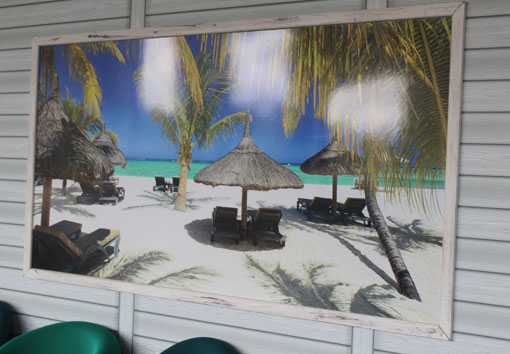 Quiet room/ chill-out room
A quiet room or chill-out room should be different from a breakout room.
Instead of tables and chairs and a ping pong machine, add sofas and beanbags, rugs, cushions, and other comfort-focused soft furnishings.
You could also put up curtains and add in different coloured lightbulbs (green, blue, red, etc.) to escape from the white glare of the contact centre floor.
Alternatively, why not pick a room with a nice view for everyone to enjoy.
Library
Creating a library alcove like OVO Energy can be another opportunity to create a quiet space in the contact centre.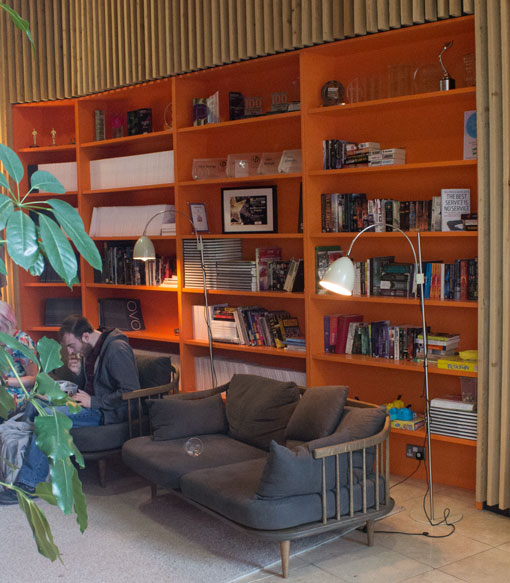 This could include books and magazines and reading lamps, as well as "no talking" signs, to create a peaceful retreat from the hustle and bustle of the contact centre floor.
Kitchen
A disorganised and crowded kitchen can be a daily cause of stress.
Here are some key considerations to keep in mind when designing your kitchen space to support a positive, communal atmosphere:
Brightly coloured (and labelled) storage space – Make it easy for employees to bring their own lunch by creating lots of storage space in your kitchen. Coloured shelves or cubby holes can brighten up bare walls, as well as create opportunities to assign different storage spaces to different teams for an organised, stress-free system.
Fridge space – You should also make sure you have adequate fridge space for all of your agents to store their lunch if they need to.
Freezer – While a freezer probably won't be used every day, having one in your kitchen is a "nice to have" to fill with ice lollies and ice creams in the summer months.
Side space – You also need to think about how much side space there is for food preparation. If your kitchen space is limited, put tables nearby for overflow preparation space.
Microwaves and toasters – There is nothing worse than only having a 30-minute break and there being a queue for the microwave or toaster, so make sure you provide more than one (and listen to your agents if they say there aren't enough!)
If you have limited kitchen facilities and there is nothing you can do to change this, consider reorganising your lunch and break schedules to reduce the number of people trying to use the facilities at the same time.
Clear out the fridge regularly
There is nothing worse than fridge space being taken up by old takeaway tubs when nobody can remember who they belong to.
Many companies empty the fridge every Friday to ensure that it is clean and has no stale food knocking around. It's also a good chance to defrost it too.
Just make sure that you have signs saying "This fridge will be emptied every Friday evening. Any food left in the fridge will be thrown away".
Canteen
The canteen is another area of the contact centre your agents will use every day – especially if your food options are subsidised as part of an employee benefits scheme. Interior design shouldn't be an afterthought!
An open-plan space with brightly coloured or unusual seating can help to bring the canteen to life. Also consider hanging photos up around the wall and painting the walls in different colours. Better still, get your agents involved in trying out chairs and choosing paint colours.
You should also remember the canteen at key times of the year such as Christmas and Halloween. If you are decorating your contact centre floor, you should also consider bringing some decorations into the canteen too.
On-site gym or workout rooms
An on-site gym can help agents fit their daily exercise into their working day, leaving them free to spend their evenings with their family and friends.
If your budget won't stretch to gym equipment, you could try allocating a room for agents to host their own fitness classes in (or perhaps even repurpose a large conference room that is barely used).
Garden or outdoor retreat
A garden or outdoor retreat can help agents get some fresh air on their lunch breaks, relaxing and recharging them for their afternoon shift.
If you don't have a garden as such, think about any wasted grass area that could benefit from a makeover. You could even organise a company-wide renovation project to create an outdoor retreat for everyone to enjoy.
If you don't have any land around your contact centre, here are some alternatives:
Grow plants on the windowsills
Put a paddling pool and some deck chairs on the balcony
Put a fake grass carpet in the contact centre
Try a fake sky ceiling (like General Motors (GM) in Luton – see below)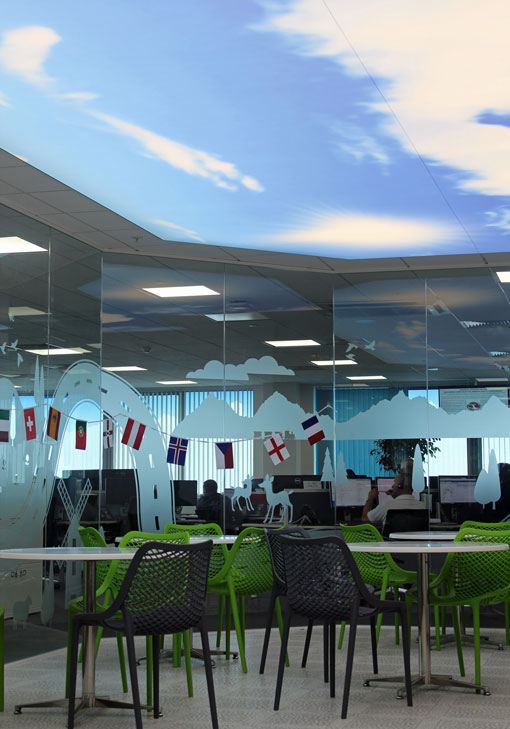 Meeting rooms
Different-sized rooms will be used for different purposes
When designing your meeting rooms, you also need to remember that different-sized rooms will be needed for different purposes.
For example, you will need smaller rooms for one-to-ones and larger rooms for team meetings. A one-size-fits-all approach isn't always for the best.
Be creative with naming and decorating your meeting rooms
You can also be creative with naming and decorating your meeting rooms and general meeting spaces.
A travel insurance provider could name each room after iconic destinations around the world.
A contact centre supporting the sporting industry could name their meeting rooms after different sports stars or famous stadiums.
A supplier or designer of office stationery could have meeting rooms named after different font styles.
All of these ideas can be supported with interior design choices that reflect the name of the room.
You are only limited by your imagination (and budget)
Even if you can't think of something intrinsically linked with your business, you can still be creative in your design.
Here are some other ideas we've picked up recently from OVO Energy: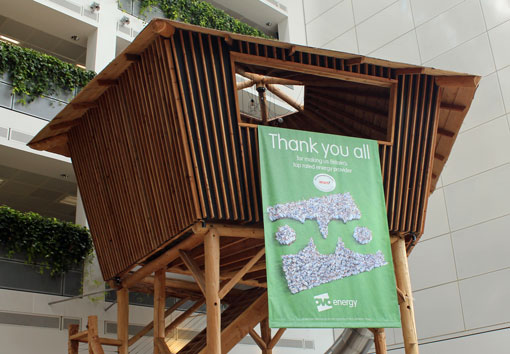 On-floor meeting area shielded by plants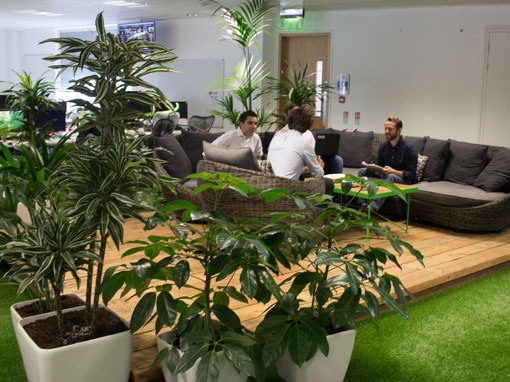 An Everest base camp themed room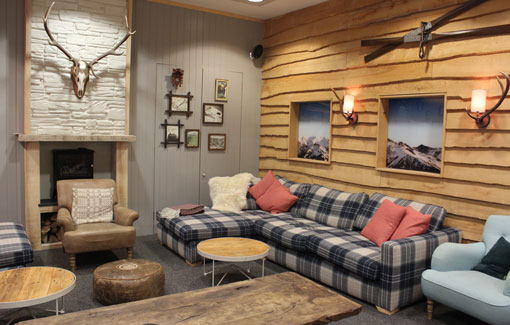 Additional considerations
On-floor lockers can mark out walkways and keep desk areas tidy
On-floor lockers can mark out walkways, segment team work areas, and help keep desk areas tidy (by giving agents a nearby alternative to storing their bags under their desks).
Water fountains and water coolers
Placing water fountains around the contact centre can make it easier for agents to stay hydrated during the day.
They can also help to liven up empty corners and soften the sharp edges of a square contact centre office.
Offer a choice of desks to give your floor some personality
You could also try asking agents which type of desk they would prefer to work at, and giving them a choice of chairs, so they can pick what works for them. This can give your contact centre floor some personality.
If you want to maintain some control over interior design, offer agents choice from a range of 3 chairs and a range of 3 tables in pre-selected coordinating colours.
What ideas have you tried to liven up your contact centre?
Put your thoughts in an email to Call Centre Helper.