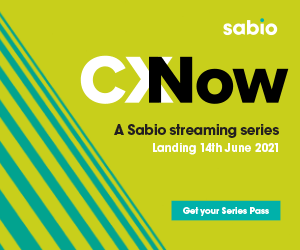 About the Event
Brilliant customer experience begins here.
Landing 14th June 2021
Don't miss your free Series Pass to exclusive weekly episodes, guest speakers, live demos and more.
Consume CXNow on your terms
Week 1 – DigitalNow – from Monday 14th June
Welcome to a world where all repetitive and predictable tasks are handled by tech and processes that empower your teams to build more human customer connections. This week focuses on how AI and Automation can significantly enhance how your business uses knowledge to resolve customer issues and how to deflect demand by implementing effective self-service journeys.
Week 2 – HumanNow – from Monday 21st June
The rise of the machines has super-boosted the potential of customer advisors to focus on more complex human interactions. During this week we'll explore the ever-changing role of our customer-facing teams, from ensuring that customers can speak to a suitably skilled agent in their time of need, to empowering agents in real-time and using the voice of the customer to put the human at the heart of everything you do.
Week 3 – TransformNow – from Monday 28th June
Let's bring it together. Many organisations struggle to keep pace with change. They often feel dependent on ageing tech and hampered by out-of-date processes, making innovation seem unrealistic. This week will focus on understanding the complex, unique and fragile environments that can reduce your ability to benefit from emerging technologies. No matter where your business is on the innovation curve, this week will open your eyes to the experience and technology expertise needed to accelerate your journey.
Is CXNow right for me?
There's something for everyone! The agenda has been built for a range of technical, operational and business audiences across CX, Customer Service, Contact Centre and IT.
How much is it to attend CXNow?
CXNow is a free resource for Sabio clients, prospects and partners. To access content via Sabio's CXNow portal all you have to do is register once. It's that simple!
Where can I find the agenda?
Activate your Series Pass today and be the first in the know when the agenda and speaker line-up have been announced!
Date and Time
Starting:
Monday 14th June 2021

Ending:
Friday 2nd July 2021
Organisers